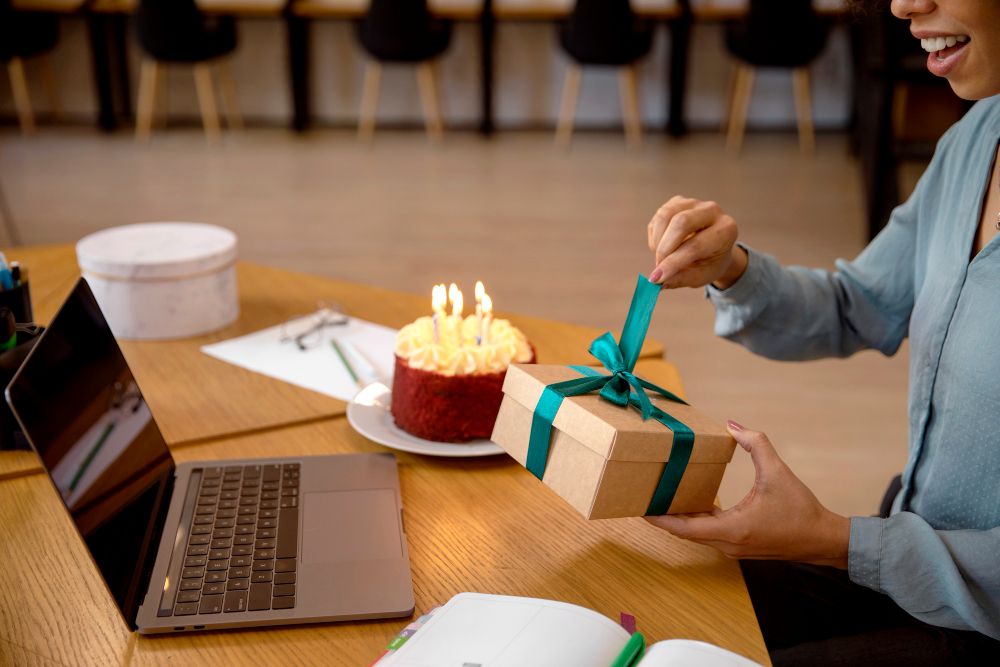 "Corporate gift boxes" often conjure images of elegantly packaged treasures. Some see memorable keepsakes that create lasting impressions on clients and employees. But, corporate gift boxes go beyond simple gifting—they're a vital part of modern business culture.
In today's business world, they've become indispensable. With our AI solutions, we consistently captivate with diverse and tailored gift options. Let's explore the importance and uniqueness of gifting in the business world.
1. Why Corporate Gift Boxes are Crucial for Your Business
Why do businesses love corporate gift boxes? These boxes build and strengthen business relationships. They express gratitude, create goodwill, and sometimes boost morale and productivity.
For employees, a gift box is a symbol of recognition and value for their hard work. For clients, it's a heartfelt "thank you" for their trust and loyalty. Want to experience the magic of top-notch corporate gift boxes? Check out some data that backs Giftpack's impact.
---
2. Corporate Gift Box Ideas
The beauty of corporate gift boxes lies in their versatility. Let's explore a few ideas that could light up the faces of your recipients:
Christmas Gift Boxes:
Who wouldn't want to find a beautifully packaged gift box under the Christmas tree? A festive gift box filled with seasonal goodies can instill a sense of celebration and joy. From gourmet treats to customized ornaments, the possibilities are endless.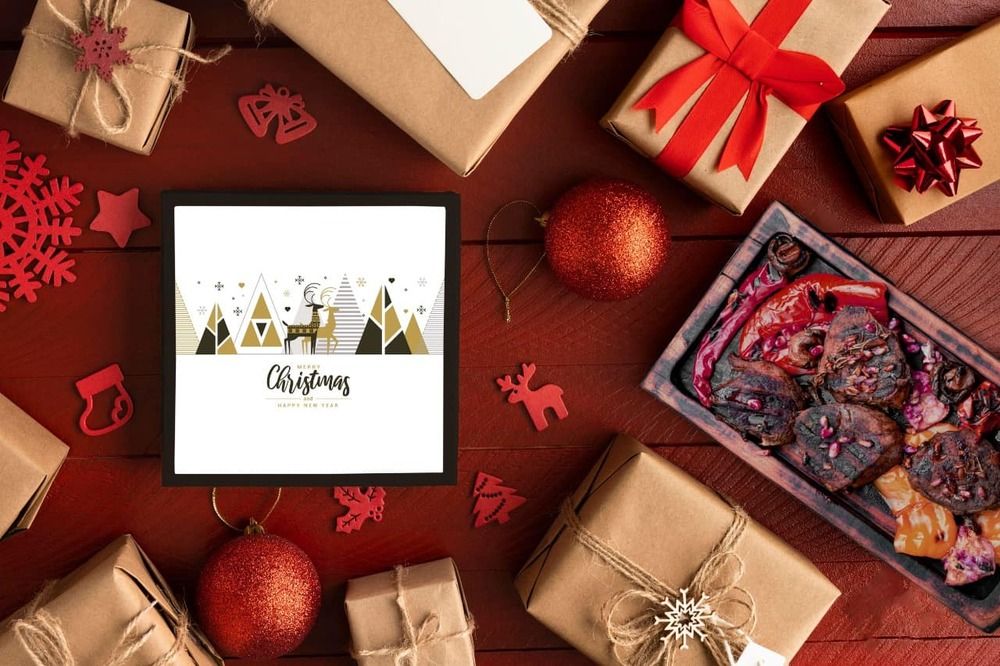 Holiday Chocolates of Vermont
This custom-designed holiday chocolate box, crafted from local ingredients like maple syrup, sweet butter, cream, and honey, embodies over 25 years of tradition and the warmth of Christmas.
Wine Gift Boxes:
Elegant, classic, and always appreciated. Wine boxes exude sophistication, perfect for impressing your executive clients or celebrating a milestone with your team.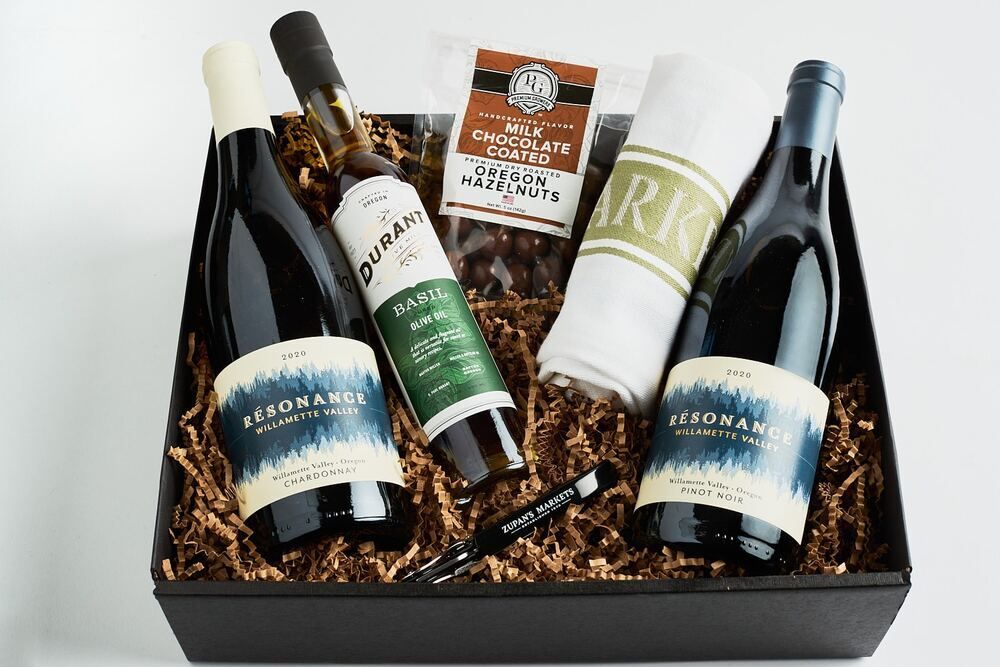 Willamette Valley Favorites
Discover Résonance Wines, Maison Louis Jadot's inaugural venture beyond Burgundy, situated in Oregon's Yamhill-Carlton AVA, offering an exquisite selection of Willamette Valley wines perfectly complemented by local favorites
Coffee Gift Boxes:
Got a team of coffee aficionados? Coffee-themed gift boxes are a great way to cater to their caffeine love while promoting productivity—after all, great ideas often come from a fresh cup of joe!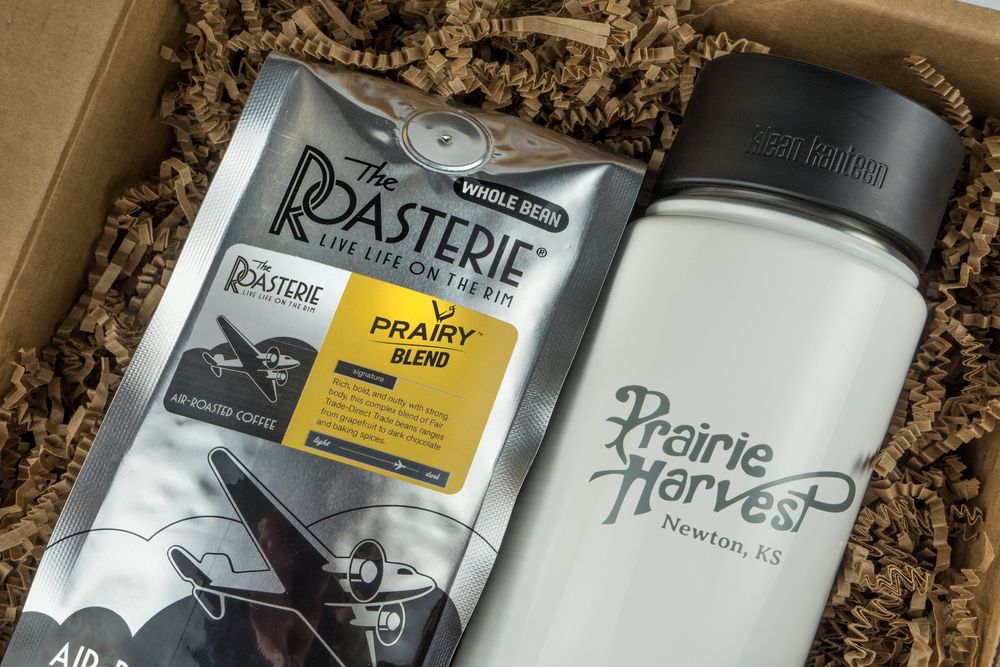 Prairie Coffee Gift Box
A set featuring a Prairie Harvest 20 oz insulated Klean Kanteen® and a 12 oz bag of Prairy® Blend coffee, alongside the pioneering Klean Kanteen® known for their sustainable stainless steel solutions and the Prairy® coffee, expertly air roasted by The Roasterie in Kansas City to offer a unique sensory experience.
Dry Fruit Gift Boxes:
Luxurious yet health-conscious. Dry fruit gift boxes make an exquisite gift for health enthusiasts. A medley of high-quality, nutritious dry fruits in a stunning box? Yes, please!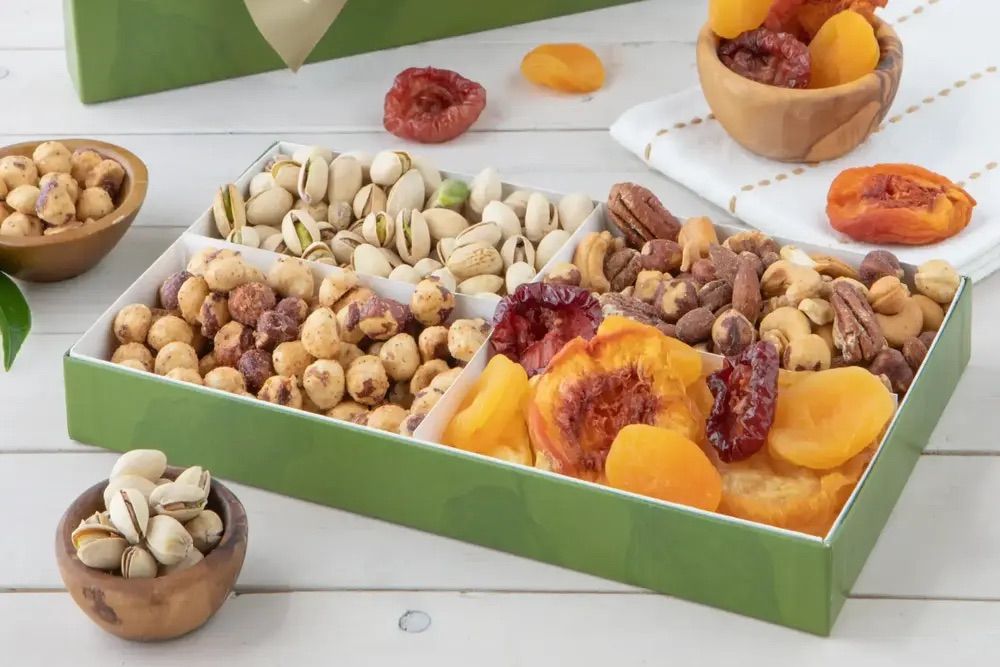 The Fruit Company Mixed Nut & Fruit Box
Combining both sweet and savory delights, this premium gift box contains an assortment of four bags encompassing pistachios, mixed nuts, a blend of sweet and savory hazelnuts, and a medley of dried fruits. A distinctive and guaranteed-to-please gift that will bring joy to snack enthusiasts.
Cheese Gift Sets:
For the gourmet food lovers, cheese sets could be the perfect treat. Picture an assortment of artisanal cheeses, beautifully presented—it's a culinary delight!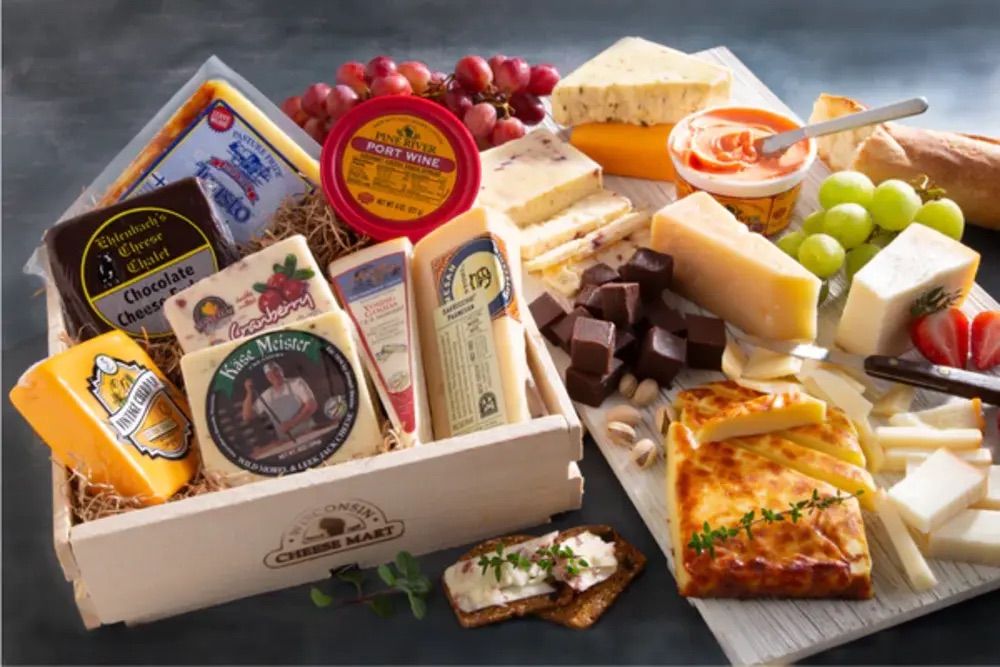 Best Sellers Collection Gift Box by The Wisconsin Cheese Mart
Experience an exceptional assortment featuring our most popular cheese varieties, curated in a Wisconsin-made wooden cheese box, this gift basket encompasses a delectable range from the nutty Marieke Gouda to the sharp Five-Year Aged Cheddar, offering an array of flavors perfect for everyone to enjoy.
Golf Gift Boxes:
For sports fans or executive clients, golf-themed gift boxes can be a home run—err, hole in one! Filled with top-notch golf accessories, these boxes can show your appreciation while highlighting their hobby.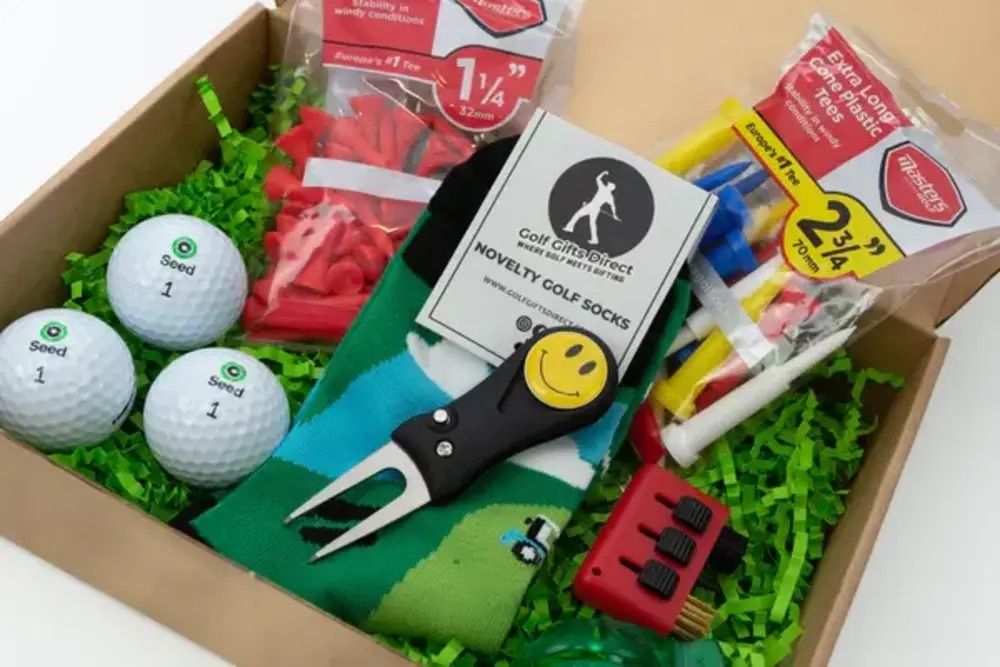 The All Rounder Gift Box by Golf Gifts Direct
The All Rounder box is brimming with premium and practical golf items that any golfer will treasure, thoughtfully presented in an eco-friendly gift box; featuring Seed SD-15 Golf Balls, novelty golf socks, assorted tees, a 3-in-1 golf club cleaning tool, a metal pitch fork repair tool with a smiley face ball marker, and a plastic golf ball marker tool, it's the perfect present for golf enthusiasts.
---
3. Custom Gift Boxes
What's better than a beautifully curated corporate gift box? One that's custom-made! Custom corporate gift boxes offer an added touch of personalization that sets your gifts apart. This could be anything from engraving the recipient's name on a product to choosing the items in the box yourself.
And guess what? Giftpack has got you covered in this department, too. You can customize to your heart's content, creating truly unique gifts for your valued clients or employees.
---
4. Occasion-Specific Corporate Gift Boxes
Gift boxes can also be occasion-specific, and these are a few that never go out of style:
Holiday Gift Boxes:
Seasonal delights that bring the festive spirit right to the office. These boxes can include anything from Christmas cookies to New Year celebration kits.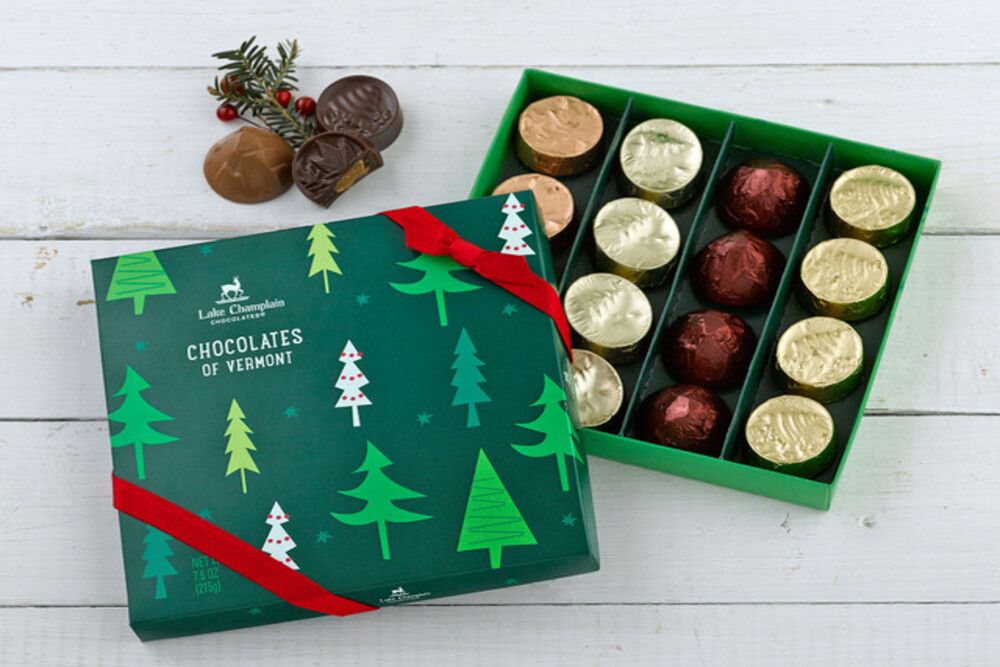 Reindeer Holiday Gift Box by Mino's Prime Steaks
The Reindeer Holiday Gift Box is a festive way to spread holiday cheer with delicious gourmet food items.
Birthday Gift Boxes:
Want to show your employees they're valued? Birthday-specific gift boxes add a personal touch and are a great way to recognize and celebrate their special day.
**Let's Party Birthday Wine Gift Box by Hickory Farms **
Start with the indulgent Vanilla Sprinkle and rich Chocolate Sprinkle Cupcake Jars, accompanied by convenient cupcake spoons. Alongside, discover an array of sweet and savory offerings including Classico Dry Salami, Mission Jack Blend, Strawberry Fig Jam, Sea Salt Flatbread, and Confetti Cake Bites, all ideal for communal enjoyment. Enhanced with Birthday Candles, a Confetti Popper, and the Cheersi Birthday Blanc de Blanc Brut Sparkling Wine, this gift truly captures the essence of a birthday celebration.
New Hire Welcome Kits:
A thoughtful welcome kit can help new employees feel right at home from day one. This can include company swag, useful office supplies, or even a guide to the best local lunch spots.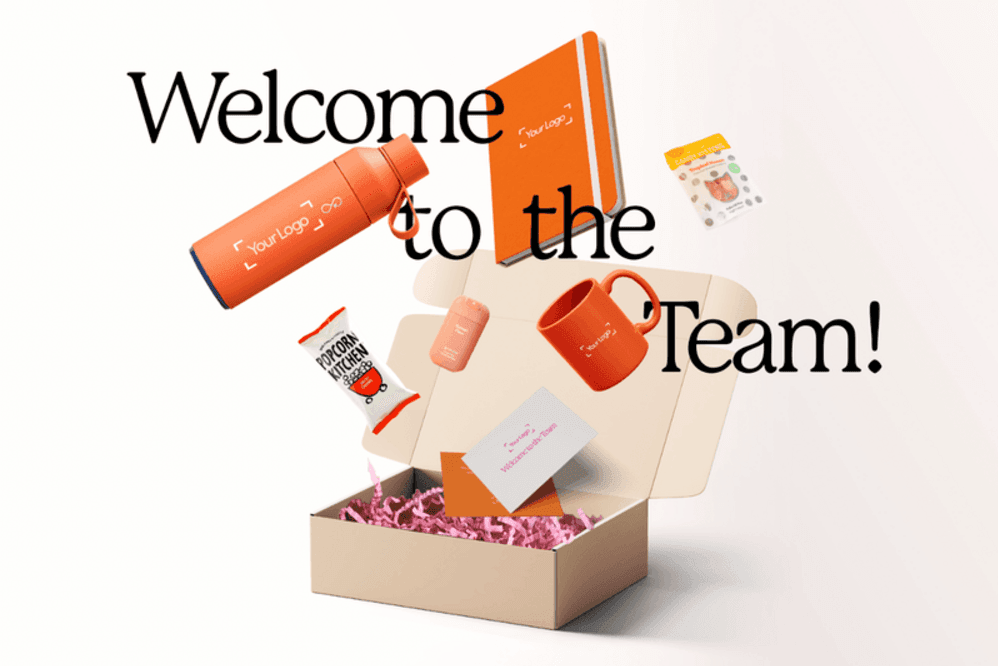 Build your own welcome pack for new employees with HappySwag
Make welcome packs for new team members that are replete with top-notch eco-friendly branded items and personalized packaging.
---
Exploring Giftpack's Options
In conclusion, corporate gift boxes are more than mere gifts. They are a powerful tool for relationship-building, employee motivation, and client retention. By offering a range of options and customization, we ensure that your corporate gift boxes leave a lasting impression.
To explore more gifting options for your needs, check out these AI-recommended corporate gift ideas on our product page.
---
For more in-depth insights into gifting, visit Giftpack AI.
Make your gifting efficient and improve employee attrition rates with Giftpack AI.
Visit our product page to unlock the power of personalized employee appreciation gifts.