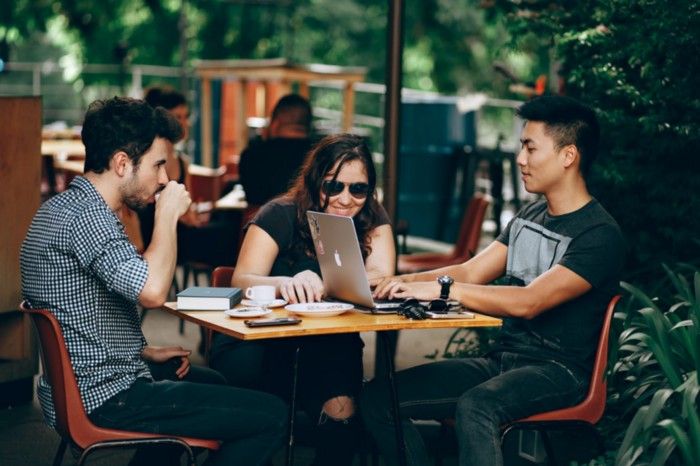 In 2020, the pandemic spread all over the world. It forced organizations to adapt to remote working environment. For most, it was weird at first, but such working culture gradually became the norm.
What is different for Giftpack is that we started as a fully remote company and began to build the culture of remote working since our establishment.
In this post, I dive deep into the factors that influenced me to create this remote style working environment, and share how exactly the Giftpack team is practicing this culture at its best.
---
Building A Remote Working Culture
I personally have a strong background related to engineering, and product design. The biggest challenge for an individual to wear different hats and starting a company at the same time is distraction.
But I knew I need to avoid as many interruptions as possible because "inspiration comes during the most unexpected moments.
According to a research done by Gloria Mark, who studies digital distraction at the University of California, Irvine, most of the professionals would need 23 minutes on average to re-concentrate on work after being interrupted. From my personal experience, it's even more impactful for engineers and product designers.
More often than not, many designers and engineers have the highest productivity after midnight, me included. That is the time when we have undefeatable efficiency and unstoppable inspiration.
The biggest take away on this isn't that midnight is when everyone is the most productive, but that there must be a sort of interval that the individual can utilize, which cannot be interrupted at all. Otherwise, we can't really push ourselves to the extreme and maximize output.
Having said that, at the early stage of Giftpack, I've tried to start a company that is extremely technical and operational-oriented. The framework of remote working is perfect for such an environment.
In the following paragraphs, I share the pros and cons for fully remote working culture, and my process of building our company's remote environment in detail.
---
Pros of Remote Working Policy
Let's go straight into the benefits of remote working for our team members:
Flexible Working Time – Work anywhere and anytime.
Save Time and Money – Cut down on expenses and save time on daily commuting.
Maximize Productivity and Accuracy – Be able to focus more and complete tasks with less time.
Relieve Pressure from Micromanagement – Take out the stress of being watched by supervisors all the time.
Better Work-life Balance – Significantly improve flexibility and freedom.
---
Cons of Remote Working Policy
Challenges that was observed during the establishment of the remote working culture:
Difficulty in Communication – Information passing within teams may be less efficient.
Requirement of softwares and tools – It is hard to complete some work remotely without the help of technology.
Loss of focus – Employees will need top-notch self discipline to survive in a remote working culture.
Less Employee Engagement – Team members are going to be disengaged which may affect their states of minds.
No clear distinction between life and work – It will be hard to get used to this lifestyle.
Internet connection can be a challenge – Not everyone has the best internet at home, but it is actually a matter of life and death for many things.
---
Tools We Use at Giftpack for a Remote Environment
As a very experienced player in the remote working environment, Giftpack introduced a series of softwares and created the Human Resource Management System to help make things easier for both parties. Our team is made up by people who love to experience new things, the list of software below is what we have used / are using now for daily trifles after numerous trial-and-errors:
Slack
When determining the primary communication tool, we saw many companies let people create different groups for working on Line and WeChat.
But this is actually not a wise decision since both of these applications intend to serve more as a social and personal communication tool. When they are used for work-related purposes, it will be hard for employees to differentiate between personal life and work. This actually creates a huge impact on employees' mentality and work efficiency, not to mention that it almost has no integration with other applications.
Giftpack uses Slack internally for reasons below:
Highly-customized Engineering Feature
We integrate everything, from customer service, orders, errors in products, to statistics reports, all in one platform. We know what is happening in our company as long as Slack is on. Even in the remote working environment, information can be passed on immediately.
High Integration with Third-party Applications
Slack has powerful integration features with third-party applications. Within a few clicks, there will be many functions available to us. The team won't need to spend more time going onto other platforms to access the functions.
User-friendly Design
The most vital thing about remote working is actually the culture, and the components affecting this include whether the interaction between people is cute, friendly, and warm. Slack is not only good at the excellent design of efficiency, but user-friendly perspective as well. Just like Giftpack, we love heartwarming products.
Notion
Google Drive and Dropbox Paper were considered the best document management tools back in the days. Google Drive for storing documents and Dropbox Paper for co-editing documents.
However, once the document is too big, it becomes a total disaster to navigate through. Notion is the solution. It combines both functions at one place and can handle big files. The product design of Notion completely changes the mindset of document management.
This innovative and effective method caught our eyeballs. High flexibility for customizing and useful templates made us stay with Notion. There are plenty of articles written to say about the good and the bad of Notion!
MeisterTask
Task management is also very important. At Giftpack, we are believers of kanban's management principles. Surviving in the fast-paced startup environment, Agile processing system lets everyone manage all the details of every task. MeisterTask combines a good management system can lead to results that are easy for tracking. We also tried Trello, but we still like the features on MeisterTask slightly better.
Team members at Giftpack are relatively young. The benefits are high productivity and full of new ideas; drawbacks are lack of management mindsets and experiences. People are often thinking:
"I'm highly efficient, why should I spend that much time documenting my tasks?"
This is a dangerous thought that will lead to problems in synchronizing information when working remotely. How do we know what others are doing as Giftpack recruit more employees? Due to the lack of experience in management and communication, we couldn't track the process of tasks and therefore the execution rate was pretty low.
In terms of engineering, we use Github to manage every process of Issue and To-do. It is a great way to connect codes and every Commit.
UberConference
The competition among meeting applications has always been heated. Originally, Giftpack chose to use Zoom, believing it has the best performance (perhaps the algorithm is well-written so it does not burn the computer when running the program). It also has many nice interaction features. But because of the security issue, we had to let go of Zoom.
UberConference became our main meeting application tool. It hasn't been long since we decided to change, right now there aren't too many difficulties in using it (and it has a Japanese sound system as well); meanwhile, it creates integration with Google Calendar. UberConference has many similarities with Zoom.
Miro
For tasks which require creative thinking, the lack of face-to-face interaction or brainstorming often leaves us a bland conversation or just a screen-sharing session.
For people who have studied thinking process design, they have a certain logic and workflow to generate ideas efficiently and the process needs many graphs and think models to complete.
Pure conversation without action hardly presents the idea. That is why Miro, to our team, is the main creative thinking platform. It helps us to output solutions without seeing each other.
Crisp
For a company which has its own website, having an online customer service system is a must. After comparing similar products, we chose Crisp eventually. It wasn't the online coworking feature that every product has that won our heart but the integration of all the channels:
Crisp can integrate all the messaging channels into one platform, including Line, Facebook Messenger and Twitter. Efficiency is everything.
By integrating with Twilio, we can let customers send messages and emails to us, which hugely improves the return rate.
OpenPhone
The last tool to be mentioned in order to help improve efficiency in this remote working culture is OpenPhone. Most of the companies have a switchboard to respond to all kinds of needs. It more or less influences in some way whether a company has an office or not.
At Giftpack, we use OpenPhone as the company's switchboard. Any team member can log into the App and answer the phone. This is a good remotely virtual switchboard. By arranging everyone's schedule, we can always have someone answer the phone calls from all over the world.
Giftpack provides 24/7 customer service. Our service is already in many different time zones. This form of cooperation is a friendly and efficient solution.
Other Applications
Additionally, there are design-and media-related platforms like Frame.io and Zeplin which can provide effective feedback and improve productivity for remote working.
---
My Way of Managing a Remote Working Team
Aside from software system integration, management and human resource systems should be built together. The main problem we are trying to solve is:
Everyone is remote working and maybe has never met each other in person ever. How to create strong bonds, sense of belongings, and friendships?
Standup Meetings
In order to align with all the information, Giftpack has daily Standup meetings like other startups do. We use 15 minutes to scan through everyone's working process, segmented by different departments to ensure...
What was done yesterday? Were goals reached or extra help is needed?
What is the plan for the day and any expected difficulties?
What is the plan for the next day, depending on the day's plan?
As time goes by, except the weird feeling that we don't see each other very often, it surely improves efficiency for remote working. Standup meeting is also the time where we can report yesterday's milestones.
There was a short period of time we tried to have a standup meeting every two days, and it turned out it is still better to put a little bit pressure in order to have better working performance.
Weekly Reunion Meeting - 1 Minutes Life Sharing
Before getting into the real business in the company's weekly reunion, every single one of our team members will spend 1 minute talking about their personal life in the past week. Everything about work is forbidden, and you cannot make people bored.
By taking this approach, we can actually know each other even if we are working remotely. Listening to everyone's stories around the world is definitely a different kind of experience. It is worth noting that since we are all in different time zones. Starting the meeting through such a way can help bring relationships closer.
There were times when our team members complained that "is a waste of time". We cannot avoid this kind of thoughts coming up from a personal perspective instead of a teamwork spirit. However, this is a culture that Giftpack has built and will continue to live with. For the against opinion, try to ask a reverse question, "Isn't it worth it to use the time that you were originally going to work to chat with your team members instead?"
Donuts
Donuts is a third-party application within Slack. It can randomly create a meeting and provide interesting topics for users to talk about.
At Giftpack, we use Donuts as ice-breakers for new onboarding members. It can drastically reduce the time needed to know each other. We also see it as a chance to continue pairing up weekly and arranging the schedule for psychological counseling. This can make sure team members know people who are both in and outside their teams.
Read this article about how our Giftern feel about Giftpack's culture of remote working.
---
Some FAQ and My Answers
In the final part of the article, let's answer some questions and concerns that might come with a remote working environment.
Is an office a necessity or not?
The answer is "yes". Even though Giftpack is fully remote, the value of co-working spaces are far too great to forgo. We use The Hive and WeWork around the globe as our working spaces. While we don't require employees to go to the office to work; We create a notion that "the office is comfortable for working, you can choose on your own" for team members to find their most suitable working style. Some never appear at the office, and that is completely fine.
One trend we notice is that those who go to office have stronger relationships.
Punishment System...?
At Giftpack, all the team members take great responsibility for their work and have great self-discipline. Thanks to our interview process, we are able to identify the people suitable to work in a remote working culture like such.
While we don't have a clear rule for reward and punishment, the only thing we can do is to ensure they can respond to messages in specific time periods. We are now in the process of establishing this rule. Meanwhile, the workflow of Slack allows everybody to integrate their calendars and notifications.
Giftpack is a startup with diverse people, and culture is the most important thing for us. Documenting every step in building this remote working culture can give companies a chance to reflect and improve. Moreover, it is also a good opportunity to share with people, either entrepreneur or not, as a reference, and make sure we are always on the right track.
Visit our product page to learn more about what we do!