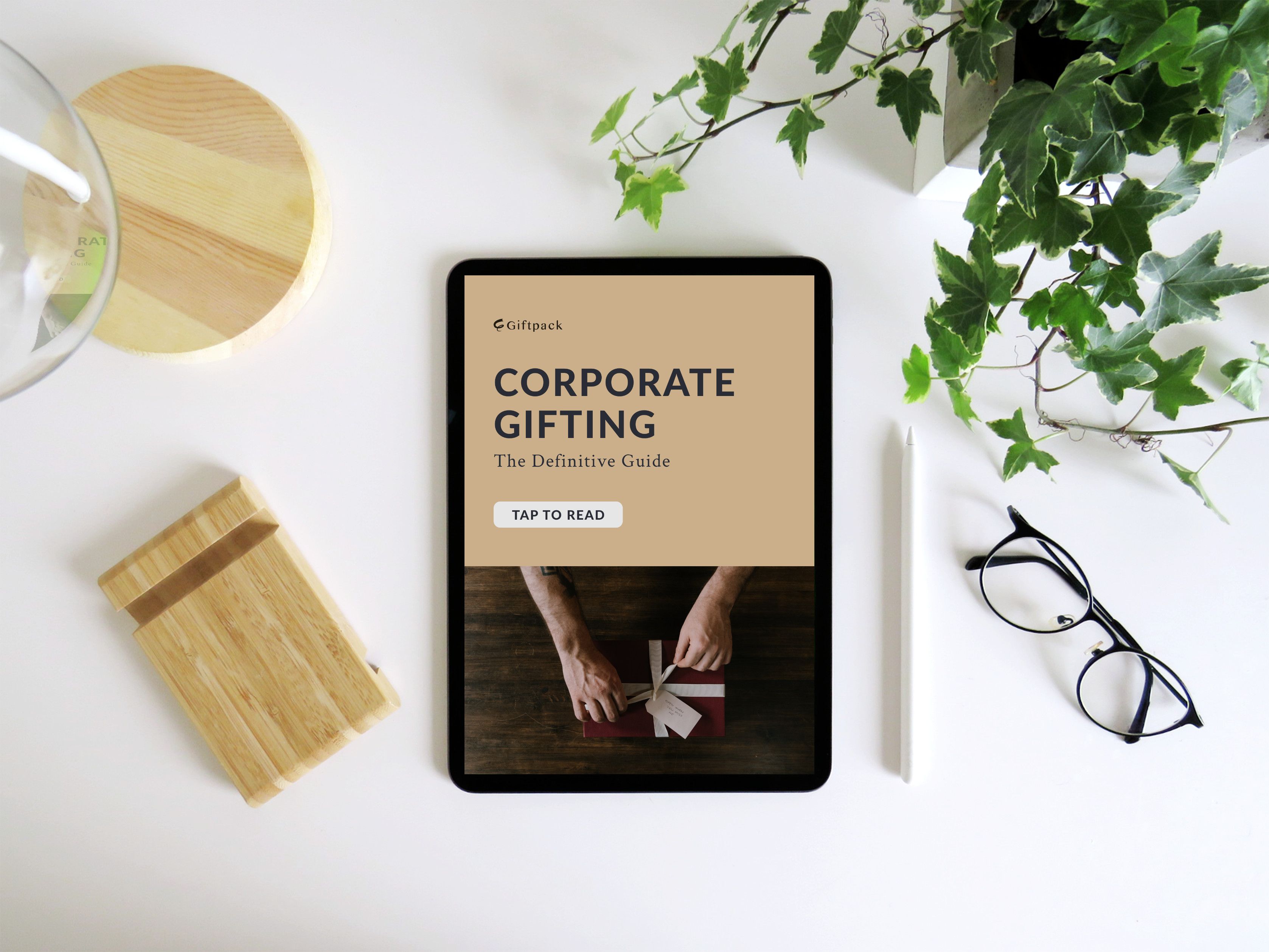 What Is Corporate Gifting?
Corporate gifting is the practice of engaging with a customer, employee, prospective client, or partner through a gift to express gratitude and appreciation, or to create an incentive.
People love receiving personalized gifts because it makes them feel valued and recognized for the impacts they've brought.
As early as more than 10 years ago, Harvard Business Review already emphasized the importance of individual recognition when showing gratitude. The story of the author, Peter Bregman not only pointed out the missing part of corporate gifting, he also suggested one important message: even the smallest act of gifting, such as a hand-written note, delivers heart-warming feelings.
---
The Recipients of Corporate Gifts
Having a general idea of what corporate gifting is, we'd like to give you a very basic overview of the recipients.
In a corporate gifting campaign, it's important to split your recipients into respective groups as different groups will have varying purposes. Below are the 3 main groups of people that you should put your corporate gifting recipients into:
Employees
Customers and partners
Prospective clients
You surely have different business goals you want to achieve with different groups of gift recipients, don't you?
If there's only one thing you could take away from this guide, the rule of thumb to achieving your goal is this: make each gift unique through personalization.
That's all the fundamentals about corporate gifting, for more detailed explanations on what corporate gifting is and the recipients of corporate gifting, we've put together two longer articles that you can read further:
Now, it's time for us to dive deeper into how you can make sure every corporate gifting campaign you launch in the future is going to be successful.
We'll start the guide with this following quote:
"All things being equal people will do business with, and refer business to, those people they know, like, and trust." — Bob Burg and John David Mann in The Go-Giver
---
Achieving Business Goals with Corporate Gifting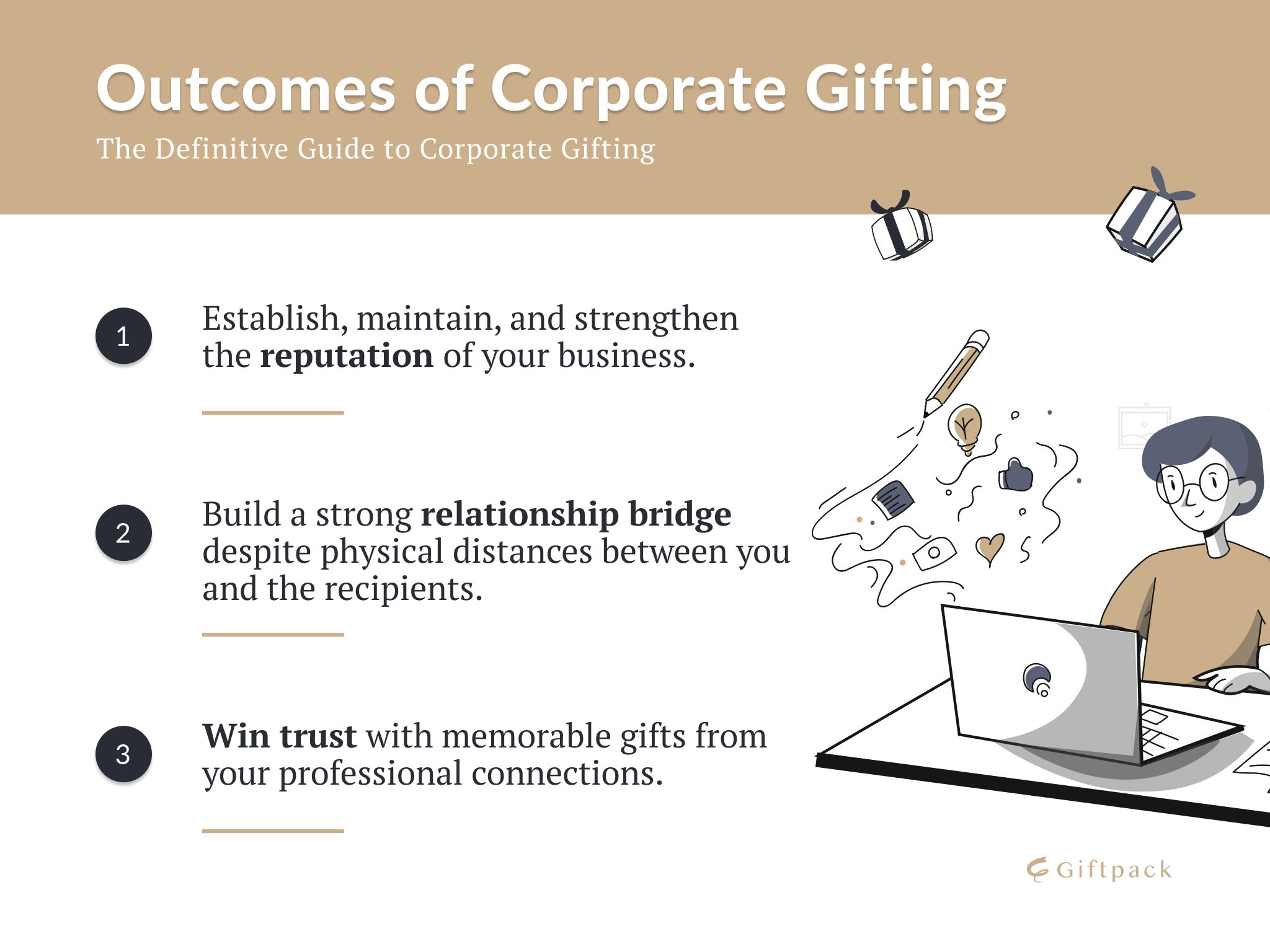 In any existing industry, doing business is all about people.
Developing strong relationships with people is the key to running a successful business. The old adage, "people like to do business with people they like, know, and trust" still holds true today. Your goal in a corporate gifting campaign is to convey your sincerity with meaningful gifts that are sent at the right time, to the right people.
After reading this guide, you'll be able to achieve the following with a corporate gifting campaign, which are the 3 major outcomes when corporate gifting is done right:
Establish, maintain, and strengthen the reputation of your business.
Build a strong relationship bridge despite physical distances between you and the recipients.
Win trust with memorable gifts from your professional connections.
---
7 Benefits of Corporate Gifting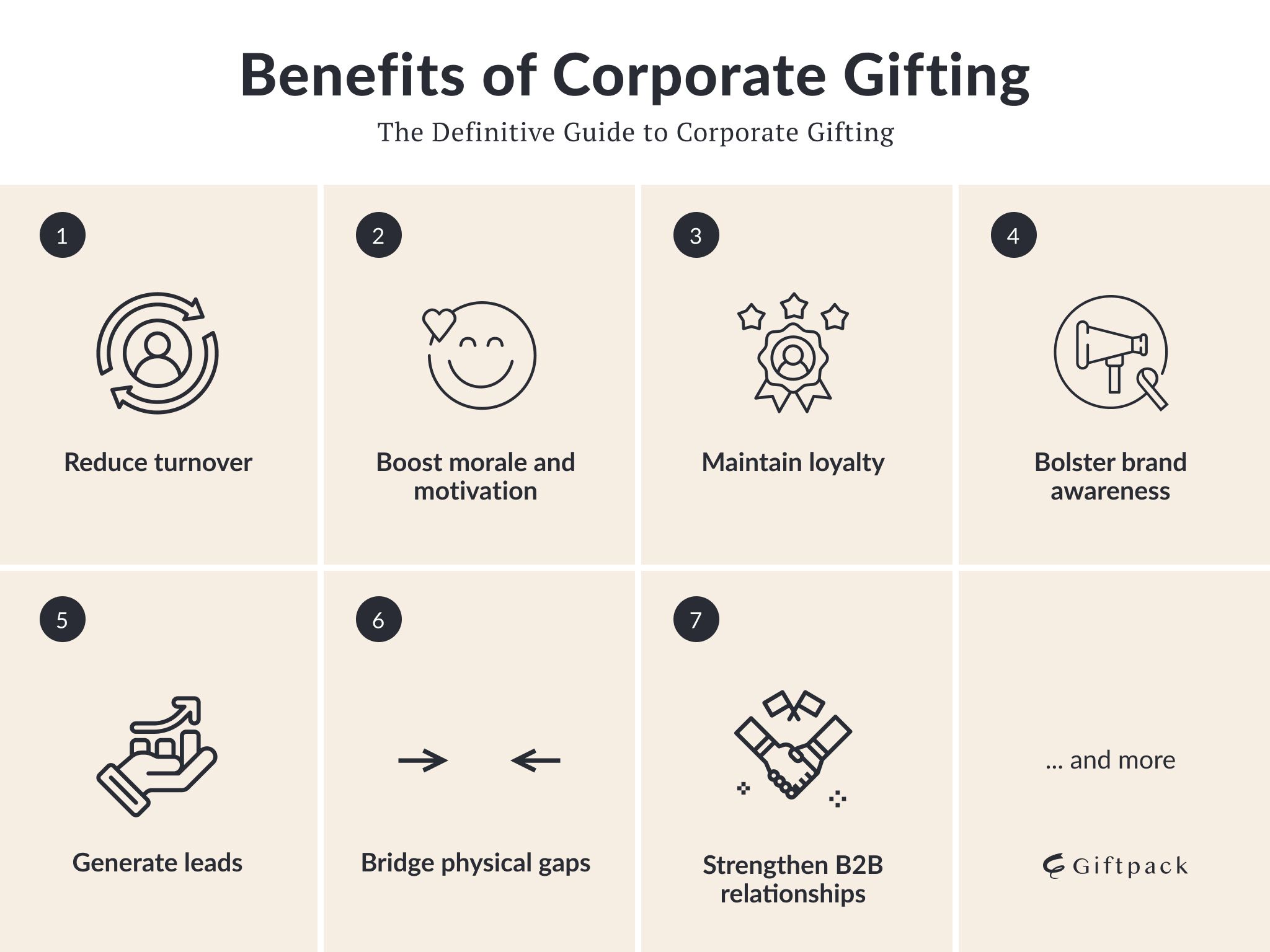 1. Reduce turnover
Employee recognition and appreciation is an integral part of maintaining a healthy workforce. Sending a corporate gift helps you engage with your employees and colleagues. It's also a good way of telling them they have your support when they need it. Of course, the gifts you send will also be reminders of how their continued dedication is recognized.
2. Boost morale and motivation
Employee morale and employee motivation are two extra important metrics for remote workers. Gifting can help boost your workforce's motivation. Working long hours and asynchronous is exhausting for people and we feel burn-out easily. Solve this modern problem with a thoughtful gift. Uplift morales and motivate them for a brighter future.
3. Maintain loyalty for long-term success
Happy customers save you money. This is why saying "thank you" to customers for doing business with you is so important. Invest in corporate gifts to reciprocate the value they provided to your company. Spend time fostering powerful word-of-mouth referrals benefits you in the long run.
4. Bolster brand awareness
Sending a corporate gift is one of the best ways to maximize your brand exposure. It reminds customers of your business without being too deliberate.
5. Generate leads
The 5th benefit of corporate gifting is straightforward: it brings you more potential customers. Use gifts as incentives for recipients so they take the desired actions. These could be booking a meeting or giving you personal information.
6. Bridge long-distance gaps
The best part about global gifting is the borderless aspect (duh). Send a gift to anywhere in the world. You will develop connections regardless of physical boundaries. The tangible benefit of gifting is relationships you could build. It becomes more obvious when remote working is dominating in most of the industries.
7. Strengthen B2B relationships
Not only are corporate gifts an effective way to start a conversation with prospective clients, it fosters the relationships further. You can establish trust and respect by sending a curated corporate gift. By doing this, you show your recipient how much you value the relationship.
---
Tips for Success in a Corporate Gifting Campaign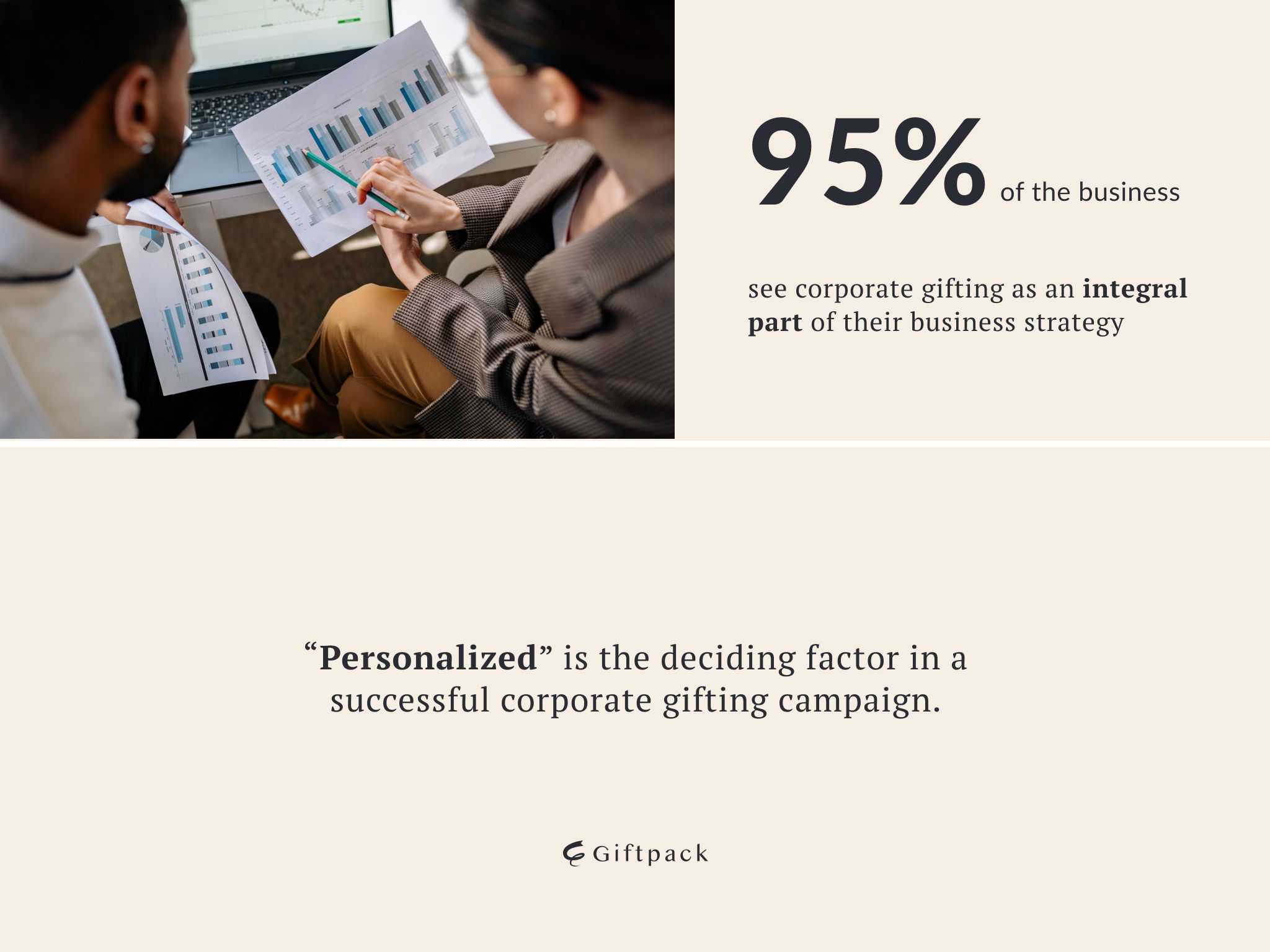 We've covered benefits you could get through successful corporate gifting. But what does it take for a corporate gifting campaign to be successful?
We come up with 3 quick tips for you to set up a successful gifting campaign. Let's navigate through the best practices together to convey your message through and avoid common mistakes.
Do's — Personalized gifts are your top priorities
It's tempting to save yourself time by sending the same gifts, say, swag boxes, to all your recipients. But there are times where this contradicts with the importance of sincerity.
Showing that you care about your recipients means getting to know them and buying gifts that are actually practical, valuable, and meaningful to them. Choosing the right gift for the right person is the core of personalized gifting.
Customizing a gift isn't as challenging as it seems. There are a variety of ways to personalize a gift. Either writing a heartfelt gift card, tailoring packaging to the gift receiver, or adding any "nice touch" to the gifting process would give you a higher chance of success. The aim here is to express your "attention to detail" and recognize their individuality.
At some point, you might be struggling with figuring out what gifts to choose. We have a great tool to help you out. It doesn't matter if you've known your recipient for a long time or have never met before, try this free gift generator. Giftpack AI's personal gifting assistant will help you find matching gifts for anyone.
Do's — Take a reality check
Expectations don't always match reality, especially in the scenario of corporate gifting. Planned actions won't always have the outcomes you have expected, but you can go about finding ways to protect yourself from making mistakes.
Taking a reality check means spending time with your professional connections before sending any gift. Knowing the needs, the wants, and the whys. If you know what problems they are facing in life, it becomes easy to come up with a corporate gift idea.
Dont's — Gift clichés
People love feeling appreciated. Giving memorable presents reinforces the extent that you value your partnerships. On the other hand, sending wrong gifts can undermine the message you intent to deliver. Devote some time into doing research so you could avoid sending the wrong underlying message.
Common clichés you would most likely want to avoid include the following:
Over-promotional gifts
Impersonal gifts
Exclusive holiday season gifting
Poor presentation
Ignoring religious and cultural beliefs
---
Best Corporate Gifting Platforms in 2023
There are tons of corporate gifting services, including Giftpack AI. We are all here with the goal of supporting businesses to create better and stronger professional relationships. Finding a corporate gifting platform saves you time and effort — we will do all the heavy lifting.
These business gifting platforms specialize in streamlining the corporate gifting process and offer valuable data analytics for you to track. When picking the one that's most suitable for you, here's what you should consider before making your final decision:
Service coverage
Customer service
API integration
Scalability
Personalization
Pricing
Goal alignment
Read further about our review of the top 10 corporate gifting services, where we detailed the most relevant considerations to evaluate before deciding which platform and the best corporate gifting companies for you. They include:
And that's all we have for this definitive guide to corporate gifting.
We start by giving you a basic concept of corporate gifting, explaining the goals you'll achieve. We then move on to share the benefits of corporate gifting and provide you tips on how you can succeed. Lastly, we list out 10 corporate gifitng services that might be suitable for your business.
If you need a short introduction of what Giftpack AI do and how we stand out from our competitors, here's a 1-min video!