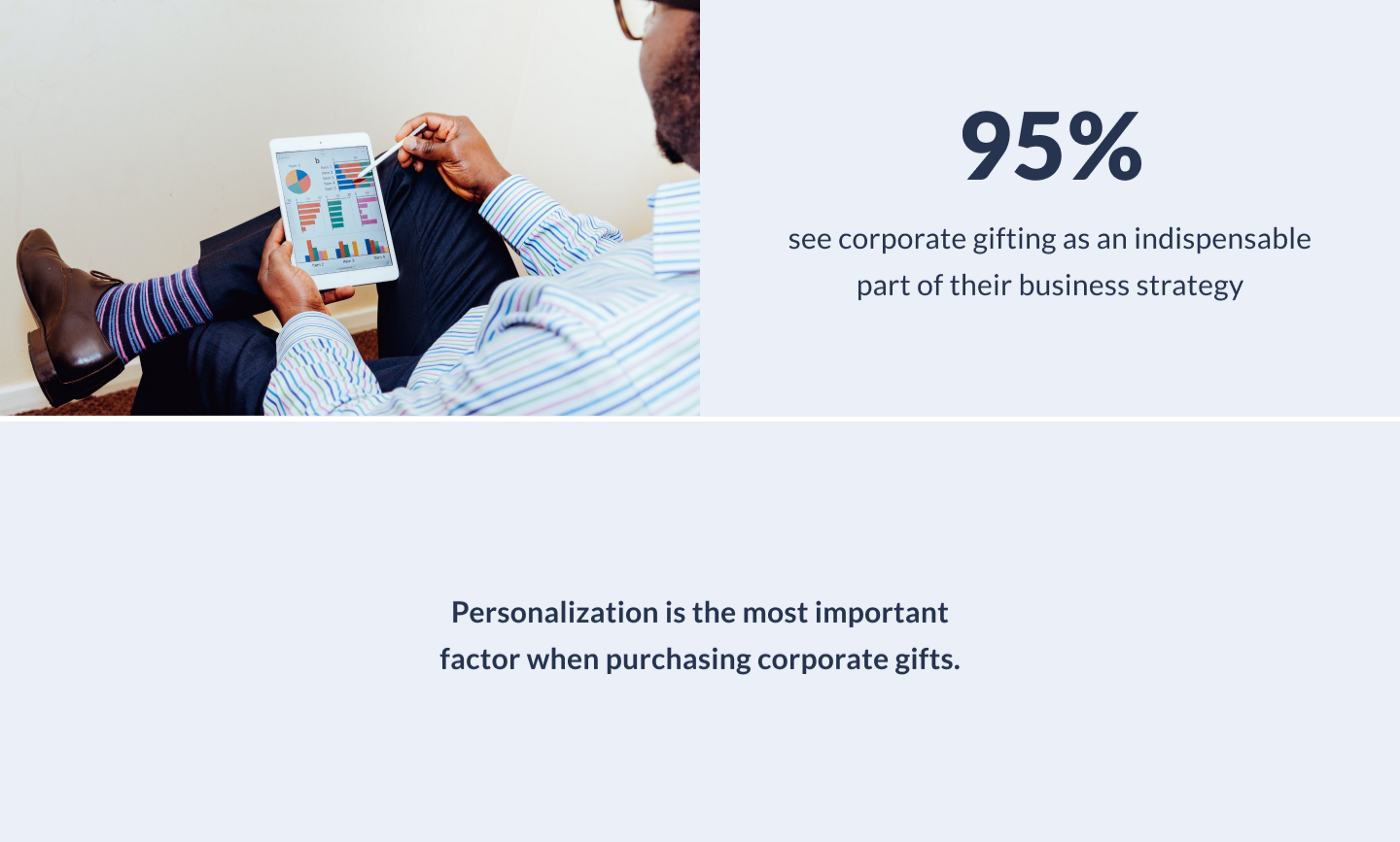 What is corporate gifting?
Corporate gifting is the practice of engaging with a customer, employee, prospective client, or partner through a gift to express gratitude and appreciation, or to create an incentive.
People love receiving gifts because it makes them feel valued and recognized for their impact. Harvard Business Review emphasizes the importance of individual recognition in showing gratitude because group acknowledgement leaves people feeling distanced from their individual contribution to achievements. Even the smallest act of gifting, such as a hand-written note, conveys unspoken meaning and emotion.
"All things being equal people will do business with, and refer business to, those people they know, like, and trust." — The Go-Giver by Bob Burg and John David Mann
---
Who are the recipients of corporate gifts?
When sending corporate gifts, it's important to split recipients into their respective groups as different groups will have varying purposes. Make each gift unique through personalization to help ensure each gift achieves its intended goals. Below are the 3 main groups of people that you should consider your corporate gifting recipients:
Employees
Customers and partners
Prospective clients
---
What are the outcomes for following this corporate gifting guide?
In any industry, it's all about people. Developing strong relationships with people is one of the keys to successful businesses. The old adage "people like to do business with people they like, know, and trust" still holds true today. Convey your authenticity with meaningful gifts sent at the right time.
Here are 3 major outcomes you can achieve through this practice:
What are the benefits of corporate gifting?
Reduce turnover
Employee recognition and appreciation is an integral part of maintaining a healthy workforce. Engage with them and get a pulse on how they are feeling about the job and support them when they need it. Unexpected gifts received work well to communicate your gratitude. Remind them their continued dedication is not left unnoticed.
Boost morale and motivation during difficult times
This is especially important for employees who are working remotely. Gifting can help boost your workforce's motivation. Working long hours is already exhausting and people can easily feel burned out. Remedy this with a pick-me-up gift to uplift their spirits and revitalize them to be ready for work.
Maintain loyalty for repeat business
Say thank you to your customers for their loyalty. Invest in worthwhile gifts to reciprocate the value they provide in return. Spend time fostering powerful word-of-mouth referrals to generate even more business.
Bolster brand awareness
Maximize your brand recognition through the tasteful brand placement on corporate gifts. Remind customers of your business without being overly loud. As always, be cautious to not turn gifts into generic promotional material.
Generate leads
Use gifts as incentives for recipients to take the desired action, such as booking a meeting or leaving their contact information. Be the first to actively engage leads and give before you ask for something in return.
Bridge the long-distance gap
One advantage of gifts is the borderless aspect of it. Send a gift anywhere in the world to develop connections outside of physical boundaries. The tangible aspect of gifts is more effective in building relationships compared to purely online contact. Stand out to add a different, more memorable dimension to human interaction.
Strengthen B2B relationships
Gifts are an effective way to start a conversation with prospective clients. Establish trust and respect by sending curated gifts that reflect the significance of the relationship.
Tips for success
There are common do's and don'ts when it comes to gifting for business. We're here to help you navigate the best-practice methods to avoid pitfalls and drive home the message you want to send every time.
Do's — Prioritize personalization
It's tempting to save yourself time by sending the same gift to all your recipients. But, it contradicts the message of authenticity emphasized with your gesture. Caring about your recipients means getting to know them to gift something valuable. Show that you took time to think about the gift rather than pluck something off the shelf at the last minute.
Choosing the right gift for the right person is at the heart of personalization. Customizing a gift doesn't have to be a challenge. The item you give already indicates the extent you went to understand the giftee's needs. There are a variety of ways to personalize a gift from crafting a hand-written card to purposeful packaging tailored to the receiver. The aim is to express your attention to detail to highlight their individuality.
If you're struggling to figure out what to give, whether you know your recipient for a long time or never met them before, try this free gift generator. Giftpack's personal gifting assistant uses AI technology to match gifts to any individual at the click of a button. Take the guesswork out of gifting and let Giftpack help you find a gift out of millions of options that fit your recipient.
---
Do's — Understand current trends
Gifting trends change over time. Being aware of current trends can help guide you to choosing a suitable present. The most influential factor affecting gifting trends in 2022 is the pandemic. It changed many people's behaviors and habits. Remote work altered normal working dynamics. The focus shifted to businesses connecting with employees through different channels and methods.
Gifting trends of 2022 include:
Gift cards
Health and wellness
Outdoor
Work-from-home
Self-care
Online courses
Do's — Take a reality check
Expectations don't always match reality when it happens, especially when it comes to gifting. Planned actions don't always have the outcome you desire, but you can go about finding ways to protect yourself from gifting mishaps. Our top tips from above about personalization, trends, and clichés are a starting point for you to ensure your present hits the right mark.
Dont's — Gift clichés
People love feeling appreciated and giving memorable presents reinforces the extent that you value your partnerships. However, sending the wrong gift can be dangerous in undermining the message you want to tell. Devote some time to do research and prevent missing your mark.
Common clichés include:
Over-promotional gifts
Impersonal gifts
Exclusive holiday season gifting
Poor presentation
Ignoring religious and cultural beliefs
---
Corporate gifting platforms to use in 2022
There's a myriad of services with the goal of supporting businesses to form better, stronger relationships. Save yourself time and money by employing gifting experts to do the heavy lifting for you. These platforms specialize in streamlining the corporate gifting process and offer valuable data analytics for you to track.
Here's what you should consider before settling for a corporate gifting service:
Service coverage
Customer service
API integration
Scalability
Personalization
Pricing
Goal alignment
Read on for our review of the top 5 corporate gifting services detailing the most relevant considerations to evaluate before deciding which platform you should use for your business. These include:
---
Further reading:
Read on for a more in-depth explanation: