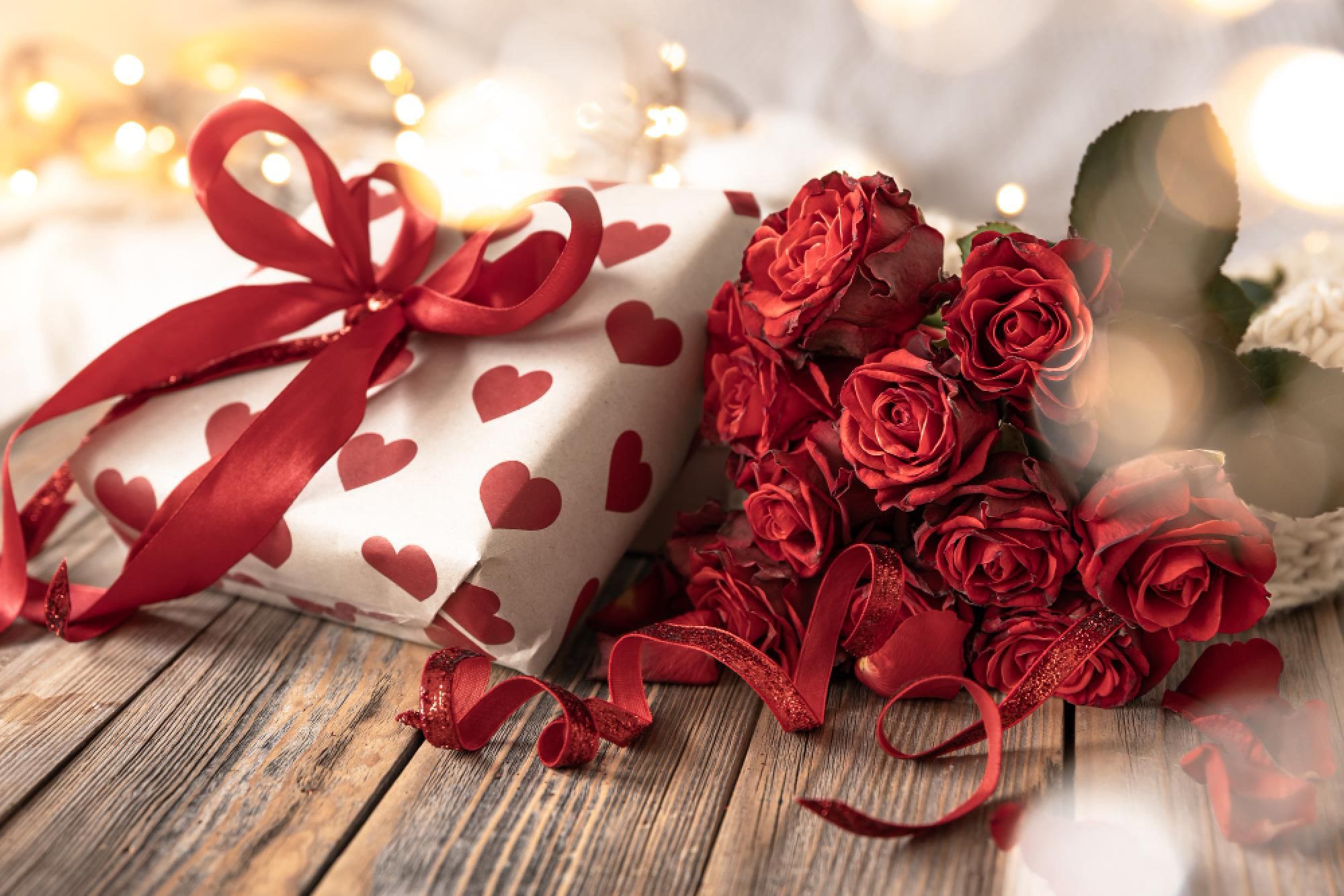 Every year on February 14, millions of people — roughly three-quarters of Americans — celebrate Valentine's Day in order to express their love by giving and receiving cards, gifts, and other tokens of affection.
Valentine's Day can be observed in a variety of ways, and each person may have a special preferred way to mark the occasion. A grand gesture might be what some people want, while a quiet dinner might be what others want. Any type of celebration will be enhanced by a thoughtful gift, regardless of what it is.
With our extensive Valentine gift guide and advice, make this Valentine's Day one to remember. Find original gift suggestions, money management advice, and presentation guidance to make your loved one's special day memorable. Continue on to mark this Valentine Day unforgettable.
---
What is Valentine's Day?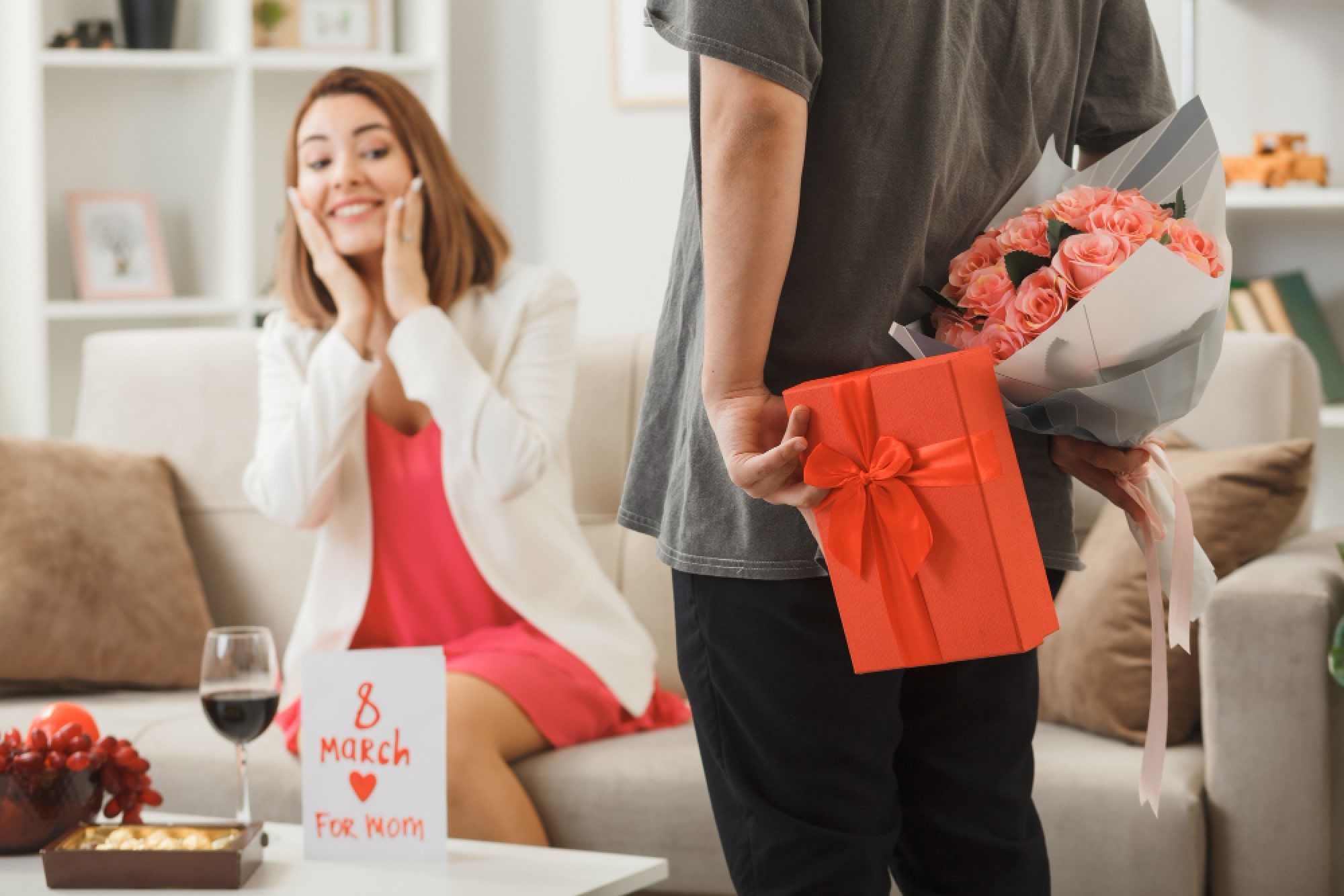 Valentine's Day has a complex history that is believed to have roots in ancient Roman traditions, Christian martyrdom, and medieval courtly love. Saint Valentine, a priest who lived in the 3rd century, is the patron saint of lovers and is widely recognized as the main figure associated with the holiday.
According to legend, Saint Valentine performed marriages for Christian couples in secret, defying the Roman emperor's ban on marriages, which he believed hindered the military recruitment. He was eventually imprisoned and executed for his actions.
In the 5th and 6th centuries, Pope Gelasius declared February 14th as St. Valentine's Day, to honor the martyred saint. By the 14th and 15th centuries, the holiday became associated with romantic love, as poets and writers popularized the idea of courtly love, in which knights expressed their devotion and admiration for their ladies.
Today, Valentine's Day is celebrated in many countries around the world. While its origins and meanings have evolved over time, the holiday remains a celebration of love, affection, and companionship.
---
Why Do We Send Gifts on Valentine's Day?
The simple answer is – to express appreciation, affection, and gratitude for one another.
But the real answer is – gifting is a key aspect in maintaining a strong relationship, any kind of relationship. And Valentine's Day holds significance for individuals in relationships or seeking one, making it no surprise that the tradition of exchanging gifts on Valentine's Day has been long-standing.
Valentine's Day also opens an opportunity to muster the courage to confess one's feelings to someone they hope to spend a lifetime with. In many countries and traditions, individuals express their love by gifting flowers and chocolates as a way to impress their special someone.
---
Tips on Valentine Gift Ideas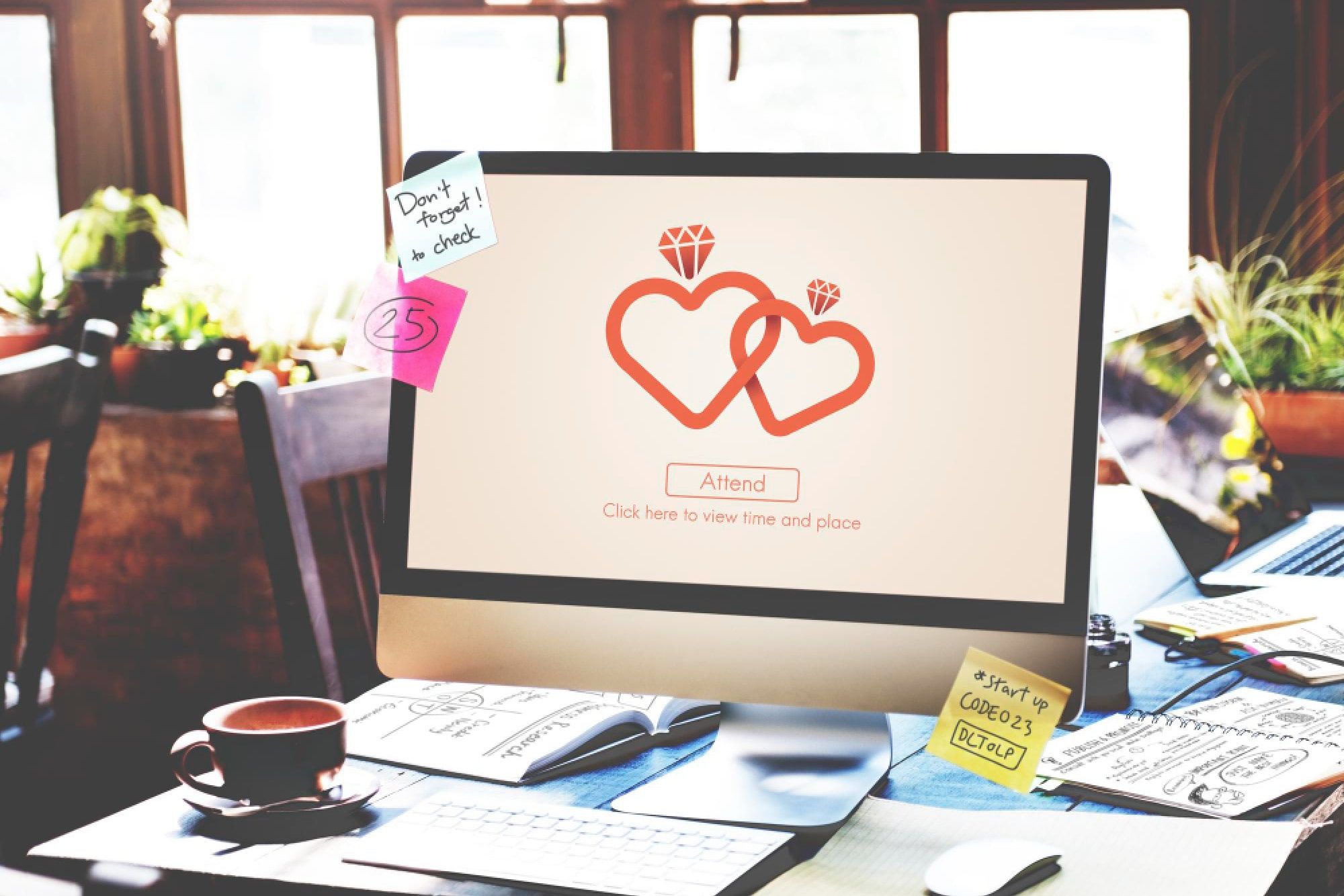 Choosing a Valentine's Day gift can be a challenge, depending on the level of familiarity with your significant other. If you have a long history together and know their preferences well, gift selection is a breeze. However, if you're just getting to know each other and have only been on a few dates, finding the perfect gift can be a difficult task.
Below we listed out a few tips for you to up your Valentine gift game:
Personalized your Valentine's Day gift
Sending a personalized gift​​ on Valentine's Day is a good idea because it shows that you put effort and thought into choosing something unique and special for your loved one.
Personalization adds a personal touch and makes the gift more meaningful and sentimental, which can evoke emotions and memories. Additionally, it shows that you pay attention to the person's interests and preferences, and makes the gift one-of-a-kind, just like your relationship. Personalized gifts are not only practical, but also sentimental and leave a lasting impression, making them a great choice for Valentine's Day.
Consider their lifestyles
Considering your partner's lifestyle when picking a Valentine's Day gift is important because it shows that you understand and appreciate their daily routines, interests, and needs. By selecting a gift that aligns with their lifestyle, you are giving them something practical and useful that they can incorporate into their daily life.
For example, if your partner is an avid runner, a pair of running shoes or a new workout gear would be a great gift that they can use on a daily basis. If they are always on the go, a stylish and practical backpack or a travel pillow would be a great option. Or if they are into cooking, a cookbook, kitchen gadget, or cooking class would be a thoughtful choice.
By taking your partner's lifestyle into consideration, you are showing that you pay attention to their needs and interests, and that you want to make their life easier and more enjoyable. This thoughtfulness and consideration will not go unnoticed and will make your partner feel appreciated and loved.
Traditional gifts with a twist
Valentine's Day is often associated with traditional gifts like flowers, chocolates, and jewelry, but you can add a creative and unique twist to these classic gifts to make them more personal and meaningful. Here are some ideas for traditional gifts with a twist on Valentine's Day:
Personalized jewelry: Engrave a special message or your partner's name on a piece of jewelry to make it a one-of-a-kind gift.
A bouquet of their favorite treats: Instead of just flowers, surprise your partner with a bouquet of their favorite candies, cookies, or other treats.
A custom photo book: Create a custom photo book with pictures of the two of you and special memories that you have shared together.
A romantic scavenger hunt: Plan a romantic scavenger hunt that leads to different locations with special gifts or messages at each stop.
A couples spa day: Give the gift of relaxation with a couples spa day. Book a couples massage or a spa treatment to make the day extra special.
By adding a creative and unique twist to traditional gifts, you can make them more personal and meaningful for your partner on Valentine's Day.
Experiences and activities
When it comes to Valentine's Day, it's not just about the gift, it's about creating memories and spending quality time with your loved one. That's why pairing your gift with an activity is a great way to make the day extra special. You can choose an activity that you both love, such as cooking a meal together, taking a dance class, or going on a scenic hike. Or, you could try something new, like taking a wine tasting class or trying an escape room. The options are endless, and the focus should be on creating an experience that you and your partner can enjoy together.
By combining the gift and the activity, you are giving your partner two gifts in one. Not only will they receive a present, but they will also get to spend quality time with you, making memories that will last a lifetime. So, take the time to plan something special and make this Valentine's Day truly unforgettable.
Thoughtful gestures and surprises are a great way to show your love and affection on Valentine's Day. It's about making the day special and memorable for your partner. Here are some ideas for thoughtful gestures and surprises on Valentine's Day:
Plan a surprise date: Take your partner on a surprise date to their favorite restaurant or to a place that holds special meaning for the both of you.
Write a love letter: A handwritten love letter is a timeless and personal gesture that will show your partner how much you care.
Cook a special meal: Cook your partner's favorite meal or try a new recipe together. Make the evening a relaxing and romantic experience.
Create a memory jar: Fill a jar with special moments and memories that you have shared together. This will be a touching and sentimental gift that your partner can treasure for years to come.
Do something spontaneous: Plan a spontaneous adventure or activity, such as taking a hot air balloon ride or going on a hike.
By incorporating thoughtful gestures and surprises into your Valentine's Day celebration, you can make the day extra special for your partner and create memories that will last a lifetime.
8 Personalized Valentine Gift Ideas for Her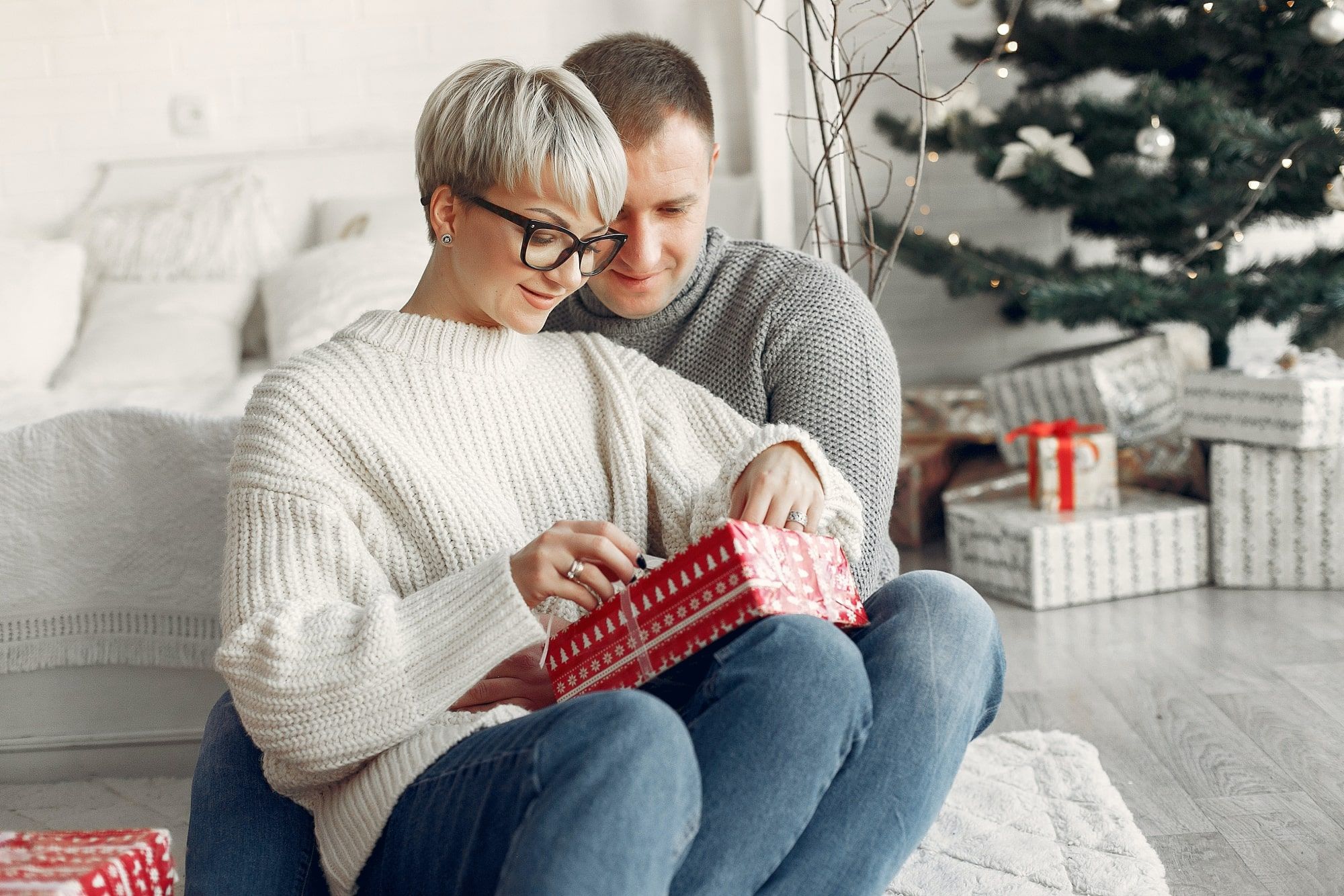 Below are some Valentine's Day Gift recommendations for female:
1. You Are My Missing Piece Personalized Heart Puzzle $22.99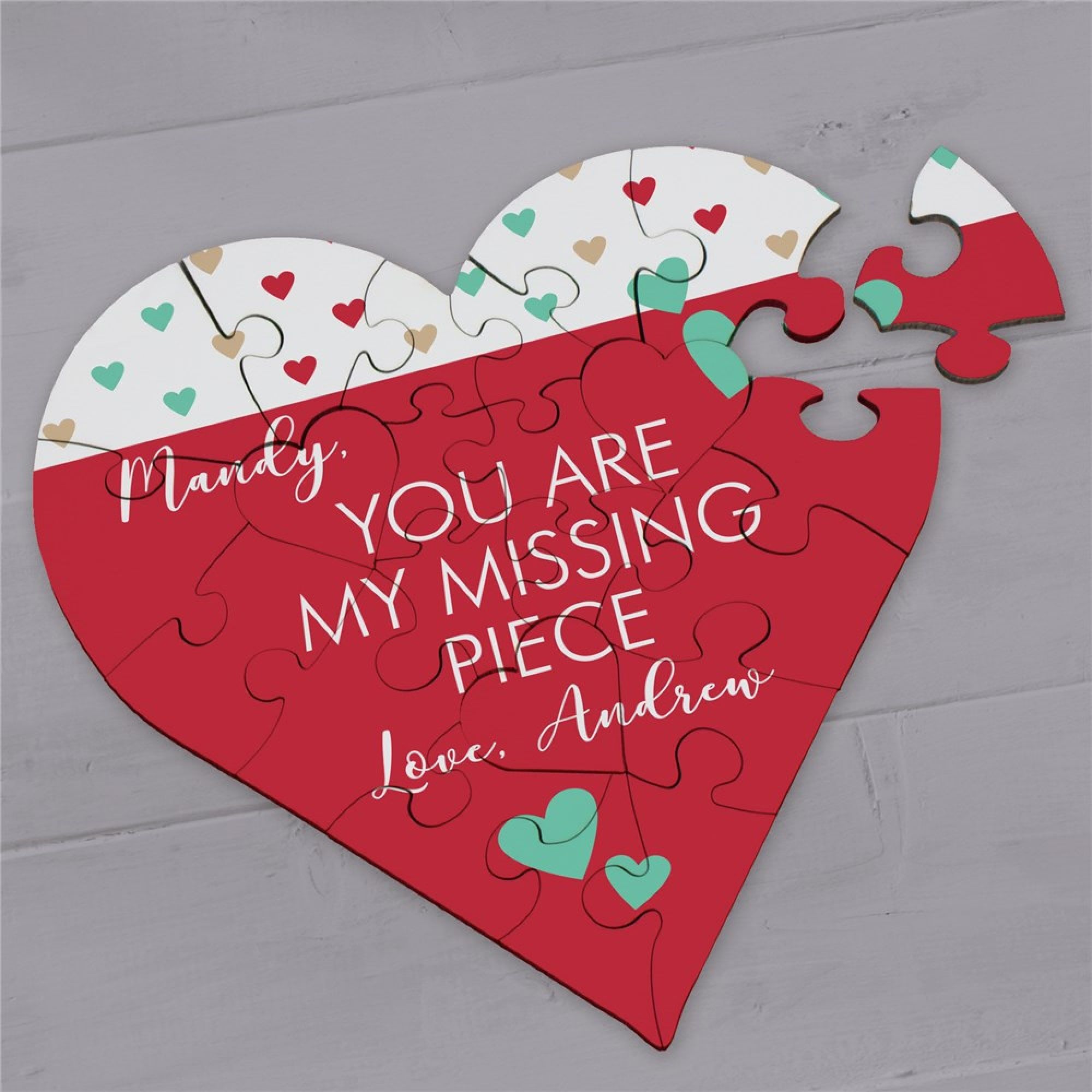 With this You Are My Missing Piece Personalized Heart Puzzle, you can tell your sweetheart how much you adore them. Engrave their name and your closing sentiment to make this personalized keepsake even sweeter.
2. Customized Coordinates Throw Pillow $32.49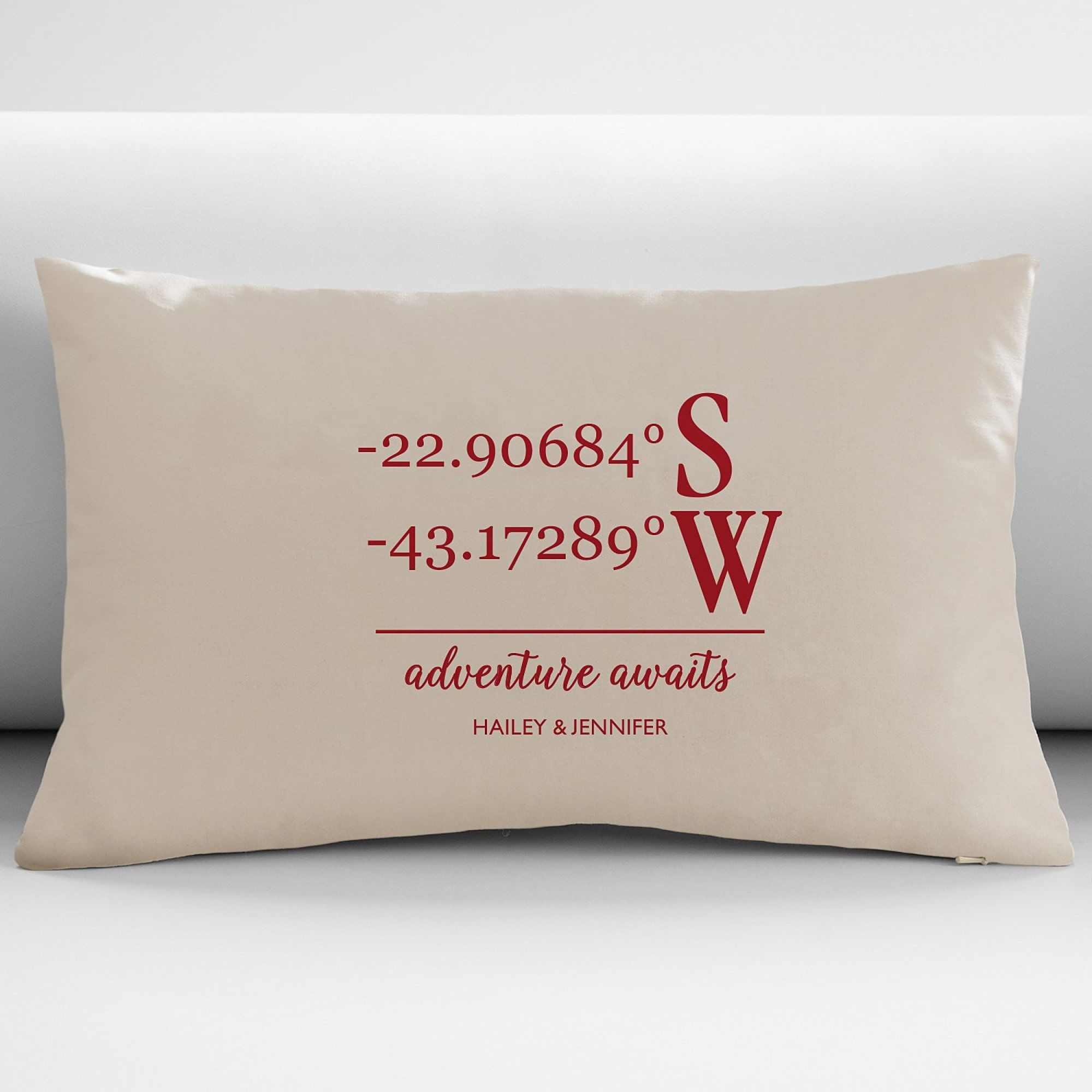 This Customized Coordinates Throw Pillow is 100% cotton canvas cover with polyester fiberfill. It comes with different colors and sizes. Personalize with any 2 line message up to 16 characters on the first line, and up to 22 characters on the second line. The location that will be converted and presented in coordinates, making it a mystery, one only you and your partner will know.
3. Xo's Galentines Necklace $22.99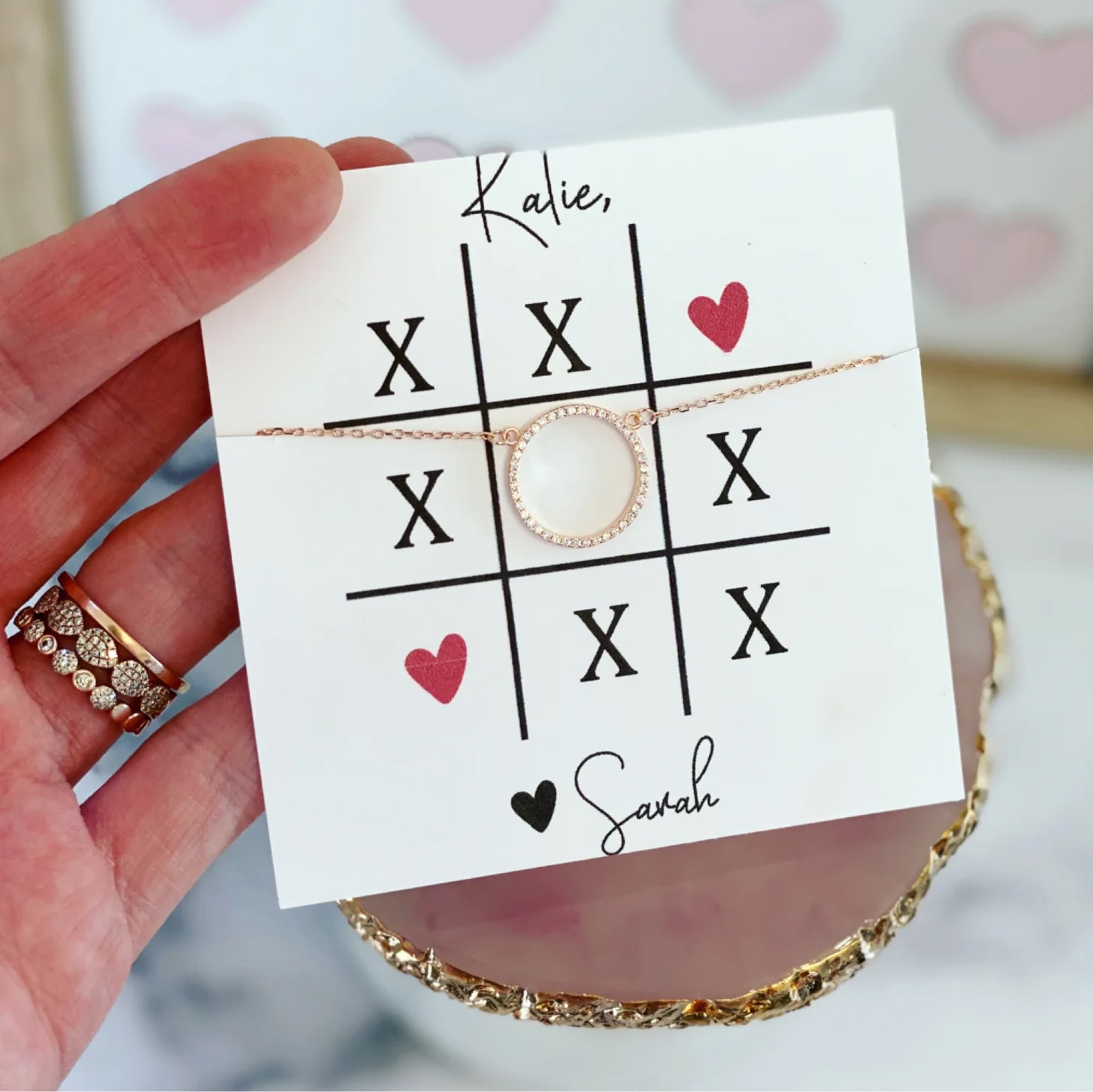 This Galentine's Necklace with the XO Set will show off your love to her. The circle necklace is beautiful by itself, but when displayed with the XO card, it sets off the necklace even more. This is definitely one of the most beautifully thoughtful gifts! It will be a magical experience from unboxing the personalized box to putting on the necklace.
4. His & Hers Split Heart Key Chain Set $13.99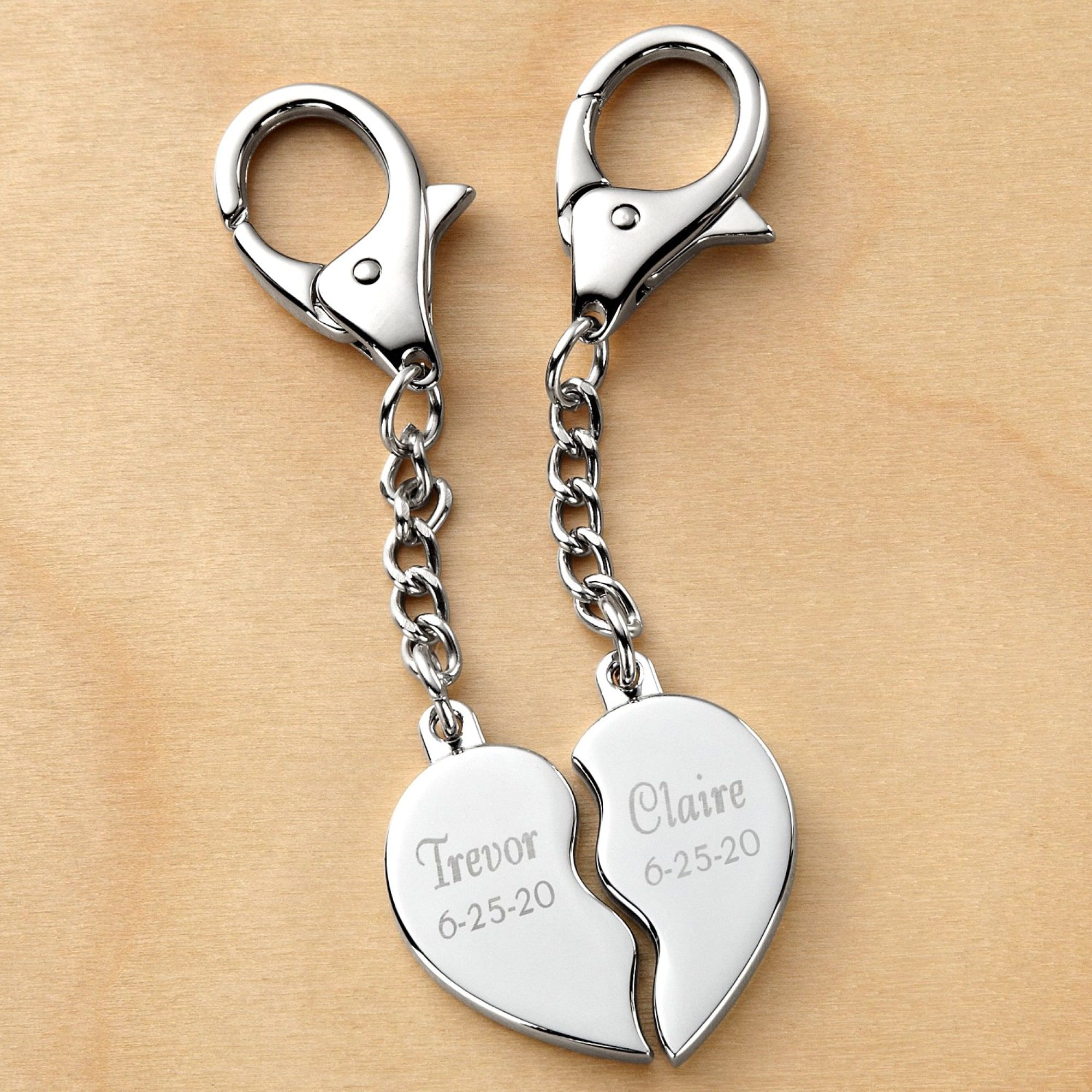 Surprise your loved one this Valentine's Day with this His & Her Split Heart Keychain Set, made of non-tarnish nickel-plated metal, is durable and will last for years without losing its shine. Each half of the heart can be engraved with a name of your choice, up to 8 characters, making it a unique and personal gift for your special someone. When placed together, the two keychains form a complete heart measuring 4 inches long and 2 inches wide. The keychain set comes in a beautiful presentation box, making it a thoughtful and memorable gift for your Valentine.
5. Together as One LED Votive $32.49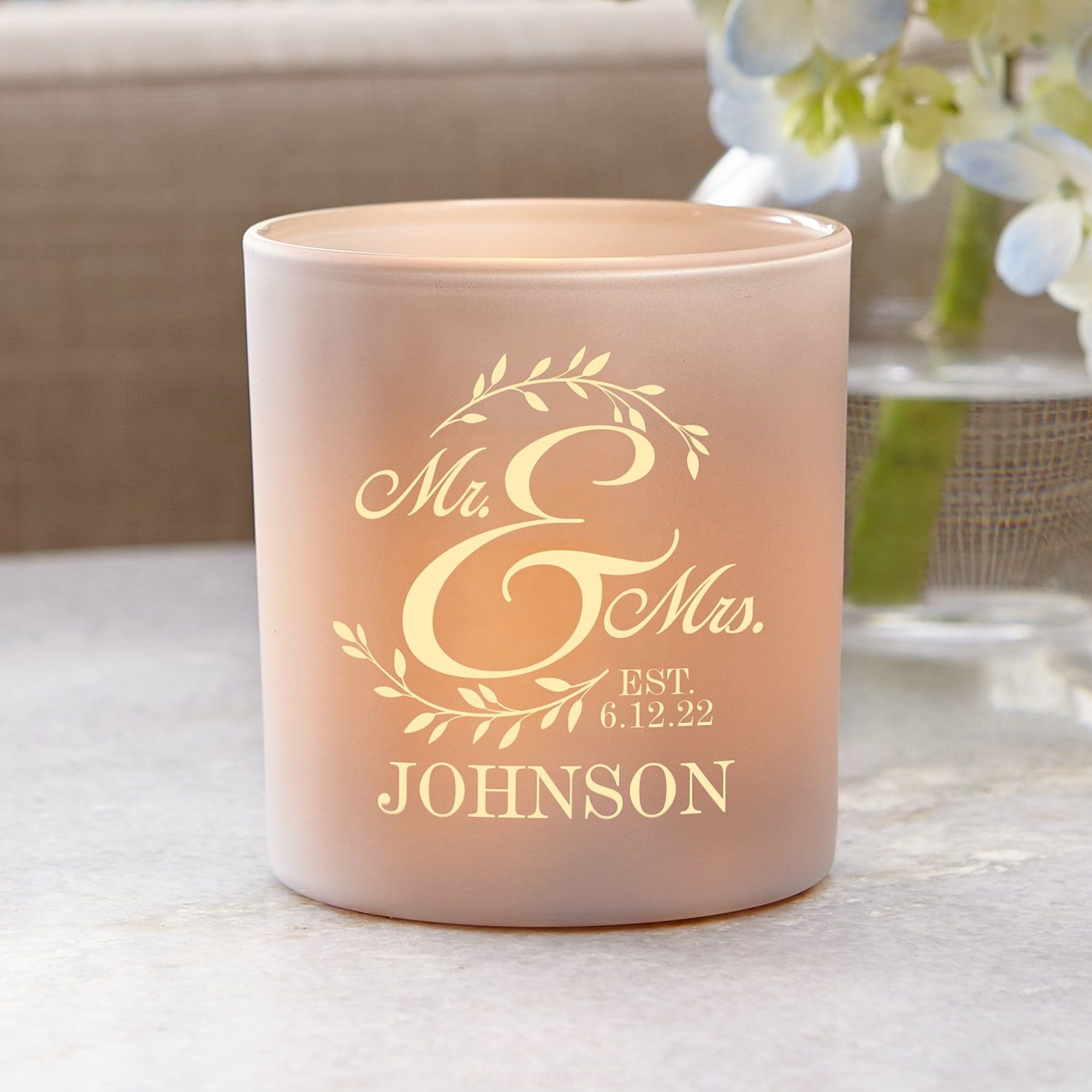 This beautiful glass decoration - Together as One LED Votive - is a shining symbol of the special love shared between two individuals. Made exclusively by Personal Creations, it comes with a battery operated tealight that illuminates the sentiment and adds a warm glow. Measuring 3.65 inches in height and 3 inches in diameter, this piece is available in Mr./Mrs., Mr./Mr., and Mrs./Mrs. designs, and can be personalized with the names of the couple, up to 12 characters each, along with a date. The "&" and "EST." symbols will always appear on the decoration, making it a lasting reminder of the special day when they became one.
6. Elegant White Marriage Photograph Wedding Vow Art Faux Canvas Print $39.25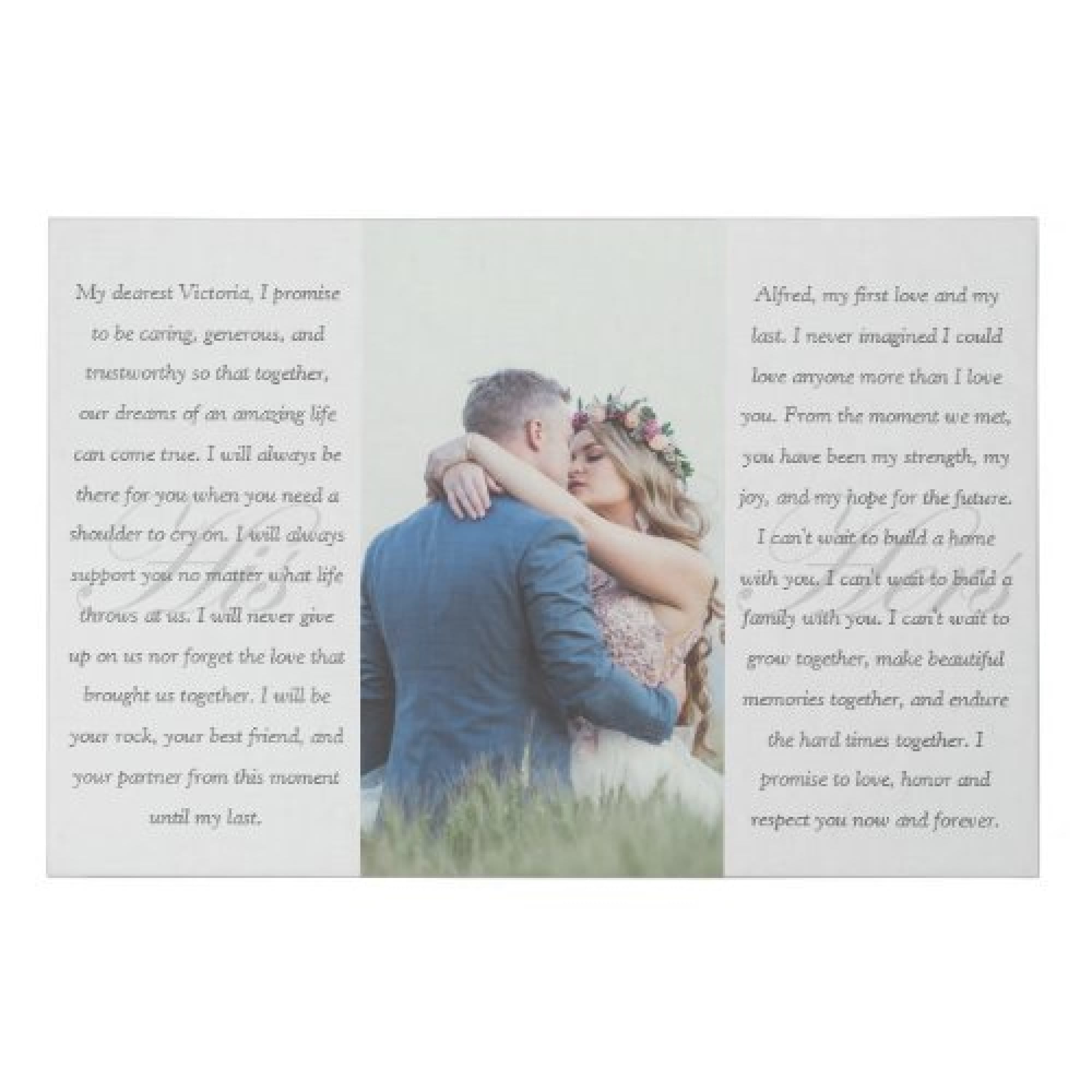 This Elegant White Marriage Wedding Vow Faux wrapped canvas print is an affordable and stylish addition to any wall décor. Made from lightweight foam core, these vibrant and durable prints are easy to transport and simple to hang. Measuring 36" x 24" x 2.5", the white 3/16" foam core material is super lightweight but resilient. Assembly is effortless with its easy peel-and-stick feature, making it the perfect option for anyone looking for an economical alternative to traditional canvas wrap prints.
7. Customized 3D Moon Lamp $24.83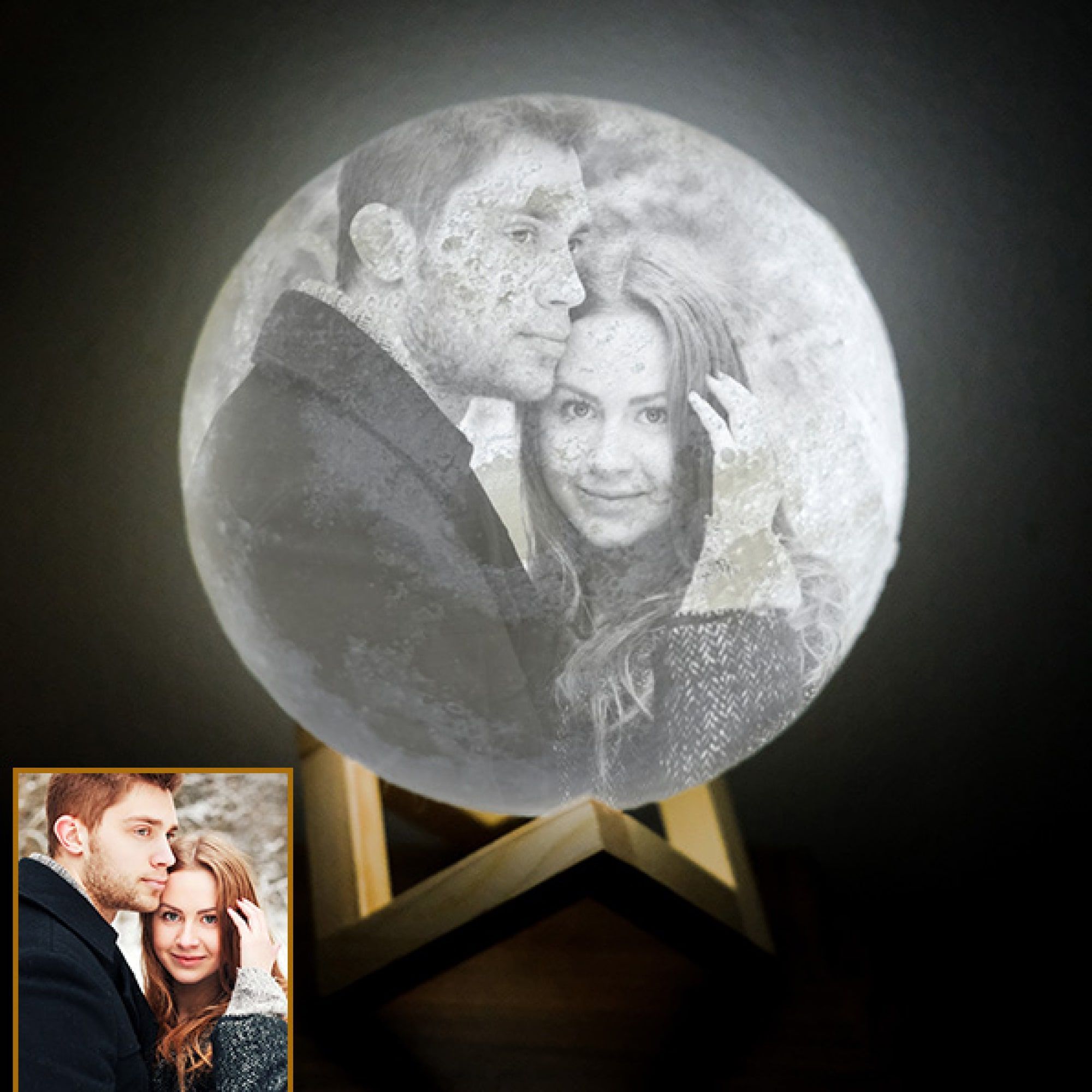 Transform any room into a magical wonderland with CanvasChamp's personalized color-changing moon lamps. The perfect gift for any special occasion, our moon lamp allows you to express your love with a custom image printed on the surface. The lamp comes with a wooden holder and a USB cable for charging, providing up to 9 hours of soft, radiant light. Create an enchanting atmosphere by designing your cherished memories on a beautiful moon lamp.
8. Custom Face I Love You Pajamas $59.95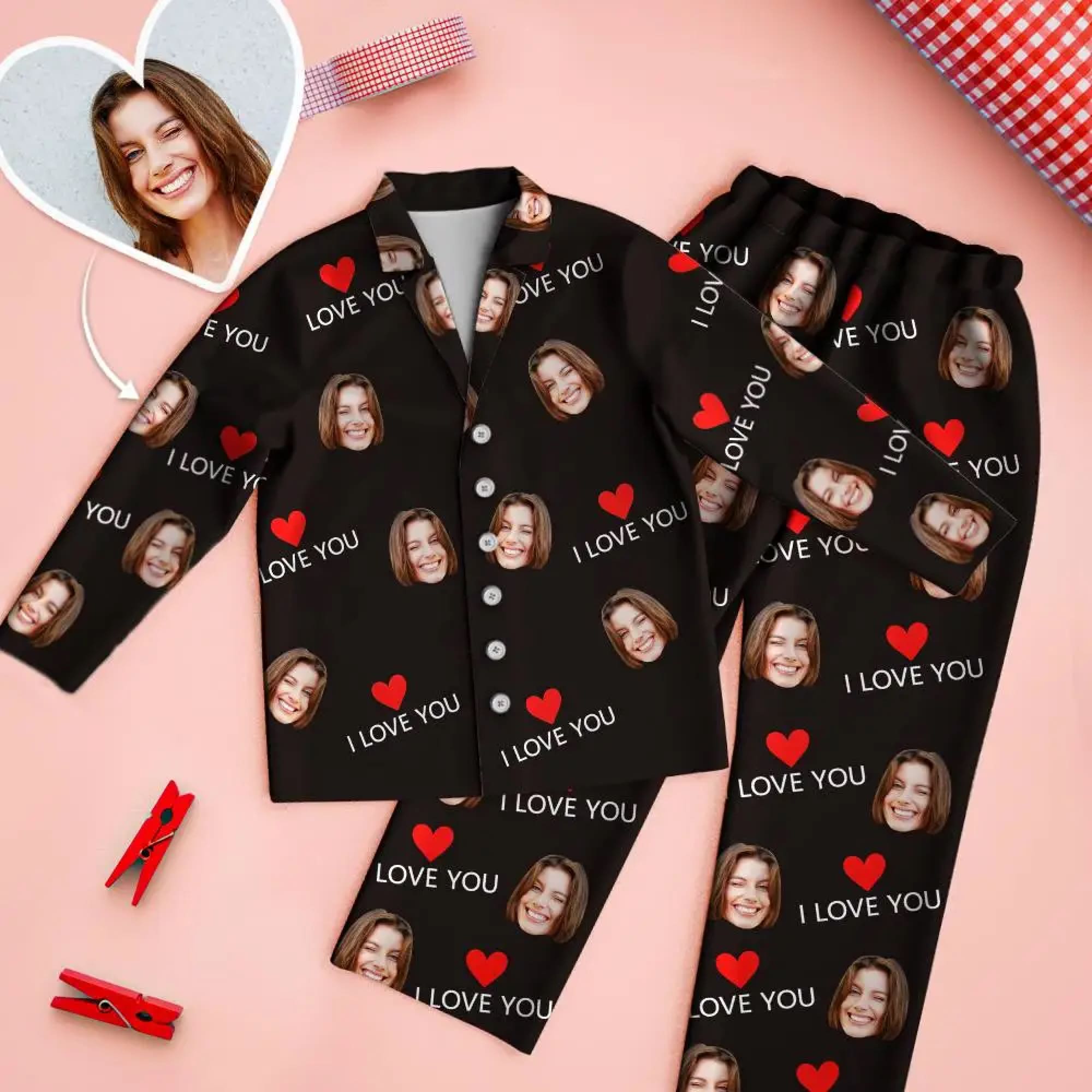 Custom print pajamas made from soft, breathable fabric for ultimate comfort. Choose full-length or shorts, with an elastic waist for added comfort. Machine-wash safe, never shrinks or fades. Personalize with photos, designs, or slogans. Perfect for sleeping, resting, lounging. A unique gift idea for your significant other, son, best friend, or even yourself.
If you are looking for jewelry for your special someone, take a look at this list of 23 jewelry gifts by Oprah Daily Home.
---
8 Personalized Valentine Gift Ideas for Him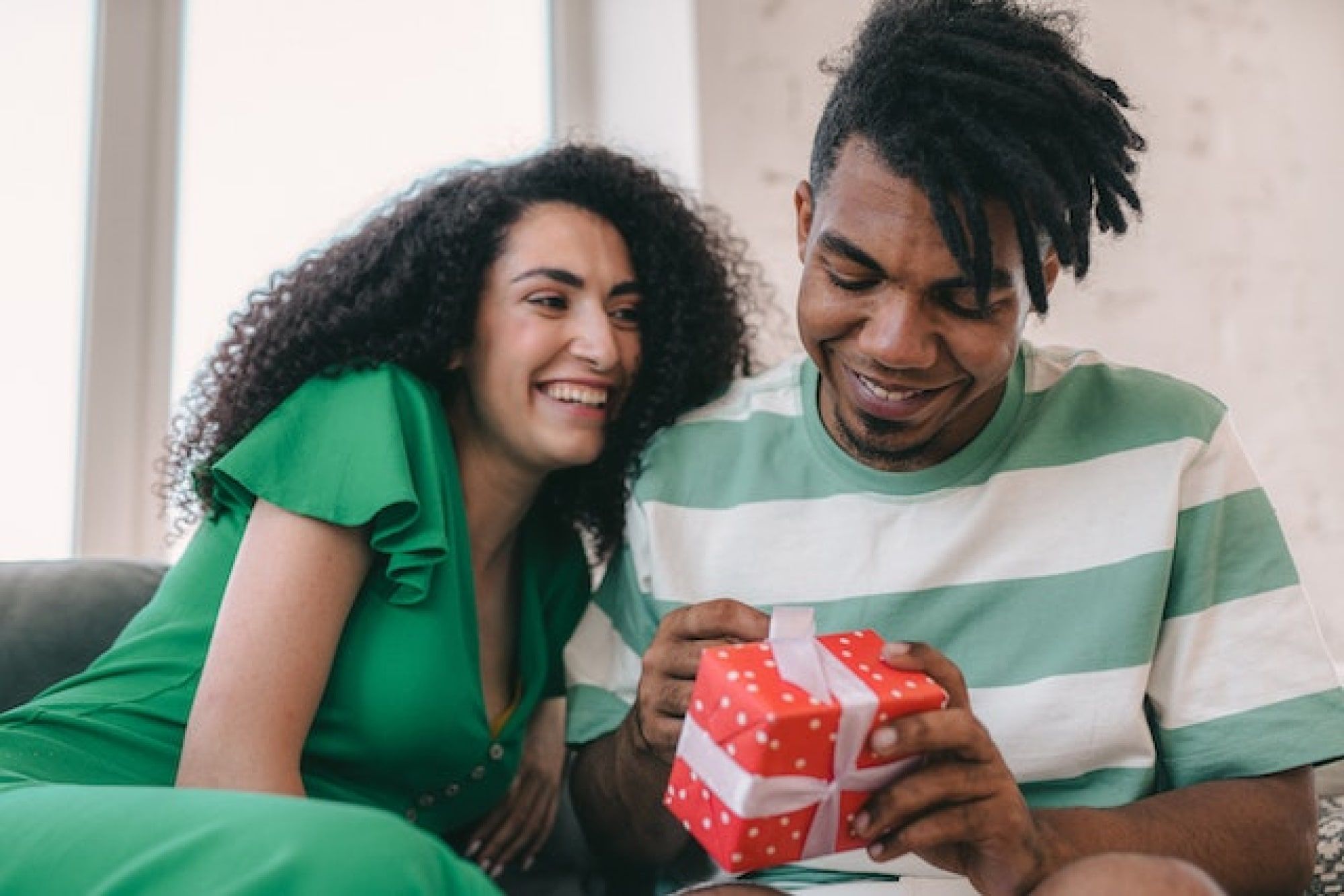 Below are some Valentine's Day Gift recommendations for male:
1. Personalized Whiskey Decanter Set $58.29
Give the gift of sophistication this Valentine's Day with this Personalized Whiskey Decanter Set, personalized with your loved one's name. Showcasing a square glass stopper and sturdy, heavy base weighing nearly 3 lbs, this decanter holds 28 oz of their favorite drink and comes with matching glasses, each holding 250ml. This refined gift will be proudly displayed for years to come. It's the perfect men's gift for a whiskey lover.
2. Personalized Framed Disc - Message $108.92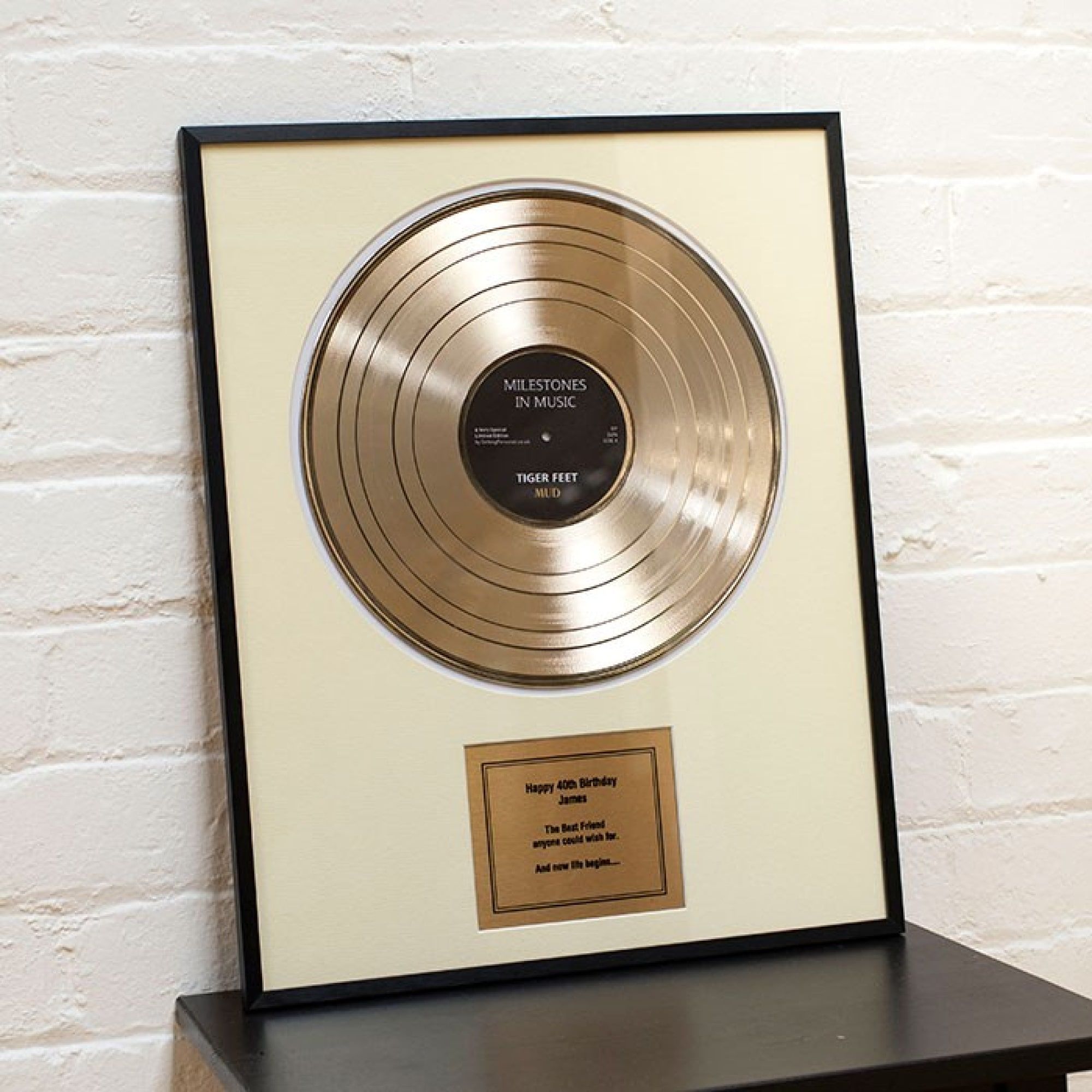 This Personalized Framed Disc is a fun keepsake gift for music lovers. It is available in two disc colors (gold or platinum), three mount colors (red, blue or black), two frame colors (gold or silver), and two label designs (milestones in music or first dance). You can personalize the plaque with a song title and artist in up to 30 characters each and a message in up to 150 characters. Super cool valentine gift for your man!
3. Secret Message Genuine Leather Wallet $51.99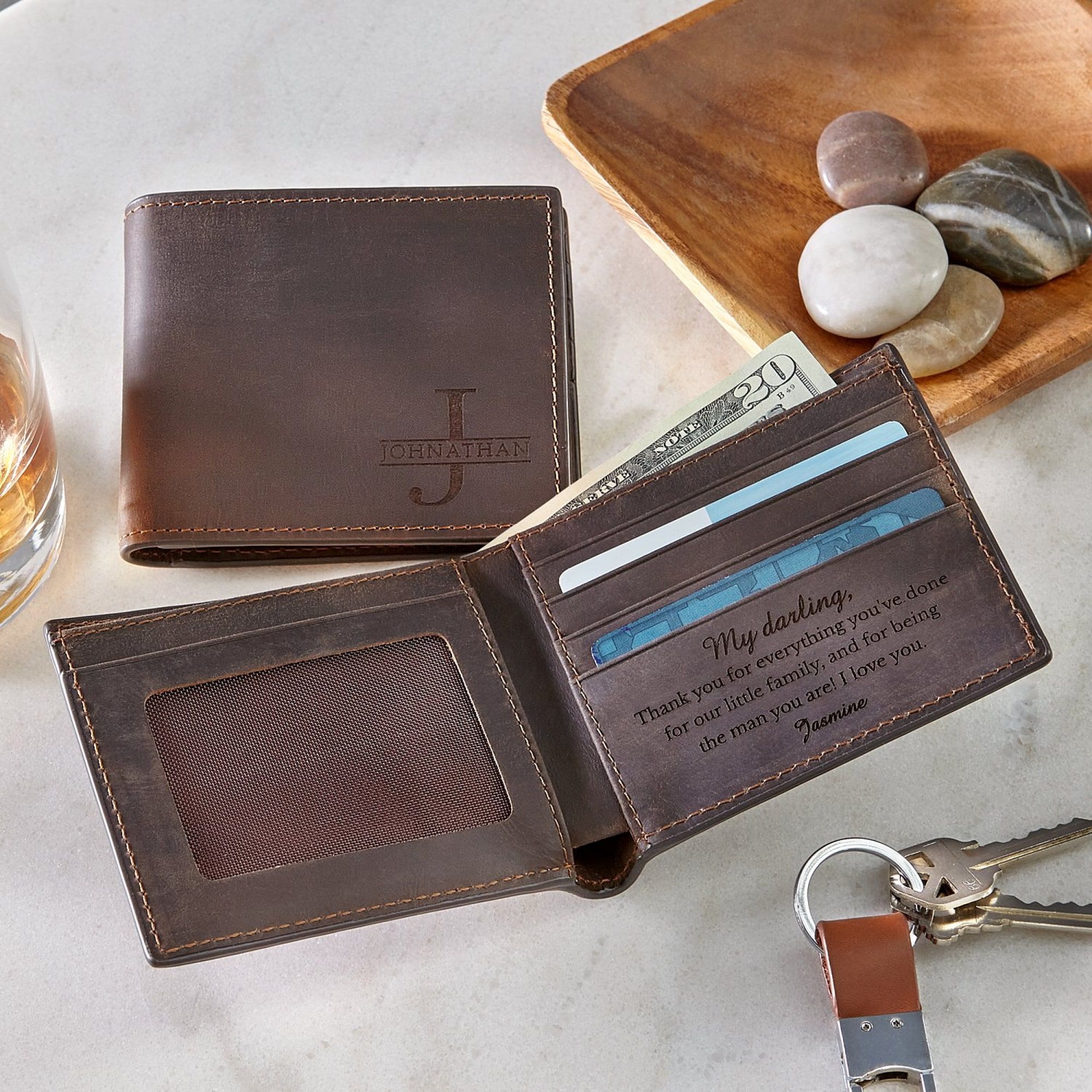 This classic, bi-fold Secret Message Genuine Leather Wallet is the perfect gift for your loved one. You can personalize the front cover with 1 initial and a name up to 9 characters, and the inside panel can be customized with a meaningful message of up to 5 lines, with the first line allowing 20 characters and lines 2-5 allowing 30 characters each. Measuring 3.5"x4.375", this wallet is available in dark and light brown and should be cleaned with a soft cloth or brush. To avoid any damage, be careful when in contact with heavily embellished clothes, sharp surfaces, or chunky jewelry.
4. Leather Charging Station Valet $55.89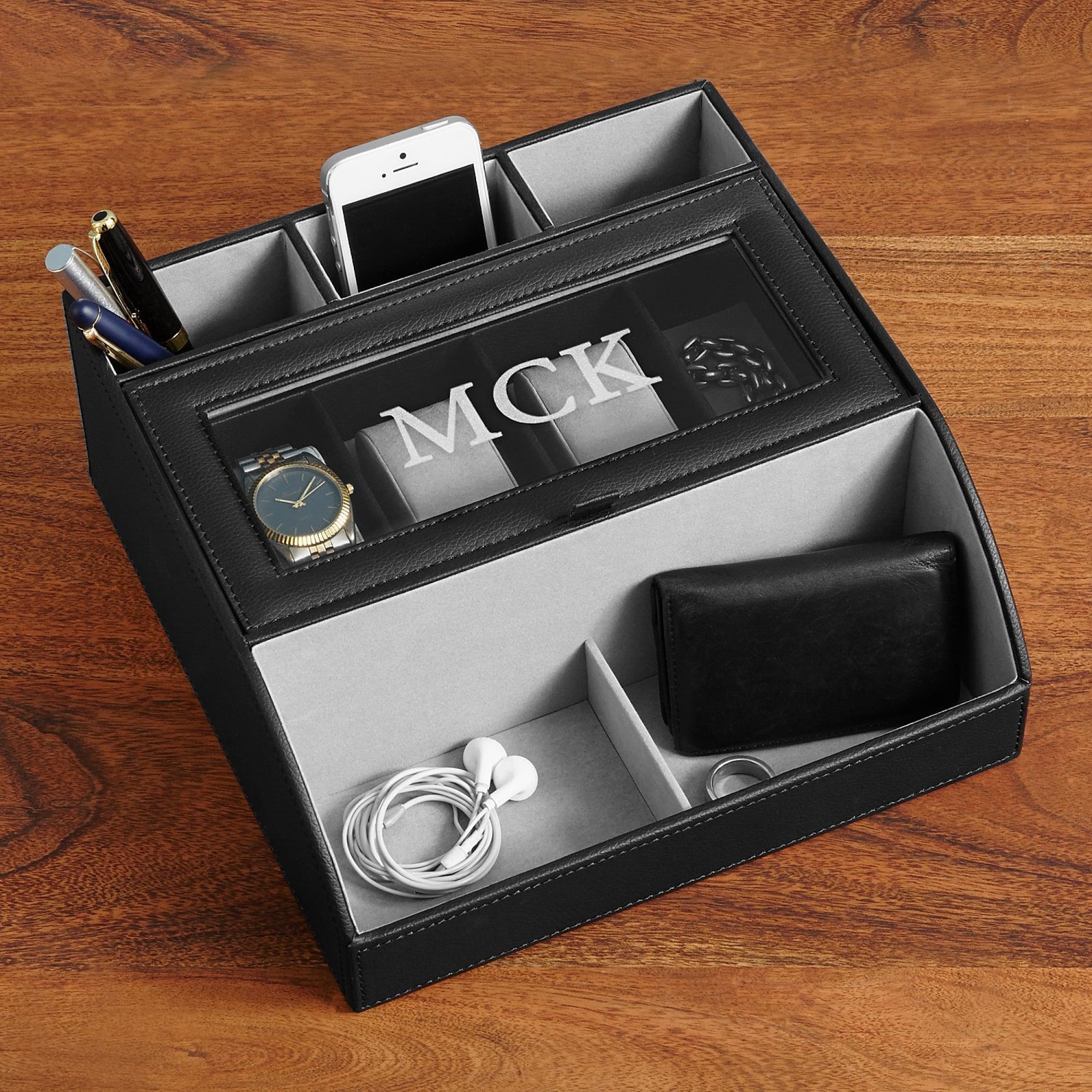 This stylish Leather Charging Station Valet combo from Personal Creations is an awesome Valentine gift idea for your man. It is made of synthetic leather with a soft fabric interior and has room for his mobile devices, watches, and small accessories. It measures about 10 in L x 9 in W x 4 in H and features 2 open compartments in the front, 4 watch slots covered with a glass lid, and 3 charging compartments in the back (with a hole in the back for easy cord access). The back compartments measure 3.5 in D x 3 in W, while the front measure about 5 in W x 4 in H. Last but not least, you can personalize the glass top with any 3 letter monogram.
5. Personalized Durable Duffle Bag $59.99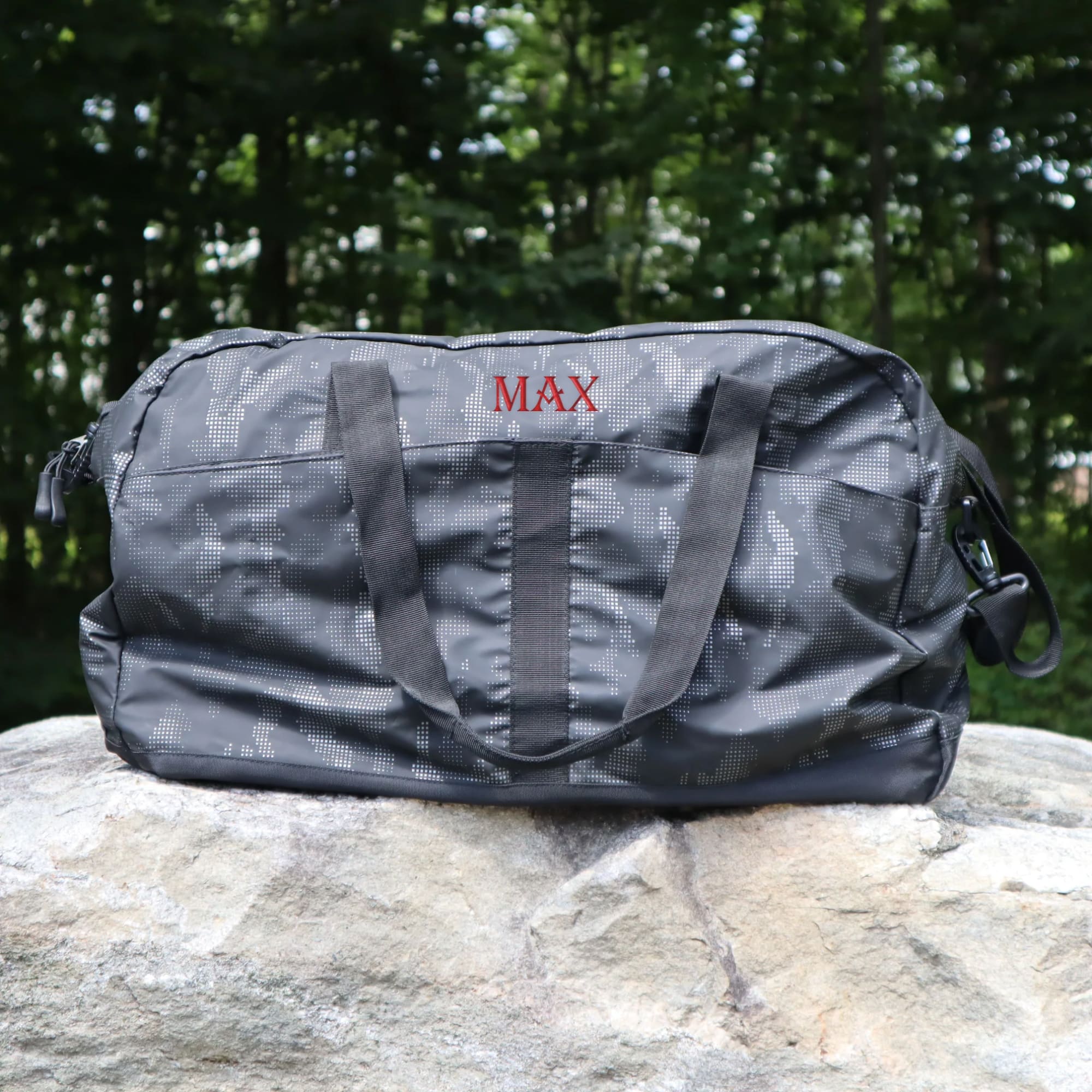 This Personalized Durable Duffle is a versatile bag that can be used for gym, weekend trips, or sports activities. Made with 4 oz.yd²/233 gsm 100% polyester with reflective print and water resistant finish, this duffle has a reflective toggle on its two-way zippered main compartment, an inside zippered security pocket, double front pockets with hook and loop closures, an internal floorboard for support, plastic feet at the base, wide webbing ergonomic handles, and an adjustable, removable shoulder strap. The Durable Duffle comes in a stylish camouflage carbon color mix that is both reflective and water resistant, making it a perfect gift for your man who values both style and durability.
6. Custom Gamer Tag Logo Gaming Controller Headset Light Up Stand $54.42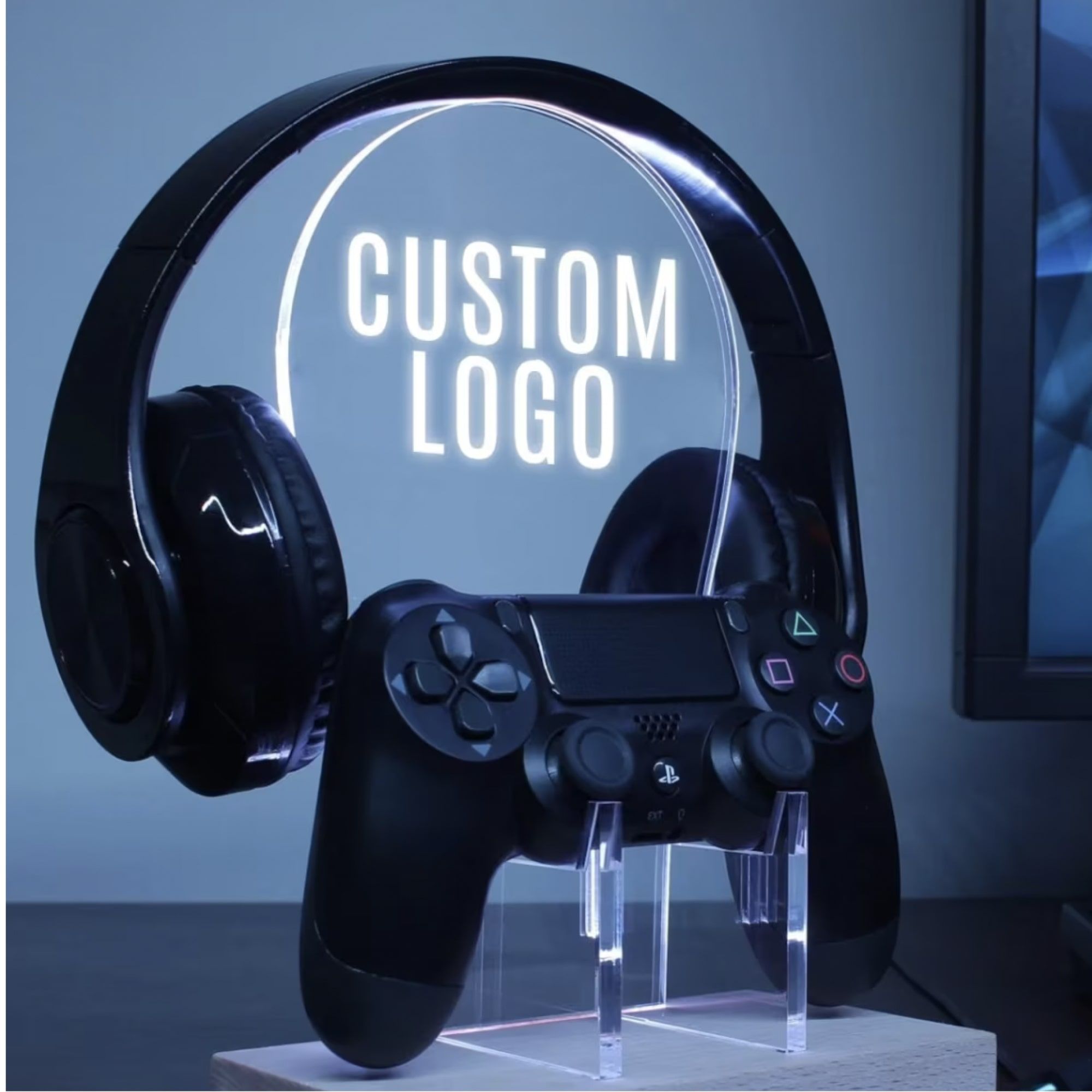 This ​​Custom Gamer Tag Logo Gaming Controller Headset Light Up Stand is the dream of every gamer boyfriend. The In-line controller allows you to choose from 7 static colors, 3 Light Modes and 3 brightness levels, making these displays perfect for PC and console gamers who want to store their headphones and controllers neatly out of sight. The displays are USB powered and can be plugged into any USB port including a laptop, gaming console, power bank or USB adapter (adapter not included). The 5V input low voltage ensures energy efficiency with no heat generation and long life LED lights, making it safe to touch.
7. Customized Name Gamer Switch Area Rug $51.69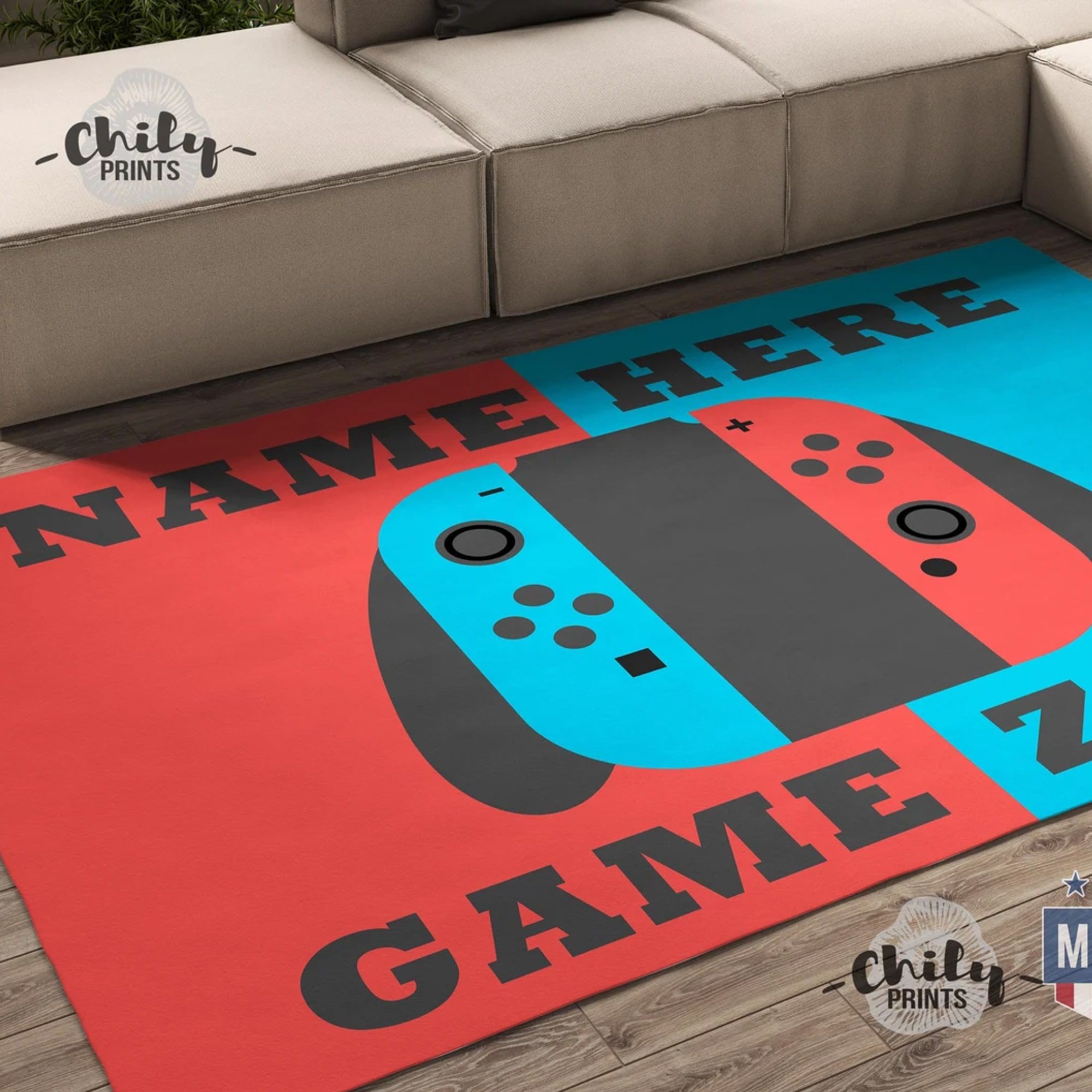 Another gamer gift! This Customized Name Gamer Switch Area Rug is a perfect addition to any video gamer's room decor. The rug features a portable game console design with bright and crisp colors achieved through the latest printing techniques. Made of 100% Polyester Chenille with hemmed edges and a gray coated backing, this rug is strong and durable, resisting wind, sun, and rain, and retains its shape. Available in multiple sizes, it makes a fun and practical gift for any gamer.
8. I Love You Every Second Men's Wooden Watch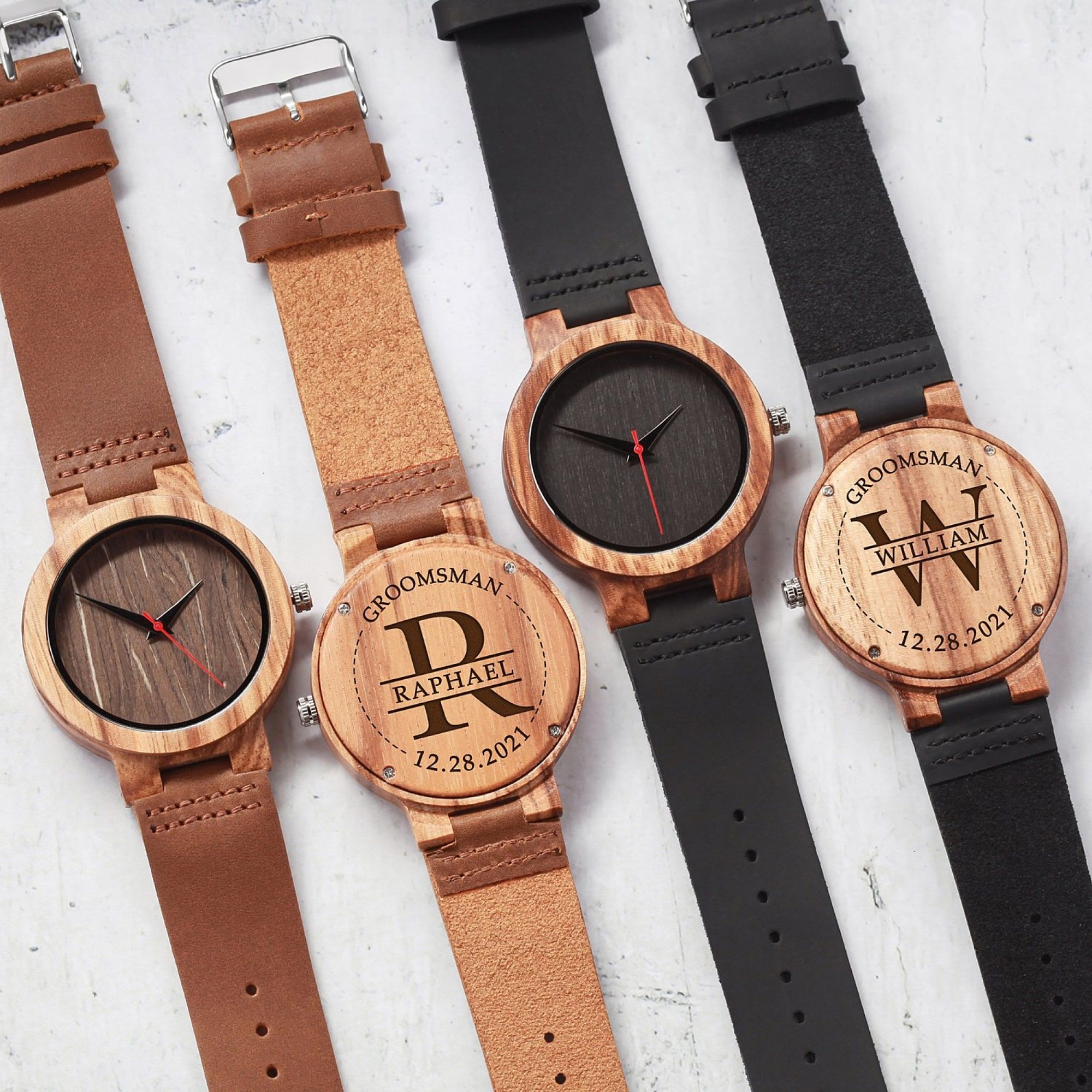 The I Love You Every Second Wooden Watch is a unique and customizable statement piece that combines wood and leather to show your love. Choose from 3 wood faces and leather bands, and personalize the backside with a message, an initial and a name up to 10 characters, and a bottom line of up to 10 characters. This watch is water resistant to 3ATM, powered by a quartz movement and battery, and is a great way to show your love and appreciation.
---
Wrapping Your Valentine's Day Gift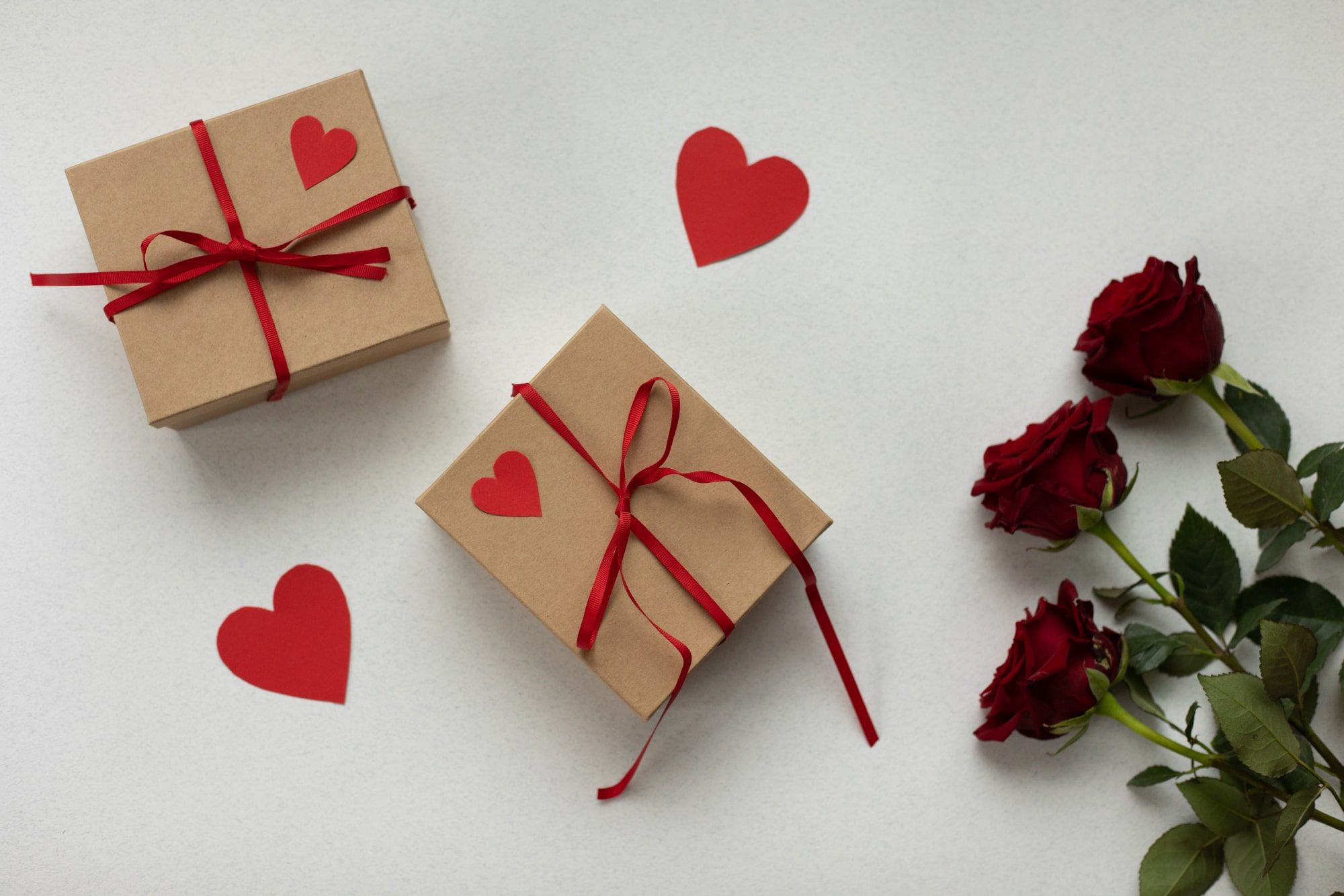 Wrapping your gift is also a very important part of gift giving. Here are a few important things to think about when wrapping your Valentine's Day Gift for your loved ones:
Make sure your Valentine gift looks special, memorable, personalized!
To make your Valentine's Day gift look special and memorable, here are some gift wrapping tips to consider:
Choose a wrapping paper that complements the gift and your loved one's style.
Use coordinating ribbon, bows, and embellishments to enhance the overall look of the gift.
Create a special wrapping theme that matches the personality or interests of the recipient.
Write a gift tag or write a heartfelt message and tuck it into the gift wrapping.
Use creative gift wrapping techniques, such as origami or tying a bow around the box.
Use a unique gift box or container that is decorated or personalized for an extra special touch.
Consider adding special touches like rose petals, confetti, or a small plant for a festive and memorable presentation.
Below are tips for presenting your Valentine's Day gift:
Use scented candles, flowers or balloons to enhance the gift presentation.
Arrange the wrapped gift and other special items, such as flowers, candles, or chocolates, on a table or shelf to create a visually appealing display.
Present the gift in a unique way like placing it inside a special box or basket, or wrapping it in a unique shape.
Consider the wrapping and presentation as a whole, making sure all elements, from the ribbon to the card, match and complement each other.
---
Conclusion
In conclusion, Valentine's Day is a special occasion celebrated by millions of people across the world to express love and affection. Everyone has their own way of observing this day, but a thoughtful gift can make any celebration more memorable. With the help of our Valentine gift guide and advice, you can make this Valentine's Day an unforgettable experience for your loved one. From original gift ideas to money management and presentation tips, our guide has got you covered. So, let's make this Valentine's Day a special and memorable one!
Make your gifting efficient and improve your ROI with Giftpack AI.
Visit our product page to learn more about what we can do for you!