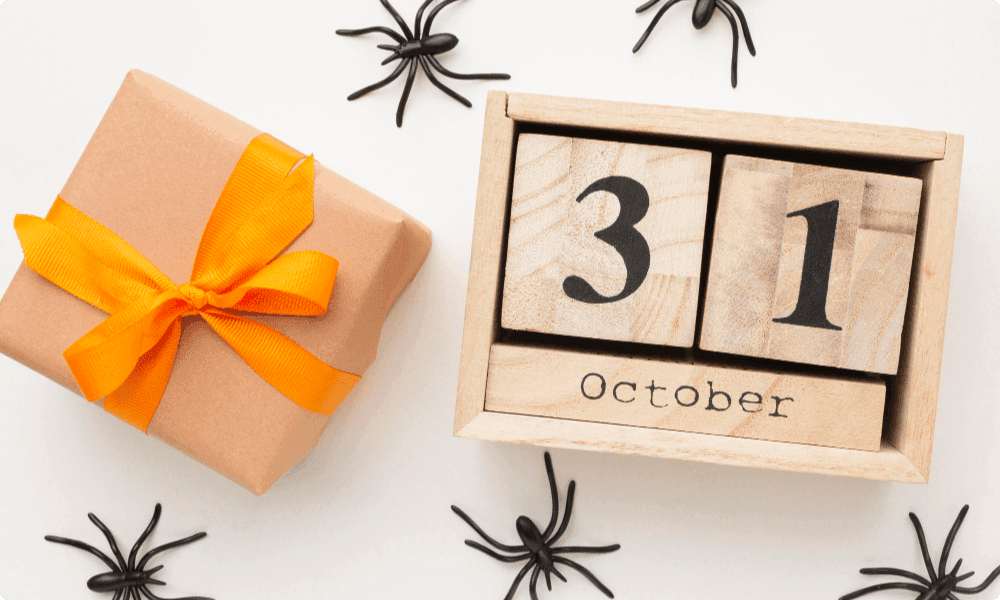 The spooky Halloween gets everyone excited and playful. Most people would say that Halloween is mainly for kids. That might be true, but what do adults do? Well, they sit back, relax on the holidays they got from work, and have fun with their families. If children mainly celebrate Halloween, what's in it for older people? Halloween Gifts!
In this article we will go through some of the best Halloween gift ideas for personal or corporate purposes! Check them out! For more personalized corporate Halloween gift ideas, you can book a call with Giftpack to learn more.
---
The Spooky Halloween
'All Hallows' Eve, modernly known as Halloween, is a recognized religious celebration in many countries dedicated to remembering the martyrs and hallows (saints). This event is full of spooky fun and costume parties where people carve pumpkins into lanterns and decorate their homes and streets.
Choosing what to gift to the people around you is probably the biggest challenge you will face around this time. You can choose a dress and decorate the house but finding the perfect gift will take eons. Luckily, this article talks about choosing the perfect Halloween gift within minutes.
---
The Need for Halloween Gifts for Adults
All the articles you read online only talk about Halloween gifts for kids. What will an employed person do with a blanket that shines at night? This is why it gets tough for people to get good ideas for older people. Even businesses that send out gifts to their clients and employees find it extremely challenging. Everyone ends up with the same mug or a keychain they'll never use. This is simply because we run out of Halloween gift ideas when it comes to gifting.
Elders need gifts to celebrate Halloween, too! It's important to do it right both as a business and as an individual. It also needs to be done by the set deadline. In addition, you don't want to ignore the extra personalization you must do, such as writing tons of cards and letters to each employee. This is really hectic, but here is how to do it right!
---
How to Choose the Perfect Halloween Gift for Adults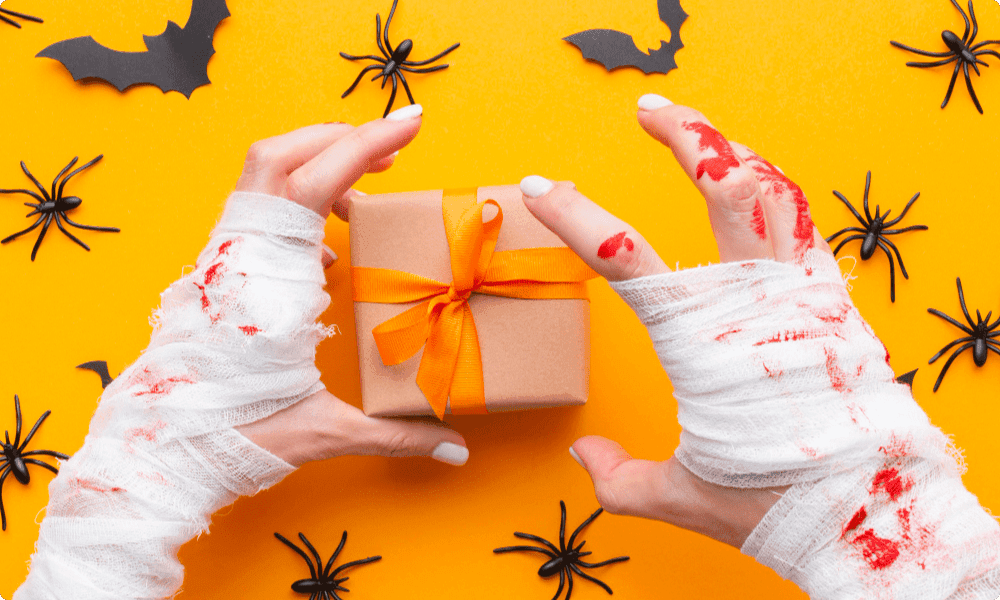 Choosing the perfect Halloween gift takes a lot of creativity and effort. You have to understand the type of event, the relationship with the person, and their likes and dislikes, but even then, you'll struggle to think of something good. After you make a list of all the gifts you want to send, you write personalized notes and order them gift-wrapped.
When it comes to adults, gifts are usually sent to friends, family, clients, loyal customers, business partners, colleagues, and employees. The decision of what to buy varies with each category and person because a truly personalized gift is the one that complements the interests of the person you are gifting to.
What does the process look like?
Start with the basics to narrow down the choices you have at the table. Starting with gender, is the person you are gifting a male or a female? What age group do they belong to? Do they like spooky gifts or need something practical for everyday life? Do they love to drink, sleep, dance, party, decorate or collect?
Find out their interests and keep narrowing them until you find the best gift. This is hard, but here are some gift ideas that work best for adults and a tool that can make your life a lot easier when it comes to choosing gifts for business employees and clients.
Best Halloween Gift Ideas for Adults
1. Cute Halloween-themed Wine Glasses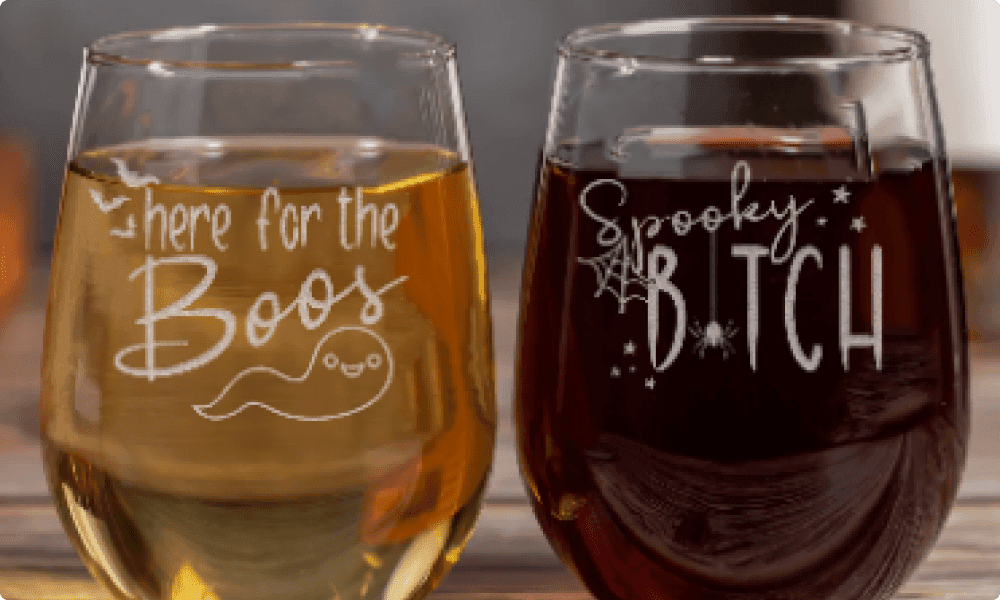 Do you know someone who likes to drink a lot? Why not gift them something they'll remember even when they are high and don't even remember their names correctly? A wine glass is a perfect gift because they have a touch of spookiness and cool headings printed on them. You can find a pair on Amazon or Etsy or simply look for ideas through Giftpack.ai.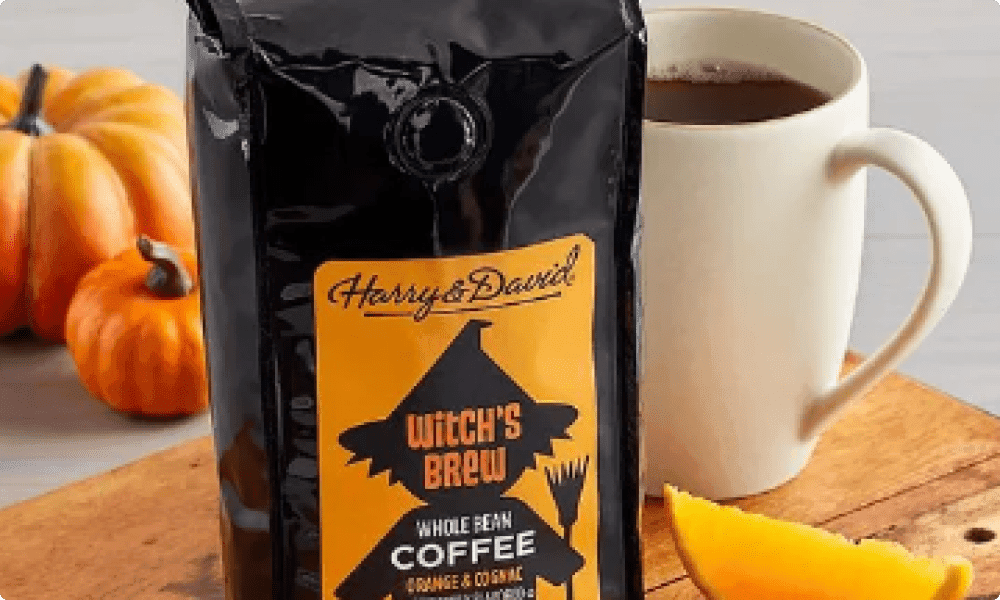 Brew the coffee in witchy style with high-quality coffee beans from Harry&David. This coffee pack is such a minimal and cute design that comes in orange and cognac flavors. You can see that the packet is sealed with a witchy button that makes the whole experience spooky. These 12oz bean bags cost about 14$ from Harry&David's official site. It is a perfect gift for coffee lovers who like to start their day fresh and strong. A touch of witchiness in their morning routines during Halloween is a great gift idea.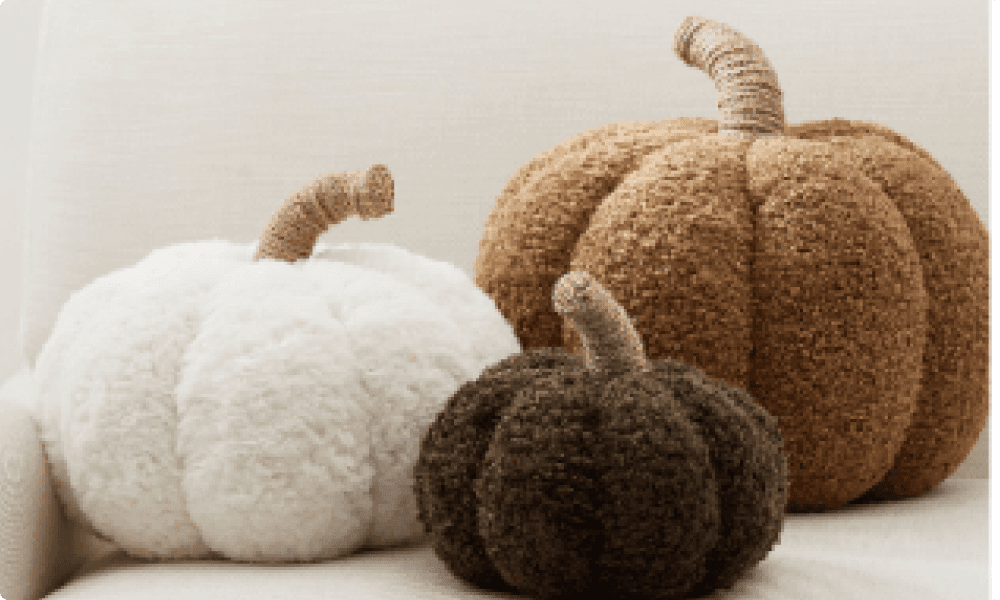 Is one of your friends or colleagues a fan of minimalism? He or she will love these comfy and cute Halloween-themed pillows that come in different shapes and colors such as pumpkins, spiders, and even costs. They make great pillows for a minimal design setting where a dual-tone contrast can do wonders. These pillows can set the perfectly spooky vibe for the room without having to decorate it. This is the best part about it so order one now to gift to your friend or colleague.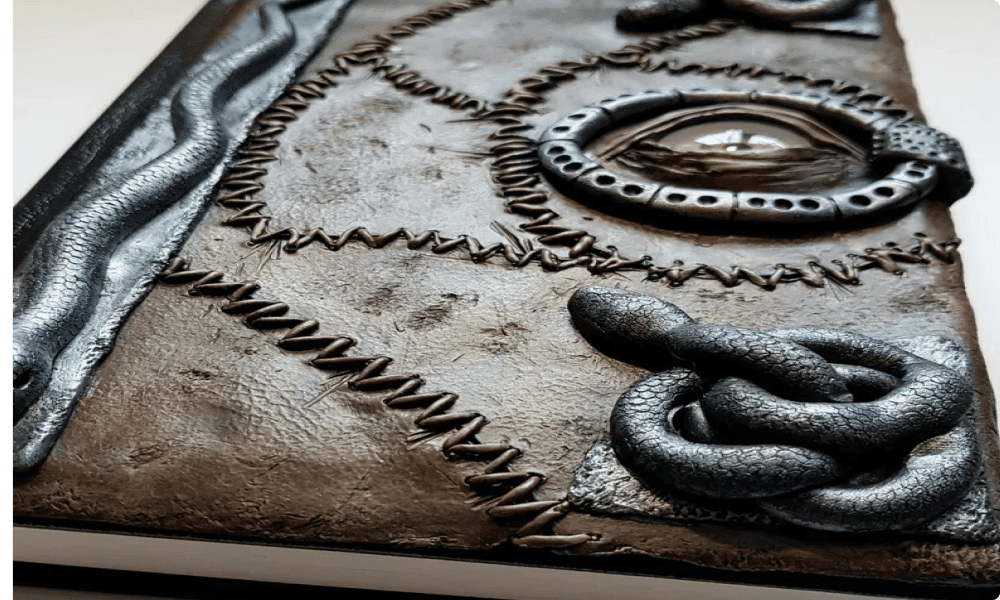 The Book of Shadows is probably the best Halloween gift idea for anyone on our list. This is the gift that fits all groups including men, women, kids, and adults. A Halloween-themed journal that is extremely detailed and spooky in every way possible is a great choice. It has a detailed eye and snakes on the front page and the page color is actually dark brown. You need to write with a light-colored marker on it which shines on the pages when you write. If you want someone to remember you properly, this is the gift you need to purchase.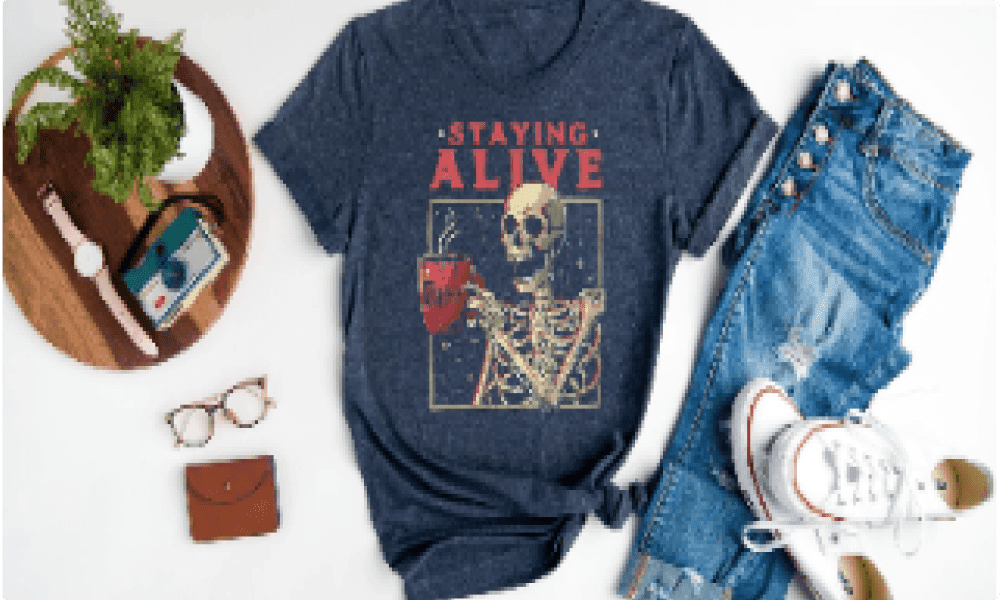 What's a better gift for an adult that is not just specific to one event? This T-shirt is an everyday choice for many people who own one. It has a skeleton on it with a coffee mug and 'Staying Alive' written on top. This is not only a Halloween-themed shirt but also captivates the normal life of every adult person in their career who stay alive on coffee. This gift delivers more emotions than just Halloween and is available on Etsy in different colors and sizes but if you are looking to gift many colleagues in bulk, GiftPack.ai is a better option.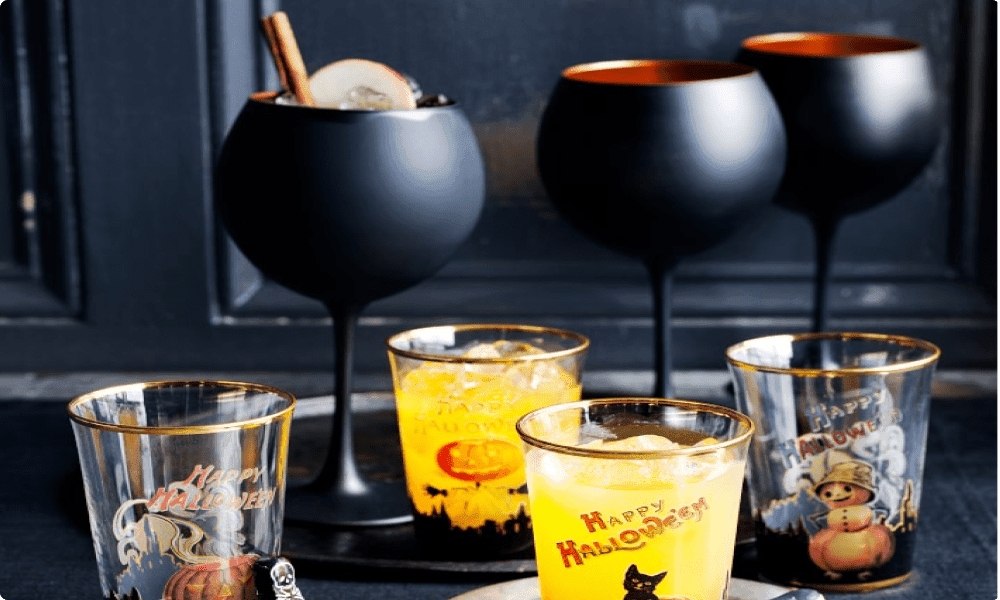 Another wine glass Halloween gift idea? Yes, but for a different target group. This black matte and copper wine glass is a graceful touch to the wine table because of its luxurious and minimal design. This is a perfect product for gifting to business clients or angel investors who want to feel special. You can find a set of 4 glasses on the company's website here.
---
Corporate Gifting on Halloween
Corporations have strong and well-laid plans to increase their employee satisfaction and retention rates throughout the year to ensure maximum returns and productivity. They often make use of gifts at various events as a way to tell their clients and employees that the company cares about them. Hence, enters corporate gifting. Someone from the operations department is handed the responsibility of finding, ordering, and tracking gifts so that they reach everyone but trusting a person to do this is a risky trade and it also ruins their event because they now have to take care of the responsibility.
This is a major headache for many people and corporations don't realize that it takes creative thinking and important metrics to figure out the best kind of gifts and customization that needs to take place in order for the gift to have the most impact and offer better ROI for the company in return.
Managing the budget for gifts is another issue that the sender and corporation can have issues with. This all calls for a very professional and experienced approach when it comes to gifting. You are not just sending something to your clients or employees but are also putting your creativity, your love for them, and what you know about them in plain sight. Make sure that they get a good impression of your company through this. Here is a solution!
---
Let AI Handle Your Corporate Gifting with Giftpack.ai
Giftpack AI is an advanced and powerful solution that offers extreme levels of personalization and scalability in corporate gifting. Their advanced AI algorithm can use the employee's digital footprint to figure out what kind of gifts they love so that they can be personalized. After you approve the list, it automatically buys and ships the gifts with personalized packaging (if chosen). This eliminates the effort that the corporate needs to make in laying out their whole gifting process and then making themselves uncomfortable by dealing with the process of buying and shipping.
The biggest advantage of using a tool like Giftpack for Halloween is that the AI can offer extreme levels of customization that might not be possible if you just hand over this responsibility to someone who knows nothing about those people.
Make your gifting efficient and improve your ROI with Giftpack AI.
Book a demo call with the experts at Giftpack and decide what will work best for your company. It's free!