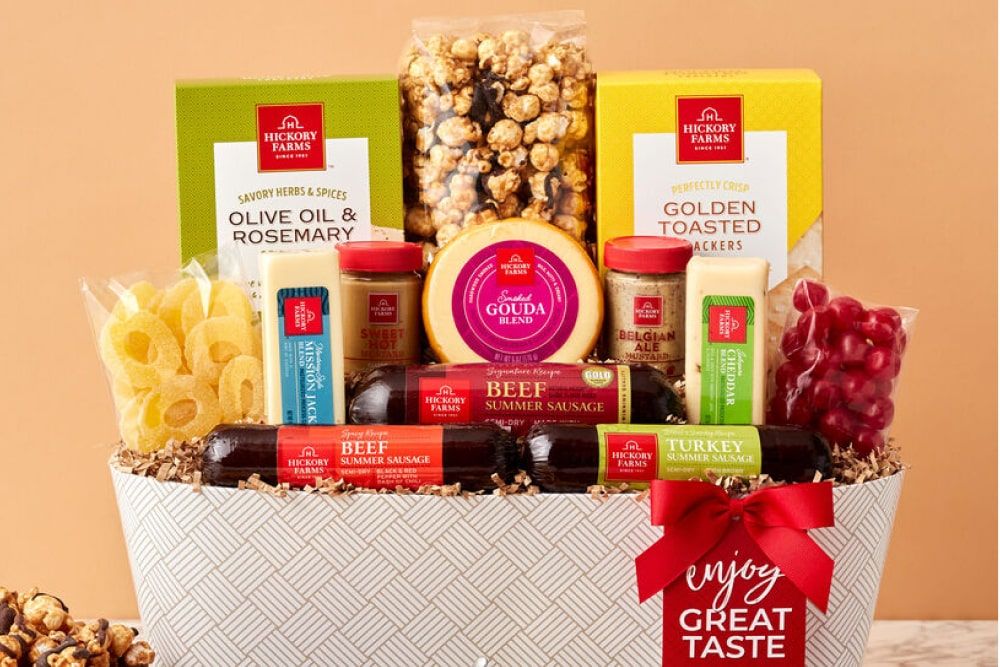 Understanding the profound impact of appreciation in the workplace is vital for any organization's success. And what better way to manifest this appreciation than with employee gift boxes? Alternatively, when we speak of gift boxes for employees or thank you boxes for employees, we are going through an approach that profoundly impacts employee satisfaction, motivation, and ultimately, their productivity.
1. Why Employee Gift Boxes?
A well-thought-out employee appreciation gift box goes beyond being a mere gesture of thanks. It is a tangible manifestation of an organization's recognition and appreciation of an employee's efforts. Not only does it boost their morale, but it also enhances their loyalty towards the organization, contributing to a positive work culture.
1.1 The Benefits of Employee Gift Boxes
Appreciating employees through gift boxes enhances their morale and job satisfaction, ultimately leading to increased efficiency and collaboration among team members. It is an innovative strategy to make employees feel valued and appreciated, which can translate into improved job performance. Check out how these 4 tips can improve overall employee satisfaction with gifts.
---
2. Choosing the Best Gift Boxes for Employees by Occasion
The right gifts for employees should reflect a consideration of their preferences and interests. Here are some options laid out by occasion:
2.1 Holiday Gift Boxes for Employees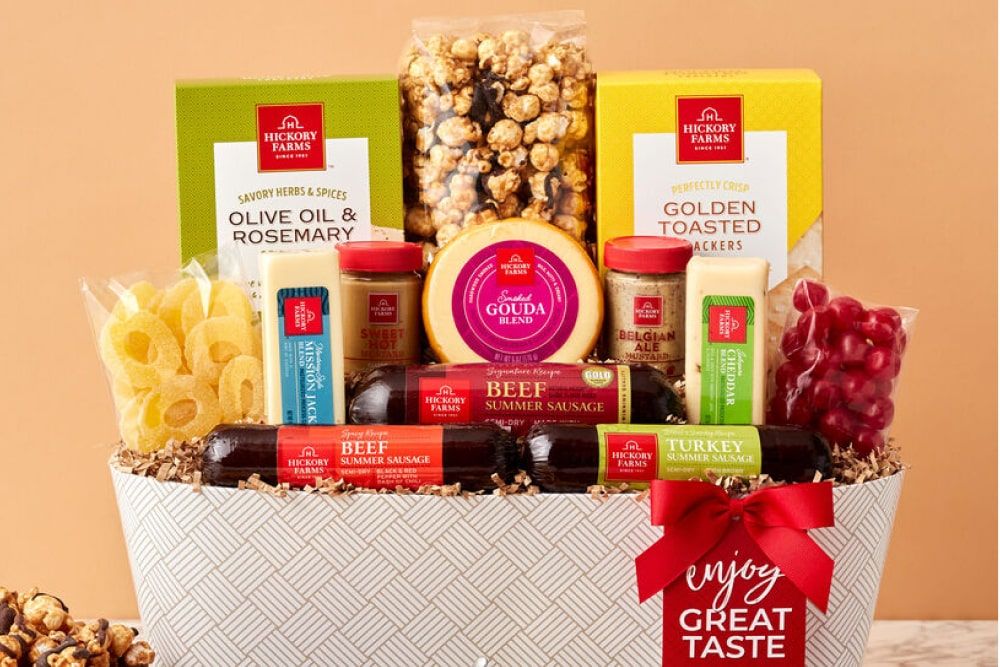 Consider gifts that resonate with employees and truly show appreciation. For holidays, think of personalized items that cater to the tastes and hobbies of your employees. For example, the Great Taste Gift Basket from Hickory Farms includes a delightful mix of gourmet treats that make it an excellent holiday gift.
2.2 New Hire Gift Boxes on the First Day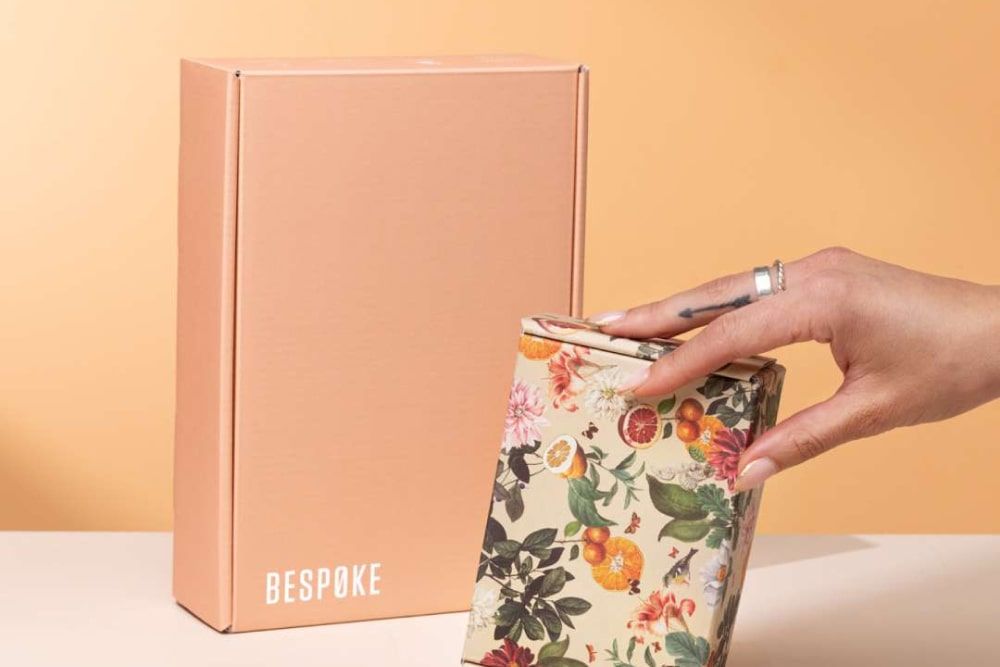 An excellent way to welcome new hires is with customized gift boxes. A customized gift box, such as the custom gift boxes from noissue, which can be filled with items featuring the company's logo or slogan, creates a sense of belonging and makes a lasting impression on new hires. Learn more about what can go together from best welcome gifts for new employees.
2.2.1 Welcome Letters
At the same time, nothing beats a personal touch. Welcome letters can set the tone for the new employee's experience and contribute to a positive onboarding process. These messages are free of cost and only take a few minutes to express your biggest wishes. Here are some tips on what to include in the letter and when to send it.
2.3 Celebrate a Lifetime of Achievements with Thoughtful Retirement Gift Boxes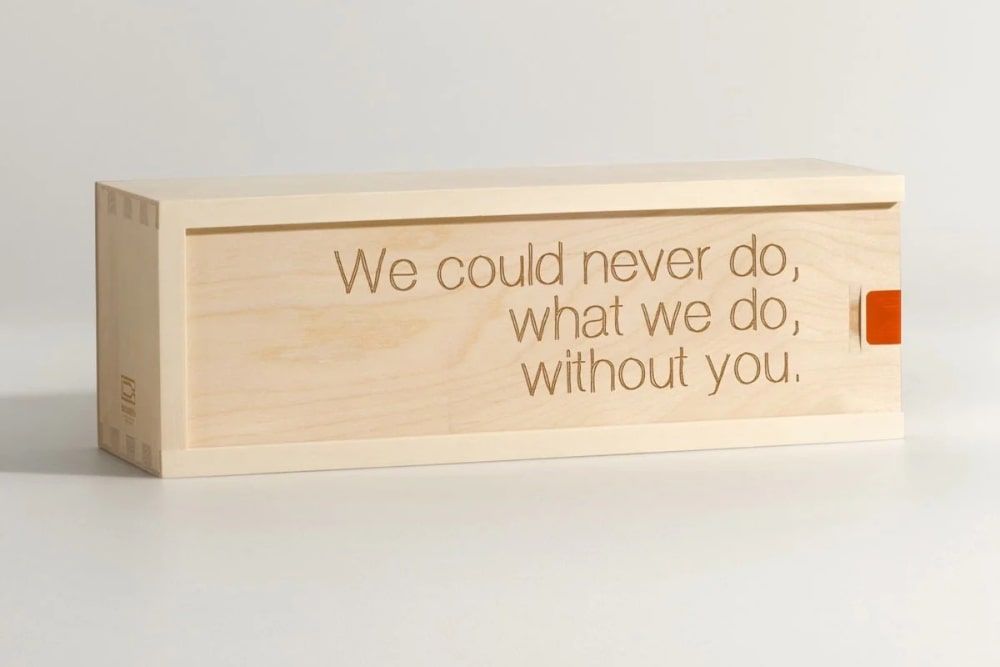 Retirement is a significant milestone, and a retirement gift box is a convenient and thoughtful way to honor this phase. A GRATEFUL - WINE BOX from Artificer Woodworks, filled with a choice selection of wines, is an excellent way to mark this occasion.
Which wines should you include inside? Check out even more great ideas and other gifts that would go together with this wine box from retirement gift ideas to show gratitude.
---
3. Still Can't Decide? Here are 8 More Thoughtful Ideas For Employee Gift Boxes
Choosing the right gift can be a challenge. Here are some more employee gift box ideas to foster motivation and loyalty. And, remember, Giftpack AI is here to help you order the perfect gifts!
3.1 Wellness Gift Boxes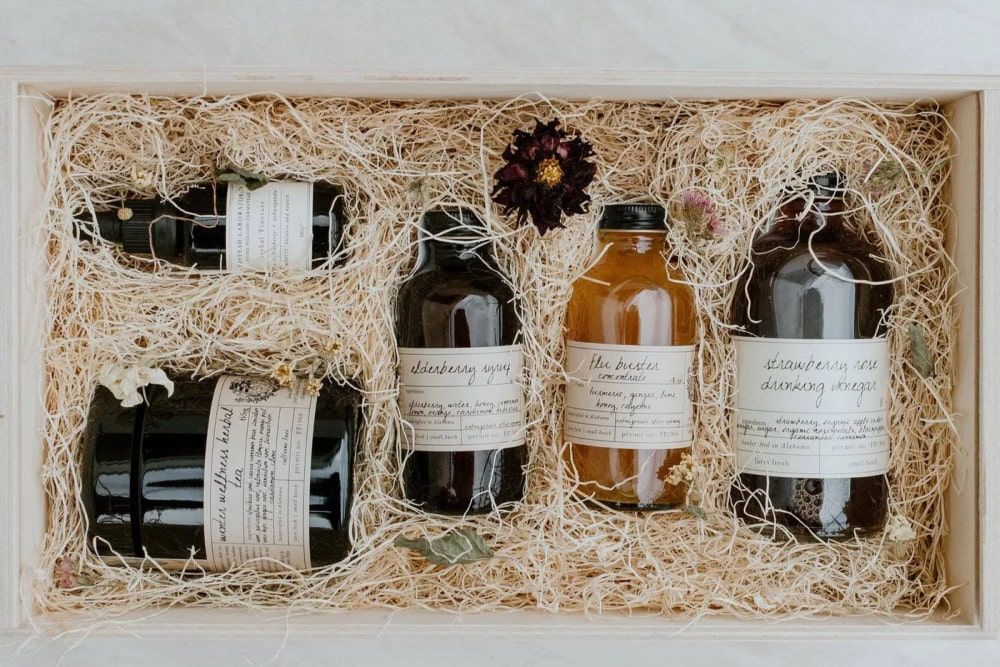 Wellness gift boxes can inspire healthier lifestyle choices, reduce stress, and potentially increase productivity. Items could range from yoga mats to stress balls, or even a healthy recipe book. The WELLNESS | GIFT BOX from Stone Hollow Farmstead is a perfect wellness gift box. It contains everything needed for stress relief and relaxation, featuring herbal teas with soothing ingredients to potent tinctures and antioxidant-rich syrups, providing a diverse array of health benefits, merging tradition with modern twists for holistic wellbeing.
3.2 Travel Gift Boxes
Travel gift boxes bring the essence of travel to employees, inspiring wanderlust and offering a slice of adventure. The Explore Local Box Monthly subscription from Cratejoy lets your employees keep their travel memories alive. This travel-themed gift box encourages your employees to dream, plan, and reminisce about their travels by offering rotating US city's culture with locally made goods.
3.3 Champagne Gift Boxes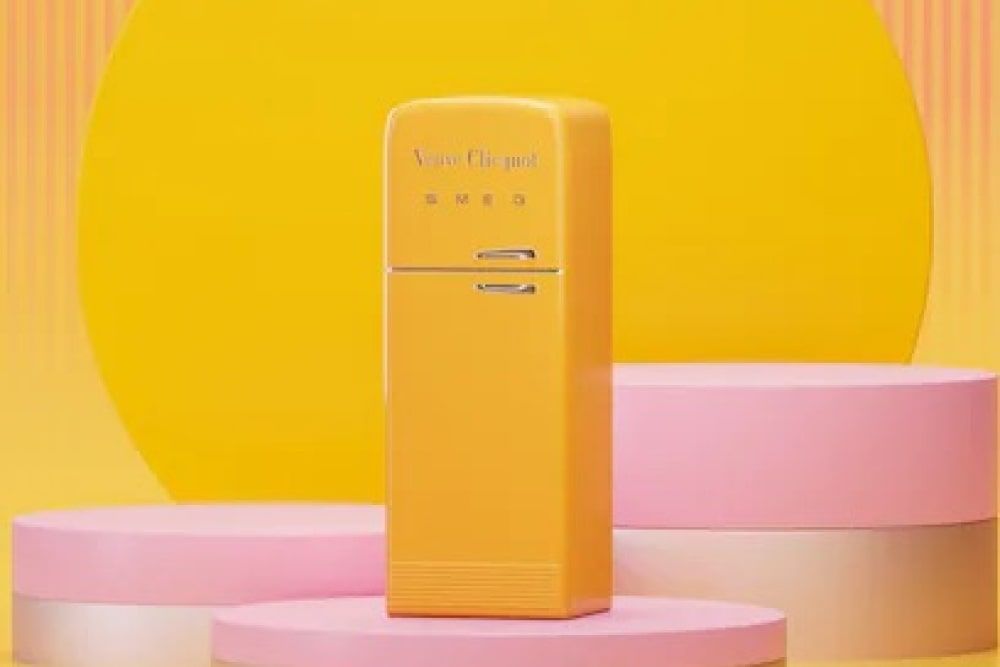 Champagne is synonymous with celebration. The VEUVE CLICQUOT YELLOW LABEL BRUT FRIDGE X SMEG from VEUVE CLICQUOT is a sophisticated way to celebrate significant milestones or achievements.
3.4 Sport Gift Boxes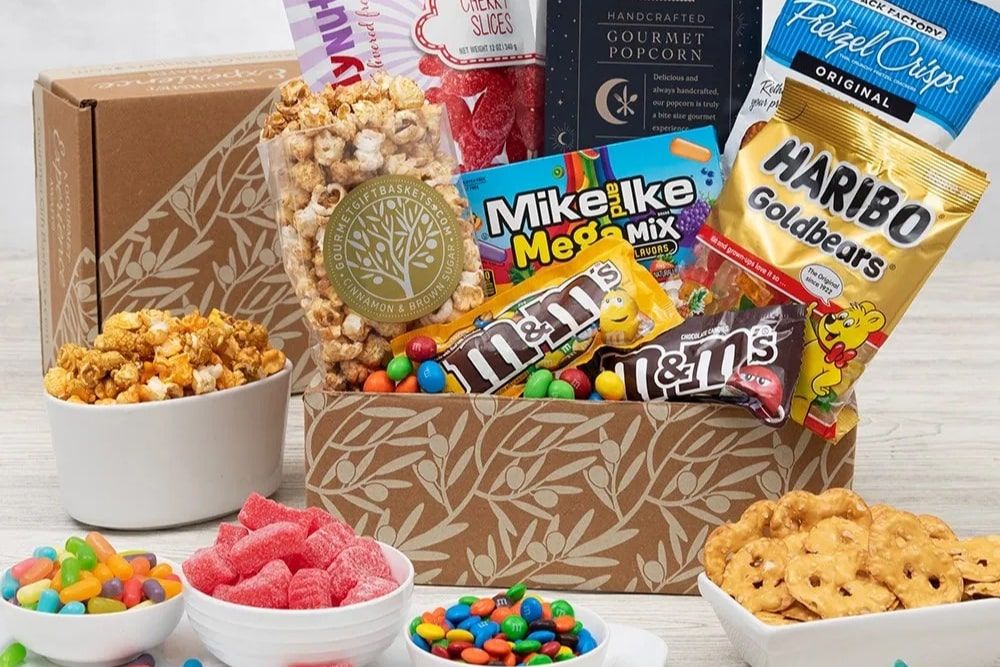 For the sports enthusiasts in your team, sports-themed gift boxes are a great choice. The Sports Enthusiast Care Package from Gourmet Gift Baskets is a great pick for sports enthusiasts in your team. This sports-themed box includes game-day snacks and a sports trivia book, among other exciting items.
3.5 Healthy Food Gift Boxes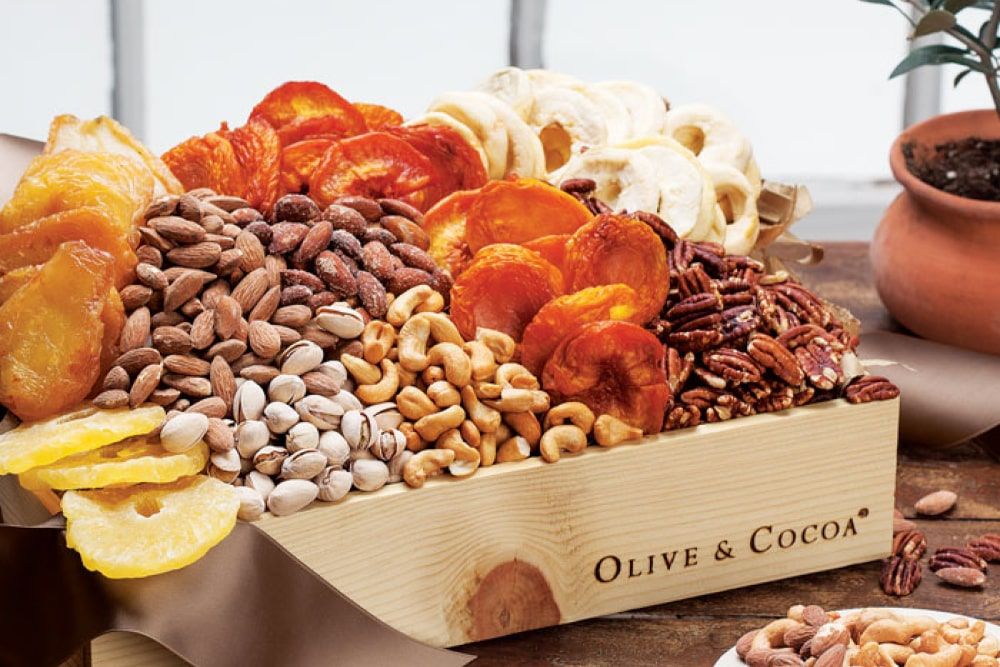 Promote healthy habits among your employees with a healthy food gift box whether remote or in-office. The HARVEST DRIED FRUIT & NUT MEDLEY from Olive & Cocoa is full of nutritious and delicious snacks, promoting healthy eating habits among your employees.
3.6 Coffee Mugs and Drinkware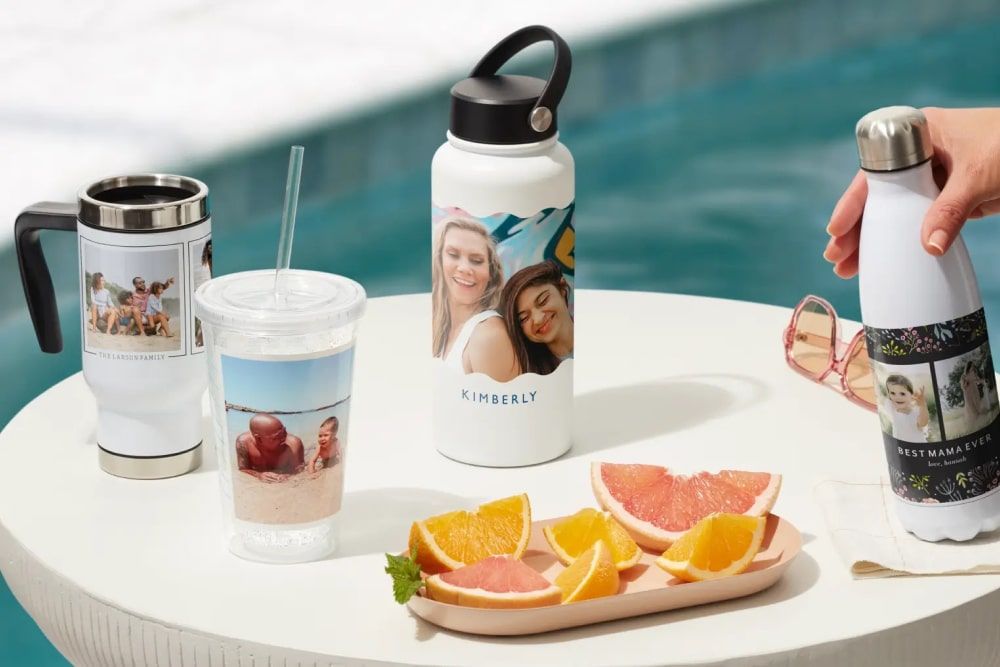 Coffee mugs, travel mugs, stainless steel mugs are a practical and customizable gift option. A personalized coffee mug from Shutterfly is a versatile and useful gift. It can be personalized with names, photos, or funny quotes, adding a personal touch to the workspace.
3.7 Coffee Gift Boxes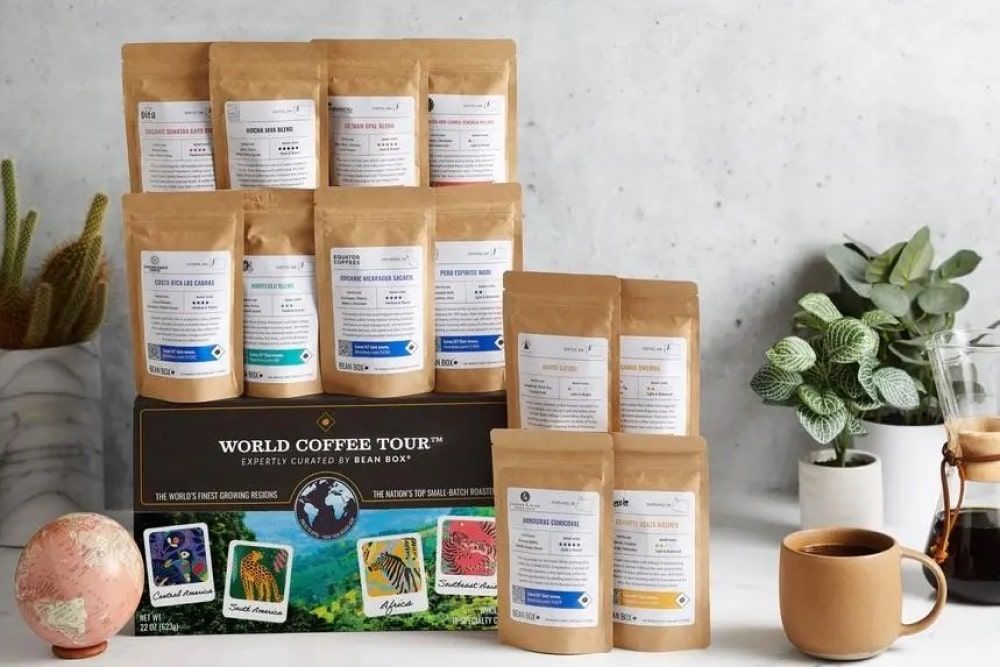 Offer a variety of coffee blends, flavors, and brewing methods with a coffee gift box. The Gourmet Coffee Sampler –WORLD COFFEE TOUR™– from Bean Box provides a variety of gourmet coffee blends. It's an excellent choice for the coffee lovers in your team.
3.8 Giftpack
Still can't decide what to choose? Visit Giftpack.AI and order your perfect employee gift box now!
By thoughtfully curating employee gift boxes, organizations can foster an environment that values and appreciates their employees. Not only does it motivate employees, but it also contributes to building a positive organizational culture, ultimately leading to a more engaged and productive workforce.
Make your gifting efficient and send the most thoughtful presents with Giftpack AI.
Visit our product page to browse our collection and even make personalized employee appreciation gifts.