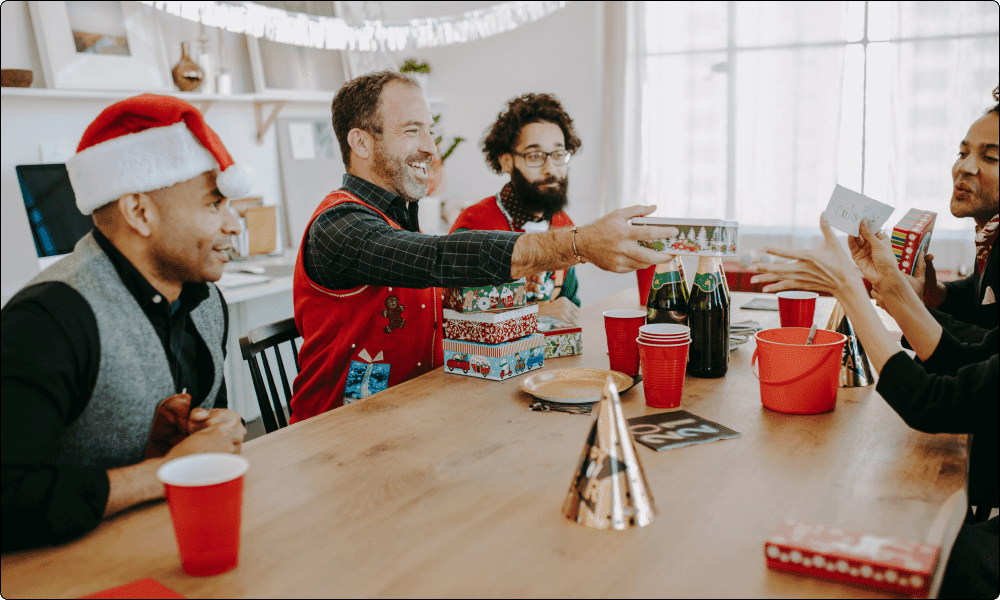 One of the best holiday seasons is just around the corner. Christmas brings a lot of fun, joy and happiness. What better way to enjoy it than playing a game of Secret Santa (White Elephant)?
Here's all you need to know about Secret Santa, which will uplift the holiday spirit. The article discusses what Secret Santa is, how to play it, some fun facts about it and a list of great Secret Santa gift ideas.
---
What is Secret Santa?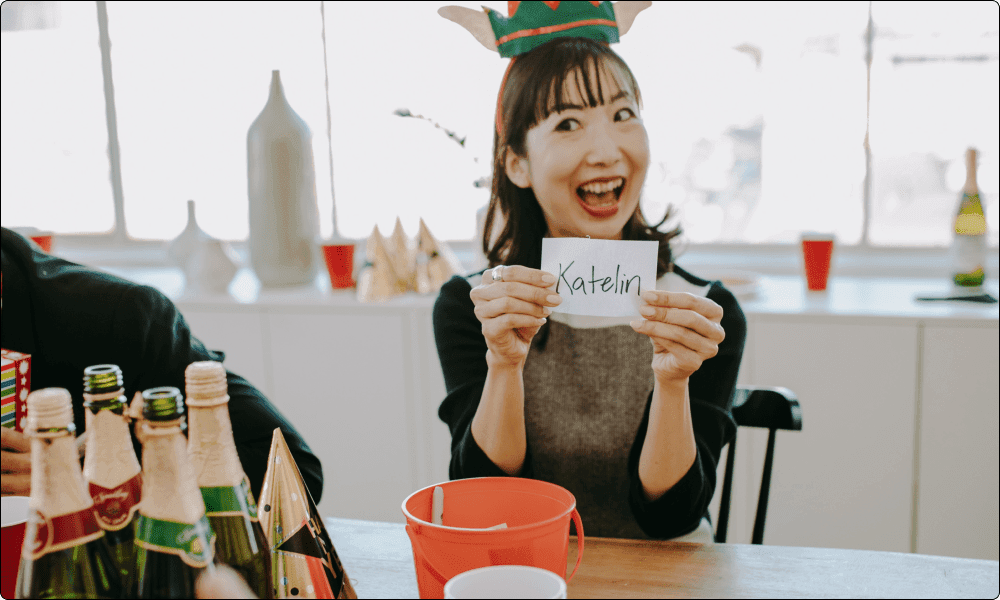 The Christmas tradition of Secret Santa is well-known. Members of a group of friends, family, or coworkers are chosen at random to be each other's Secret Santa. The person chosen is given a wish list of gift options from which they can choose a gift for their recipient. The receiver then opens the gift and guesses who was the one that was assigned to be their Secret Santa and gets them the gift. It is a classic holiday tradition in which guessing brings as much joy as receiving and opening the present.
The concept of Secret Santa can be linked back to the Scandinavian practice of knocking on someone's door, dropping a present on their doorstep before they open it, and then fleeing. This is known as "knocking Christmas". Alternatively, roots may stretch back even further to German traditions of Saint Nick's helpers, who gave out presents, but only to the good and well-behaved children. Whatever the case may be, one thing is true; the tradition has evolved greatly throughout the years.
---
How to Play Secret Santa?
Conventional Secret Santa rules are straightforward; no one knows who receives a gift from whom. Start by making everyone write down their name on a piece of paper; if it is not possible to get all the members together in person, then one "leader" can be appointed by mutual agreement, and they can do this part themselves. Place the names in a basket and ask each person to draw out one piece of paper. Make sure no one accidentally spills the name they got, as the main point of the game is to maintain secrecy.
You can choose to decide on a theme for what to buy or set a budget for more affordable gifts for everyone. A wish list can also be given by the players on what they desire to get. Then when the time for gift buying is over, plan an exchange party. Make sure the gift has the recipient's name but not the giver's. Afterward, the members can choose to guess who gave them their gift.
If, for some reason, all the participating players can't meet up in person, then they can choose to do an online Secret Santa. With generators available nowadays, playing an online game of Secret Santa is a breeze. The process remains the same, but the gift exchange event can be done online via live video call. This is a feasible alternative for remote companies or people with family members who live abroad.
To enhance the gift-buying phase, you can allow members to ask questions in the form of a survey to help them select an appropriate gift. These questions should be carefully chosen to assist you in determining what the other person likes and dislikes. It would be best if you tailored your questions to the people you are playing this game with. The questions might come from several aspects of life. You can ask questions on a variety of topics, such as cuisine, animals, or personal preferences.
Aim to make your inquiries more interesting by being imaginative with them. They should help you understand your recipient and aid you in finding them a gift. An example of a good question is asking them about their favorite season or their hobbies. Other questions may include asking them about their favorite authors or books and what they enjoy eating.
---
Secret Santa Fun Facts
While being known as Secret Santa in the United States, the game has different names in different countries around the world. In Austria, it's called Engerl-Bengerl. In Ireland, it is known by the name Kris Kringel. In the Dominican Republic, it's known as Angelito, and in Germany, its name is Wichteln. Whatever the name may be, the premise of the game remains the same throughout the globe.
The only official rule of the game is that secrecy is maintained. All the participating players must ensure that no one knows beforehand who got them their present. This makes the entire event significantly more successful and entertaining for everyone involved.
Poland has a National Day for the Secret Santa event. Celebrated on the 6th of December, it is known as "St. Nicholas Day" across the country, and you can expect to receive holiday presents from a stranger.
In recent times, the practice of the game has extended to schools and workplaces. While the act of gift-giving used to be a family ritual, the concept of Secret Santa has spread to schools and workplaces. This helps with keeping the costs of gifts low while additionally delivering extra holiday happiness. Both children and adults can get to know their classmates and coworkers in a fun and festive setting while getting into the holiday spirit.
---
Secret Santa Gift Ideas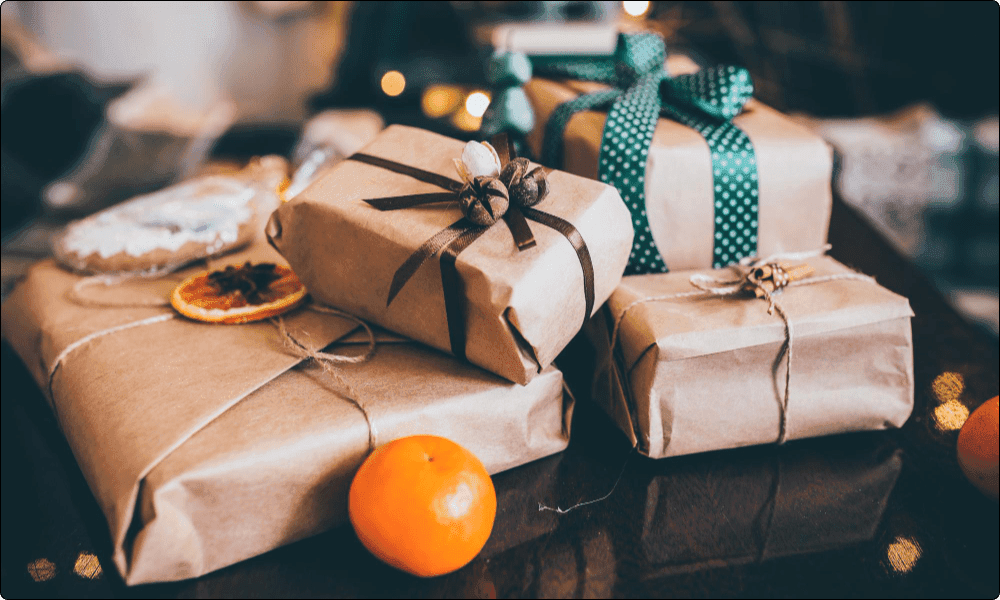 Are you a Secret Santa for someone and can not figure out what to get your chosen giftee? No one likes an unwanted gift that eventually ends up in the giveaway pile of presents for the next holiday season. To make things easier for you, we've made a list of amazing secret Santa gift ideas that will bring joy while exchanging presents.
1. Hot Chocolate Kit
Who doesn't like a delicious cup of warm hot chocolate to sip on? This Hot Chocolate Kit makes a great Secret Santa gift. It includes 2.3 oz of Hot Chocolate mix, 2.3 oz of crushed peppermint, and 0.8 oz of mini marshmallow, easily making three full servings of hot chocolate delight! You can even personalize it by having your own designs on the tin.
2. A Thousand Wishes Body Care Set
A Thousand Wishes Body Care Set contains a shower gel, fine fragrance mist, and body cream. It is a festive blend of pink prosecco, shimmering quince crystal peonies, gilded amber & amaretto crème. It has a very soft and soothing scent, and the rose-pink packaging is quite alluring.
3. Bodycon Sweater Mini Dress
This mini bodycon sweater dress comes in a variety of colors. This women's sweater dress can be worn alone as a tunic or a mini dress. Great for multiple places- formal, dating, weddings, birthdays, cocktails, parties, clubs, dinners, nights out, etc.
4. Weekend in Paris Tea Gift Set
Weekend in Paris Tea Gift Set is a luxury gift for both men and women. If you or someone you know is a fan of drinking tea, then this is the perfect gift to get them. It comes with 9 assorted Herbal Teas, Chai Teas & Black Teas. Packed in a regal and premium Paris-themed gift box that transforms you into the romantic streets of the city of love through a wondrous collection.
5. Ocean Pacific Men's 3-Piece Fragrance Gift
Ocean Pacific Men's 3 Piece Fragrance Gift Collection comes in three different black, blue, and gold bottles. Black For Him opens with an eccentric use of tomato leaves, tangerine, and cassis. Blue For Him comes with a smooth, rich base of Saffron, Amber, Sycamore, and Musk. Gold For Him opens with a careful blend between the cool earthiness of Vetiver and the caramel sweetness of Tonka Bean. These three bottles of nice scented cologne are just what he needs this holiday season.
6. The Body Shop Kindness & Pears Essentials
The Body Shop Kindness & Pears Essentials Gift Set is a 4-piece skincare treats set. It includes an 8.4 fl oz shower gel, 1.69 fl oz body yogurt, 1.69 fl oz body butter, and 1 oz hand cream. It comes with a festive scent and is the perfect moisturizing and hydrating gift for someone this Christmas.
7. Belgian Chocolate Bento Box
Belgian Chocolate Bento Box with Reserve Cabernet Sauvignon contains Chocolates and Harry & David™ 2019 Reserve Cabernet Sauvignon. It has a pleasing Belgian chocolate spin on the bento box and is made even better by adding a lovely bottle of wine. This can be a great gift for a friend or loved one who adores chocolates and wine.
8. Journaling Kit Set
If someone you know does journaling, the journaling kit will be the perfect gift to give them as their Secret Santa. It has 96 items, from washi tapes to scrapbooking paper and stickers; there are endless ways to use these stationary items.
9. Waterproof Notepad
Who doesn't get great ideas in the shower? This waterproof notepad is best for anyone who tends to come up with creative ideas when in the shower. It's also perfect for jotting down impromptu grocery or important reminders. The waterproof notepad is not only inexpensive but also makes a great and unique secret Santa gift idea.
10. Adult Coloring Book
The Color Me Calm adult coloring book designs are intricate enough to take a decent amount of time to color, making it a great stress releaser. The introduction gives a brief overview of the beauty of art and color as it relates to meditation and calmness. This fascinating book is organized into six chapters. From floral to mandalas and geometric designs, this coloring book is sure to keep you engaged.
11. Espresso Sampler
From Seattle's world-renowned roasters, the Espresso Sampler makes a great secret Santa for anyone who loves a good cup of coffee. The Coffee Box Sampler features a half pound of freshly roasted coffee, an artisan treat, and tasting notes. It is a great way to try different coffees and keep them fresh.
12. Tech Cloth
This Smart Tech Cloth is great for everyone, as it can easily and efficiently remove smudges, marks, strains and dust from all kinds of screens. Clean your smartphone, tablet, camera, lens or computer without worrying about damaging the surfaces. It can easily be hand-washed or tossed in the machine.
13. Musical Pillow
The Musical Pillow is a great gift for relaxing and unwinding after a long and difficult day. The soft and cozy pillow cleverly hides a speaker inside its snug filling. It is a perfect secret Santa present for anyone that listens to books or music to fall asleep. Simply plug your device into the built-in audio cable and lull yourself to sleep.
14. Chill Beer Flannel
Keep your beer can cool by zipping it up in a fuzzy plaid zip-up. With two layers of waterproof insulation, the 12-ouncer's new fashion accessory keeps hands warm while drinks stay chilled. The Beer Flannel makes a great and useful secret Santa gift.
15. Therapy Dough
Squishy, colorful and infused with essential oils, the Therapy Dough created by Cammie and Kip Weeks is sure to relive the childhood fun that you experienced as a kid. It also works as a great stress relief and aromatherapy. From lavender to orange, to eucalyptus to pine, there are several essential oils to choose from, each with its distinctive feature. It helps relax and focus; the big bonus is that it smells amazing!
16. Mini Waffle Maker
From waffles to hash browns and keto waffles, the 4-inch Mini Maker allows you to make breakfast classics easily. The double-sided non-stick surfaces provide an even cook for consistent results and delicious golden waffles every time. The sleek design and the gorgeous pastel color make it a great piece to adorn the kitchen counter. Multiple recipes are included with the waffle maker, including those for special diets, making it the ideal secret Santa gift.
---
Games such as Secret Santa are one of the best ways to get closer to your loved ones, know your coworkers and have a great time. The possibilities are endless. If you are Secret Santa for someone, then the list of gifts above is sure to help you pick out some amazing presents for your friends, family, or coworkers.
Make your gifting efficient and improve your ROI with Giftpack AI.
Visit our product page to learn more about what we can do for you!