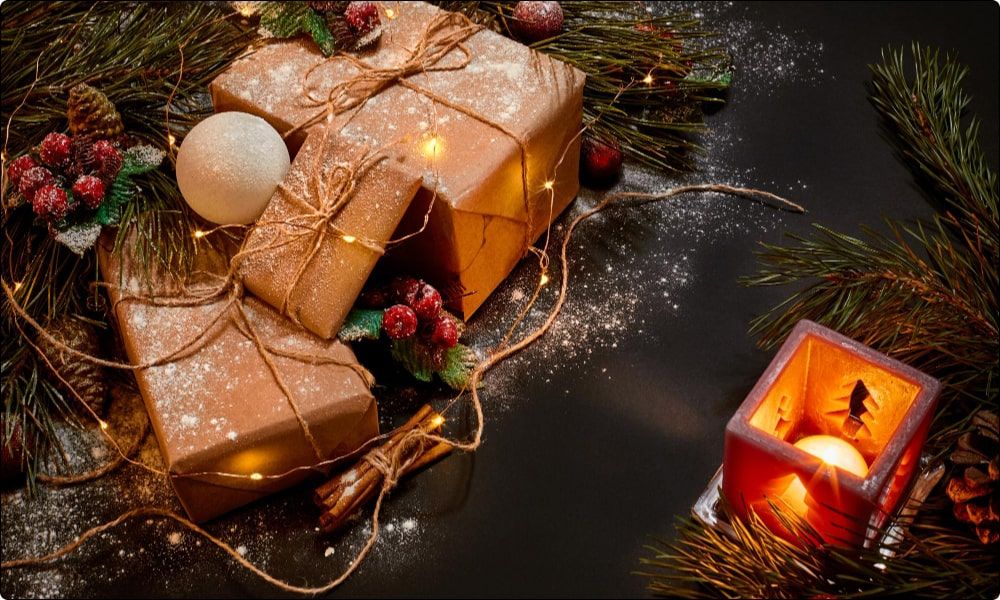 Christmas is without a doubt the most wonderful time of the year, since it is associated with gifts! It is also the time for everyone to express affection for loved ones.
However, many have a difficult time selecting unique gifts, are you also having difficulties picking gifts for your loved ones? To put an end to your concerns, we are here to assist you with some incredible gifts for adults, teens, children, and all your loved ones. One of the most pleasurable aspects of the Christmas season is seeing the smiling face from your loved ones after opening your well-thought out presents.
And to do that, you will have to find that right gift.
In this article, Giftpack will show you 40 awesome Christmas gift ideas that will help you create an unforgettable moment for your gift recipient(s). Gifts are separated by different recipients. Check them out!
---
Christmas Gift Ideas for Men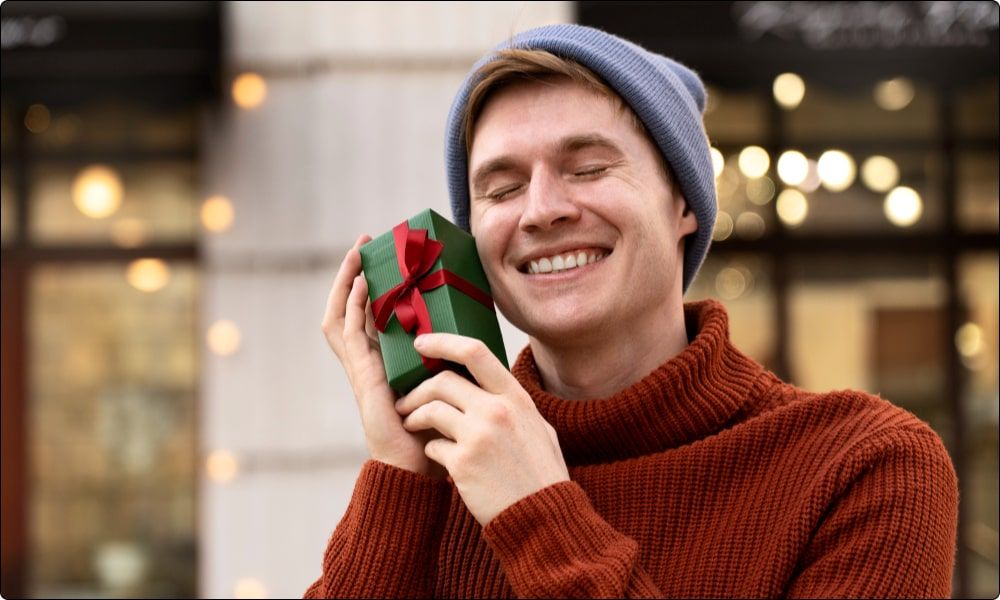 There are a few key things to consider when shopping for Christmas gifts for men. First, think about his hobbies and interests. What does he enjoy doing in his free time? Is he an avid sports fan? An outdoorsman? A gearhead? Knowing what he enjoys will help you zero in on a gift that he'll love.
Another important consideration is his lifestyle. Is he always on the go? Does he prefer to relax at home? Knowing his daily routine will help you choose a gift that fits his lifestyle. For example, a busy executive might appreciate a nice watch or a sleek new briefcase, while a guy who loves to relax at home might prefer a comfy robe or a fancy new coffee maker.
Finally, think about his personality. Is he the life of the party? A jokester? A romantic? A serious guy? Knowing his personality will help you choose a gift that he'll truly appreciate. For example, a guy who loves to have fun might appreciate a gag gift or a fun new toy, while a more serious guy might prefer a new book.
No matter what you choose, remember that the best Christmas gifts for men are the ones that come from the heart. Check out these gifts for men recommended by Giftpack:
1. Brook linen Mulberry Silk Pillowcase
A silk pillowcase is one of the favorite gifts for beauty enthusiasts, since it is not only a lovely way to update your bedding but also keeps your hair and skin wrinkle-free. It is buttery soft, breathable, and available in different colors and designs and is certainly a best gift for your family members.
2. UGG Scuffita Slippers
This holiday season, give your loved one the gift of comfort with the Ugg Scuffita Slippers. The genuine shearling lining feels like a warm embrace for the feet, and the wearer will probably never take them off. The slippers' bottom soles are made of a durable, water-resistant rubber, allowing them to be worn both indoors and outdoors. In addition, these soft slippers are available in a range of colors, from gray to hot pink.
This may not be the most thrilling present, but it is one of the most practical tools you can give. The Apple Air Tag is a tracking gadget that users may attach to their most valuable belongings, such as their luggage, keys, wallet, and car. The Air Tag syncs with the user's iPhone, enabling them to track its location at all times using the Find My app. Additionally, if their tag is attached to something that is lost, the person in possession of it cannot access their information via the Air Tag.
4. Fellow Stagg EKG Electric Pour-Over Kettle
The coffee addict in your life will be thrilled with this premium kettle. The Fellow Stagg EKG Electric Kettle lets them prepare tea and pour-over coffee at the ideal temperature. The kettle can keep the temperature of the water for up to 60 minutes, allowing the user to enjoy their coffee even after some time. This kettle is also notable for its ultra-sleek design and stunning color options, which include white, black, pink, copper, and more.
5. Personalized Beer Mug
Custom beer mugs are the perfect addition to any man cave or beer lover's collection. Each mug is carefully carved using sand carving technique, making it a unique and thoughtful gift. Measuring 6" High, 3.6" wide, and holding 23 oz, these mugs are both functional and stylish. Made in the USA and dishwasher safe, a set of these etched, engraved beer mugs is sure to be a hit at any special occasion.
6. JBL Flip 6 Portable Bluetooth Speaker
The JBL Flip is designed for the present era, as it connects via Bluetooth and is dust-proof and waterproof, allowing users to take it outdoors without fear of damage. The cylindrical design is so practical that it may even fit in the cup holder of their vehicle. The speaker can operate for 12 hours on a single charge and is available in a variety of vibrant hues, including teal, pink, and red.
7. Bodum Travel Press
This is a perfect present for the friend or family member who must have their coffee just as they like it, wherever they go. This vacuum-sealed press is made of sturdy stainless steel and is vacuum-sealed to keep the coffee warm throughout transport. The Bodum Travel Press is dishwasher safe and produces a single cup of coffee. Additionally, they can use it to brew loose-leaf tea. In addition, you can choose from three colors, including black as well as red and light green.
8. Black + Decker 2L Purify Air Fryer
Air fryers have become one of the most popular cooking products on the market due to its capacity to make food crispy without the use of excessive oil. This prized kitchen tool would make an excellent present for anyone who wishes to save cooking time, oil consumption, or both. This Black + Decker air fryer has a two-liter capacity and can serve between two and four individuals. This gadget also features a simple basket separation that enables simultaneous cooking of two distinct items.
9. Derrick RFID Leather Bifold Wallet
The Derrick RFID Leather Bifold Wallet is a sleek and stylish wallet made of high-quality leather. It features RFID blocking technology to protect your credit and debit cards from electronic pickpocketing. The wallet has multiple card slots, a clear ID window, and a spacious bill compartment to keep your belongings organized and easily accessible. It also has a slim design that fits easily into your pocket or purse. The wallet is available in a variety of colors to suit your personal style.
Also check out our luxury gift recommendations.
10. Portable Outdoor Camping Barbecue Grill with Wooden Handles
Those who are tired of carrying bulky charcoal grills for camping or other activities will find that this portable BBQ grill is just the solution they need. The camping grill's compact size makes it easy to toss into the car trunk and take anywhere. The large grilling rack can accommodate food for many people, and the air vents and built-in thermometer allow for precise heat control. With this versatile gadget, people can start enjoying nice and unforgettable BBQs with their family and friends in nature.
---
Christmas Gift Ideas for Women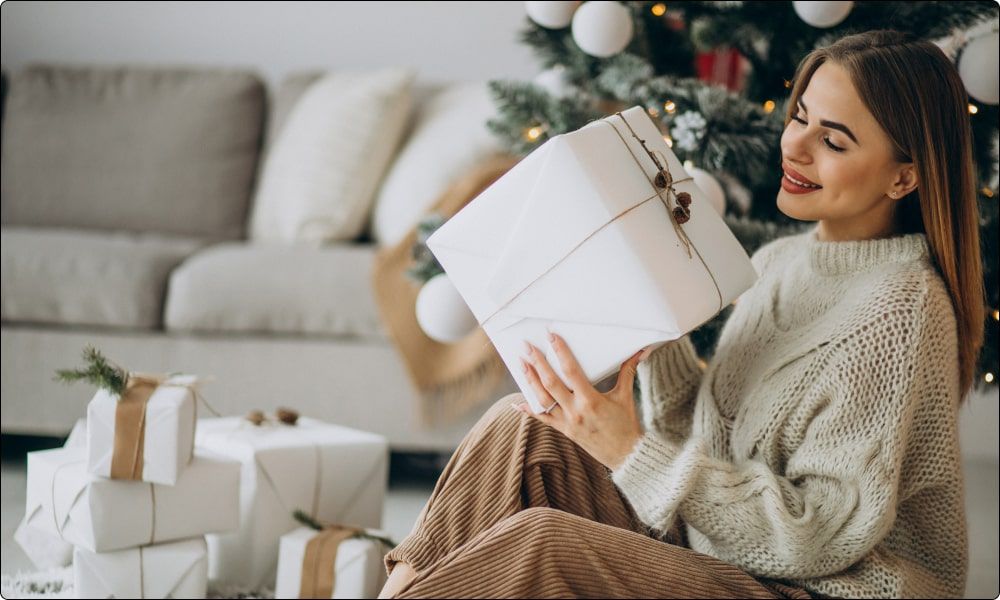 There are many great Christmas gift ideas for women. One idea is to give her a gift certificate to her favorite spa. Another great idea is to give her a gift basket filled with her favorite scented candles, lotions, and bath salts. If she is a fashionista, you could give her a gift card to her favorite clothing store. For the woman who loves to cook, a cookbook or a set of cooking utensils would be a great gift.
Whatever you decide to give her, make sure it is something that she will appreciate and use. Check out these gifts for women recommended by Giftpack:
11. Slip Silk Pillowcase
Silk pillowcases not only feel luxurious, but they can also improve the appearance of your skin and hair. The Slip Silk Pillowcase is crafted with Mulberry silk, which is regarded as the finest silk available. It is also available in a range of hues, including white, gray, gold, pink, and more, allowing you to easily pick something to complement their current bedding.
12. Manta Hairbrush
Invented by a hairdresser in the United Kingdom, this brush is one of the greatest and its bending shape, rotating bristles, and bendable handle are just amazing. The combination of a flat silicone base and bristles that rotate 360 degrees means that the brush conforms to the shape of your head, detangling strands flawlessly while being completely gentle and limiting the possibility for injury.
13. Canon IVY Mini Photo Printer for Smartphones
Printing photographs taken on a smartphone might be difficult. This is one of the major drawbacks of using a smartphone for photography. This issue has been resolved by Canon's introduction of a printer that connects to your smartphone and tablet via Bluetooth. The printer does not require ink and produces fully smudge-free photographs. It can be charged through USB and is so lightweight (5.6 ounces) that it may be carried around with friends and family. Remember that photographic paper is supplied separately.
14. All-Clad D3 Stainless-Steel 12-Inch Fry Pan
If you truly want to impress your foodie friend this holiday season, surprise them with an All-Clad stainless-steel piece of cookware. The aluminum sandwiched between the two layers of stainless steel gives this frying pan even heat conduction, and the wide circumference makes it suitable for frying, sautéing, and searing large portions of food.
15. Quince Mongolian Cashmere Sweatpants
One of the finest gifts you can give a family member or friend who works from home is a pair of comfortable bottoms to help them get through the day. These Quince sweatpants are ideal for both that and lounging around the home. The pants are crafted from Mongolian cashmere, which is revered for its exceptionally long and robust fibers. There are five color options available, including blue, oatmeal, burgundy, gray, and black.
16. Beis The Cosmetics Case
When traveling, a high-quality makeup bag is indispensable. The Beis Cosmetic Case features sufficient space for all their beauty needs, as well as convenient pockets to keep their goods organized. These compartments include two brush slots and a secure flap that flips over to conceal the brushes. There is also a zippered pocket for products like lip glosses, eye pencils, and eyeliner, as well as a separate section for the attached mirror, which makes touch-ups on the road even more convenient. In the event that a product in the catch-all section leaks or breaks open, the bag will not be compromised.
17. Print fresh Long Sleep Set
Consider replacing your Christmas pajamas with this colorful outfit from Print fresh. Animal motifs, such as turkeys wandering through palm palms or jaguars roaming through flowering plants, are among the numerous available options. In addition, there are pajamas portraying plants and food, such as a pumpkin patch. The Long Sleep Set has a spacious top and mid-rise pants with a relaxed fit. In addition, unlike holiday pajamas, it can be worn throughout the year.
Also check out our gift recommendations for mothers.
18. Portland Leather Butterfly Bucket Bag
Fine leather items are usually a lovely gift to give to your loved ones. The beautiful thing about Portland Leather is that they exhibit their leather goods as close to their natural state as possible. This Butterfly Bucket Bag is the brand does not utilize synthetically treated and painted leather, so you can appreciate the leather for what it is.
19. Home Spa Kit Scented with Lavender and Jasmine
The Lovely set is perfect for any gift occasion, such as birthdays, Mother's Day, and Christmas. It includes everything you need for ultimate relaxation, such as two deluxe 5-ounce bath bombs and nine beauty essentials. This Home Spa Kit also features the soothing scents of Lavender and Jasmine essential oils, making it the perfect way to pamper yourself.
20. Masterclass: Gordon Ramsay Teaches Cooking
In this MasterClass with Gordon Ramsay, the seven-star Michelin chef will take you into his home kitchen and teach you everything from setting up your kitchen and buying the freshest ingredients to creating unforgettable dishes. This is an opportunity to not only learn recipes, but to elevate your cooking skills to the next level. Experience Gordon Ramsay like never before.
---
Christmas Gift Ideas for Children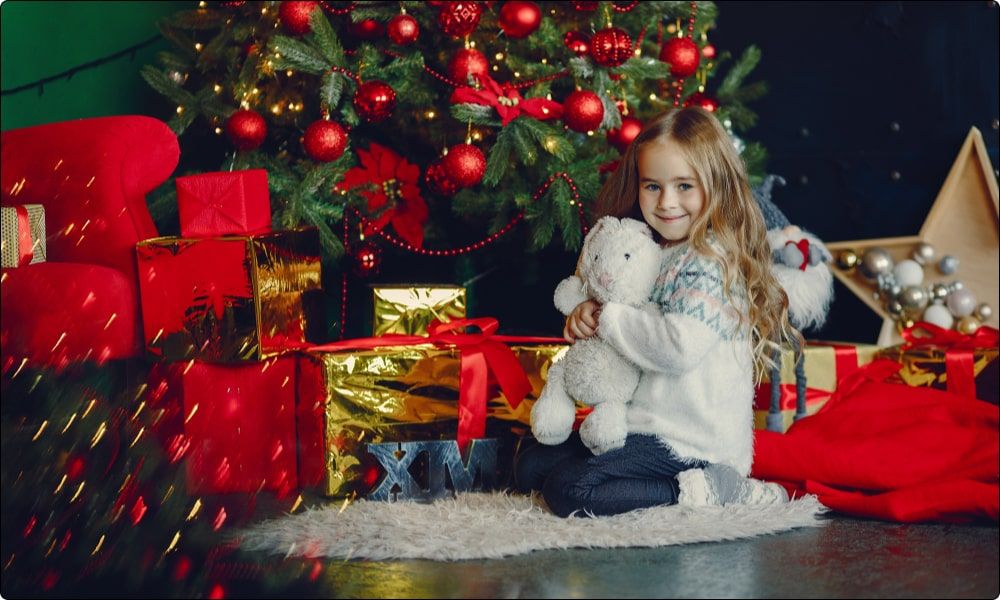 Christmas is a time for giving and sharing, and one of the best ways to spread joy and cheer is by giving gifts to children. When it comes to choosing the perfect gift for a child, it's important to consider their interests and hobbies. Some great gift ideas for children might include books, toys, games, or even craft kits.
For younger children, simple toys like building blocks, dolls, or stuffed animals can be great choices. For older children, more complex games and activities, such as board games or science kits, can be fun and engaging.
Whatever you choose, the important thing is to give a gift that will bring a smile to the child's face and create lasting memories. Check out these gifts for children recommended by Giftpack:
21. My Very Merry Christmas Coloring Book and Sticker Gift Set
The Christmas Coloring Book and Sticker Sheet is a perfect way to help your child get ready for the holiday season. The book features adorable forest animals and can be personalized with your child's name. The accompanying sticker sheet adds an extra element of fun and can be used to decorate the coloring pages or for a separate craft project. Not only does this gift set provide hours of entertainment, it also helps children develop hand-eye coordination and writing skills. Give the gift of creativity this Christmas with the Christmas Coloring Book and Sticker Sheet.
22. LEGO® Harry Potter™ – Hogwarts™ Wizard's Chess
LEGO presents its best winter crafts for kids. The collection of winter-themed arts and crafts will spark creativity and imagination in children of all ages. From snowflakes and snowmen to sledding and skating, these fun and engaging activities will keep children entertained during the colder months. Parents and teachers alike can use these winter crafts to provide new ideas and educational activities for their children and students. This LEGO Harry Potter Wizard's Chess set is perfect for your Harry Potter little fans
23. Personalized Christmas Kids Pajamas
The perfect set for siblings and cousins, personalized with their names, they are absolutely darling for cozy pictures under the tree. This personalized Christmas kids pajamas set includes a long sleeve tee and trouser made of 100% ringspun combed cotton. The tee has a rib cuff on the long sleeves and hem on the bottom, while the trouser has an elastic waist and rib cuff on the bottom. Youth sizes do not have an elastic cuff on the bottom of the pants.
24. Christmas Plush Set
Christmas plush are super soft and cuddly, and this set of 4 stuffed animals (Santa, Elf, Snowman, and Reindeer) make a great addition to anyone's holiday festivities. These beautiful holiday plush can be placed on a tree, fireplace mantle, in wreaths, on tables, or anywhere else to add extra holiday cheer to seasonal decor. They are perfect for the office, home, and more. These plush can be given as a set or individually as a gift, and they make great stocking stuffers as well. They can also be placed in Christmas gift baskets or boxes and used as a Secret Santa, Yankee Swap, or White Elephant gift. With their durability, these Christmas plush can be enjoyed for years to come and can become a family tradition.
25. Personalized Name Only Dinosaur Glitter Snow Globe
The awesome personalized dinosaur snow globe is sure to make a smile appear on any little one's face. The globe can be personalized with a name up to 12 characters, with all personalisation being case sensitive and appearing as entered.
26. Melissa & Doug Deluxe Wooden Railway Train Set
The Melissa & Doug Deluxe Wooden Railway Train Set is a high-quality and durable toy that provides endless hours of imaginative play. With over 100 pieces, including trains, tracks, buildings, and accessories, children can create their own unique train world. The set is made of wood, ensuring durability and long-lasting enjoyment. It also encourages fine motor skills, problem-solving, and creative thinking. Whether playing solo or with friends, this train set is sure to be a hit with kids of all ages.
27. 1:18 Scale 4WD Off Road RC Monster Remote Control Truck
The DEERC 9300 high-speed remote control car has been upgraded with larger tires and newly designed tire threads for a stronger grip. It also features a well-designed hub metal sheet for added strength and collision resistance. The RC car comes with two batteries and a nylon chassis for durability, and a 2.4GHz remote control system for easy control. It is equipped with a powerful motor and metal heat sink for extended life and top speeds of over 40 km/h. The independent suspension design allows for all-terrain racing.
28. Monopoly: Pixar Edition Board Game
The Monopoly: Pixar Edition game features locations from Disney and Pixar movies including Toy Story, The Incredibles, Up, Coco, Monsters, and Cars. The board game includes spots like Nemo's Anemone and Porto Corsa, and players can collect tokens like the Pizza Planet Truck and Carl's House. Action spaces and cards add to the fun, making this game a great choice for Disney and Pixar fans.
29. Elsa Costume in Frozen for Kids
With the Elsa Costume, there is no need to put one's dreams on ice. Inspired by the queen's elegant outfit in Frozen, this detailed gown is frosted in glittering icicles and sequins, with a sparkling snowy cape. The authentic Disney costume features a satin bodice and skirt, with a shimmering organza top layer and glitter frosting. Soft mesh shoulders and sleeves with bias cut cuffs add a touch of elegance, while the sequined bustline trim and icy sequined bodice front add a touch of magic. The stretch back and waist back provide an easy fit, and the attached sheer organza cape features iridescent glitter frost and snowflakes. The blue satin underlayer completes the look, making this costume part of the Elsa Costume Collection for Kids. Made of polyester, exclusive of decoration, this costume is imported and perfect for any Frozen fan.
30. Six Flags One Day Tickets
Six Flags offers a variety of thrilling rides, games, and attractions, as well as live entertainment, shows, and dining options. The parks are known for their signature roller coasters and other thrill rides, as well as their themed areas and family-friendly attractions. Six Flags also offers season passes and memberships for frequent visitors, as well as special events and festivals throughout the year. With this Six Flags One Day Tickets, you will be sure to make these kids really happy!
---
Christmas Gift Ideas for Coworkers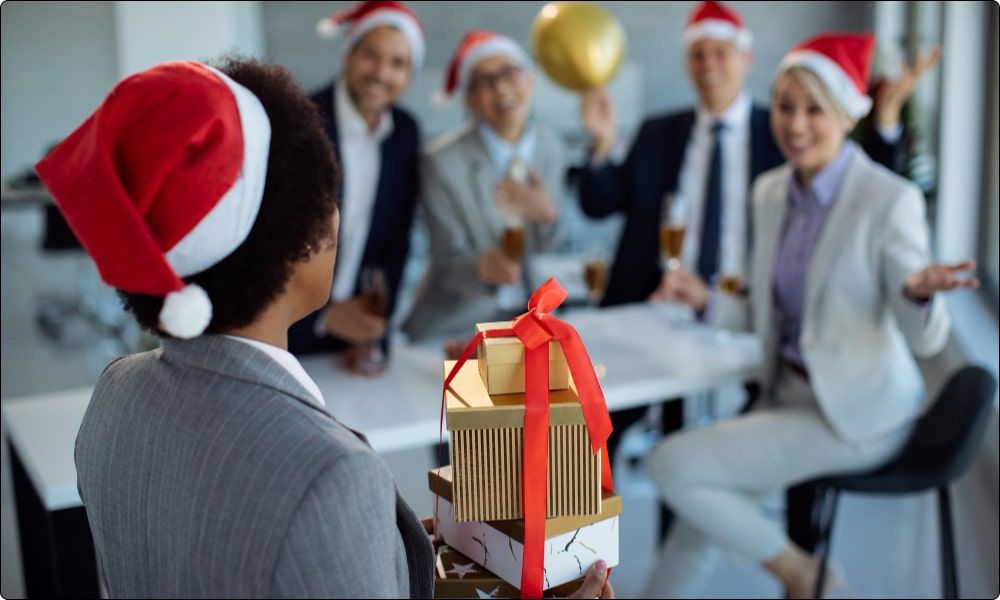 Christmas is a time of giving and showing appreciation for those around us, including our coworkers. When it comes to gift ideas for coworkers, it's important to consider their interests and personalities. Some potential gift ideas could include a nice pen or notebook for the coworker who loves to write, a coffee mug or tea infuser for the coworker who is always on the go, or a fun desk accessory like a plant or mini Zen garden for the coworker who loves to add a personal touch to their workspace.
For those who are more difficult to shop for, a gift card to their favorite restaurant or store can be a thoughtful and appreciated gesture.
Overall, the key is to choose a gift that shows you appreciate and value your coworker's contributions and friendship. Check out these gifts for coworkers recommended by Giftpack:
31. Giftpack Smart eGift Card
The Giftpack Smart eGift Card allows your recipient to choose from hundreds of top brands, including Adidas, Macy's, Foot Locker, H&M, and Uber Eats. With just a few simple steps, you can send this customizable gift card by email or SMS. Your recipient can then easily swap the value of the card for gift cards from their favorite retailers and use them at their convenience. This smart eGift card is the perfect solution for giving the right gift every time. More brands are being added all the time.
Also check out our best personalized gift recommendations.
32. Amazon Kindle Paperwhite
Kindle is still immensely popular due to its exceptional portability and durability. They will have access to two million volumes and thousands of audio books with the accompanying membership. In addition, individuals can alter the brightness of the device and enlarge the book's text to their liking. This Kindle was also designed to withstand natural disasters; if thrown in water, it will survive for 60 minutes in more than two meters of freshwater and 30 centimeters of salt water. Additionally, a single charge might last weeks.
33. Click & Grow the Smart Garden
One does not necessarily require a garden to cultivate their own herbs. This Smart Garden is an excellent present for a gardener who wants to continue growing during the winter or for someone who enjoys having fresh herbs on hand. This intelligent device can monitor every aspect of the plant's growth, including the quantities of water, light, and nutrients. Simply insert the herb capsules into the machine and add water, and the herbs will grow in a matter of weeks.
34. Corkcicle x Rifle Paper Co. Coffee Mug
A mug is always a wonderful gift, but a portable mug is even better. Corkcicle collaborated with Rifle Paper Co. to provide a portable mug that you will be proud to display. This product has Rifle Paper Co.'s unique floral pattern, has a shatterproof top, and is triple insulated to keep hot beverages toasty.
35. Artifact Uprising Everyday Photo Book
This photo album from Artifact Uprising is a present that your loved one will treasure for a lifetime. The brand allows you to upload 30, 40, or 50 photographs, with one photograph per page. The pages are thick enough to rest flat when the book is open, and the exterior boasts a linen cover that may be personalized with foil-stamped inscriptions. Acquire this book to celebrate a wonderful vacation, a year in a loved one's life, or a collection of cherished photographs taken throughout the years.
36. Diaspora Co. Chai Kit
This distinctive Diaspora Chai Kit gift box will excite everyone who anticipates a cup of chai. The Chai Kit includes Chota Tingrai Black Tea and a jar of the brand's Chai Masala blend, which produces around 15 cups of chai. In addition, they will receive Madhur Jaggery Powder for sweetening, which may also be used in other recipes, as well as a strainer to provide the smoothest possible tea. This set is completed with an adorable pink cup developed in collaboration with East Fork.
37. John Boos Cherry R-Board Series 1.5-Inch Cutting Board
This little pouch can store cards and cash, while the larger version can accommodate a smartphone, cosmetics, and more. In addition to its exquisite leather construction, the Leather Tassel Zipper Pouch is distinguished by its accessible monogramming. Two to three initials can be monogrammed in 10 distinct styles, including two-toned shadow script, cursive, and sports-themed logos.There are numerous color options for both the monogramming and the pouch itself, including neutrals like white and caramel as well as bold hues like hot pink and orange.
38. The Singing Little Bird 2023 Desk Calendar
Desk calendars make awesome gifts for coworkers, classmates, and difficult-to-shop-for individuals. This desk calendar from Etsy business The Singing Little Bird offers hand-painted drawings of life's small pleasures. Flowers, pumpkins for autumn, a stack of books, and even a squirrel clinging to a Christmas tree branch are among the motifs. This calendar varies from others in that the months are not connected by a coil, allowing them to be displayed separately as works of art.
39. Christmas cards pack, 12 Greeting cards forest animals
These winter forest animal Christmas cards are the perfect way to make your loved ones feel special this holiday season. Each pack includes 12 cards, printed on high quality 250gsm paper, and comes with a 100% recycled Kraft envelope. The cards are shipped in a rigid package to avoid damage. The designs include two of each: Owl flying, Little fox sleeping, Fox with stars, Owl sleeping, Owl among plants, and Deer at night. The set can be customized to your liking, and will be shipped by DHL EXPRESS.
40. Personalized LED Wireless Charging Pad
The engraved wireless charging pad allows you to charge your Qi enabled devices without all the cables. Simply plug in the charging pad via the included USB cable and watch as the design illuminates. The LED indicator light will turn green when your phone is charging, and the pad is compatible with most plastic phone cases. Measuring 3.5" square, this convenient charging pad is a must-have for any tech-savvy individual.
There are also more than 7,000 life experience gifts on Giftpack's Marketplace, if you want to have some fun with your loved ones during or after the holidays, be sure to check them out on Giftpack! Signup for free and login to see all the gifts!
---
The holiday season is a time for giving and showing loved ones how much we care. There are endless options for gifts, but the ones listed in this article are sure to put a smile on the face of anyone on your list. From the practical to the extravagant, these gifts are sure to impress and show that you put thought and care into your selection. Happy shopping and happy holidays!
Looking for Gifts for Your Holiday Gift Exhanges?
It is many people's tradition to play gift exchange games for Chritmas! Most popular ones are Secret Santa and White Elephants. With all the data Giftpack has, We've put together the most awesome/fun gifts for these events! Check them out:
Make your gifting efficient and improve your ROI with Giftpack AI.
Visit our product page to learn more about what we can do for you!