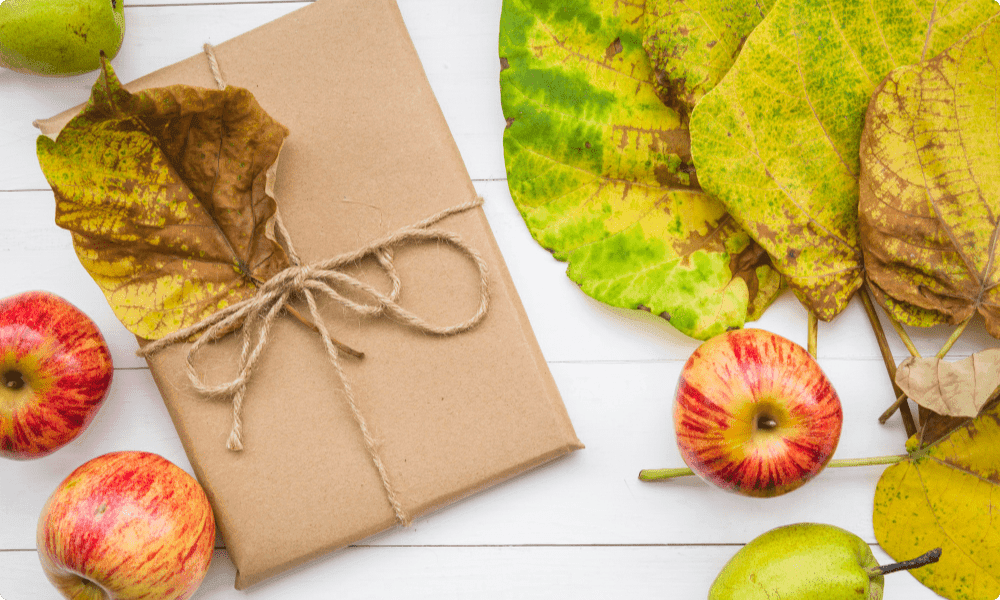 Since Thanksgiving is all about giving thanks for the blessings, why not move one step ahead and introduce a small token of thanks for your hostess, friends and family? After all, you are grateful for having them in your life. Surprise them with the perfect little Thanksgiving gifts when they least expect them this year.
Whether you want to show appreciation to the hostess by giving them a lovely gift for all the hard work they put into cooking and preparing for the Thanksgiving dinner, or you want to give a token of thanks to your lovely neighbor for always being there for you, these gifts will surely make them feel appreciated.
Instead of showing up empty-handed, it's the perfect way to get creative and come up with gifts that your friends and family will love. The possibilities for Thanksgiving gifts are endless, from gift baskets to mini spa kits, personalized cutting boards, other personalized gifts, and small plant pots.
We've created a list of 37 items you can gift this Thanksgiving, some even doubling to elevate the Thanksgiving table decor while others to uplift the holiday spirit.
---
Best Thanksgiving Gift Ideas on Amazon
1. Cake Stand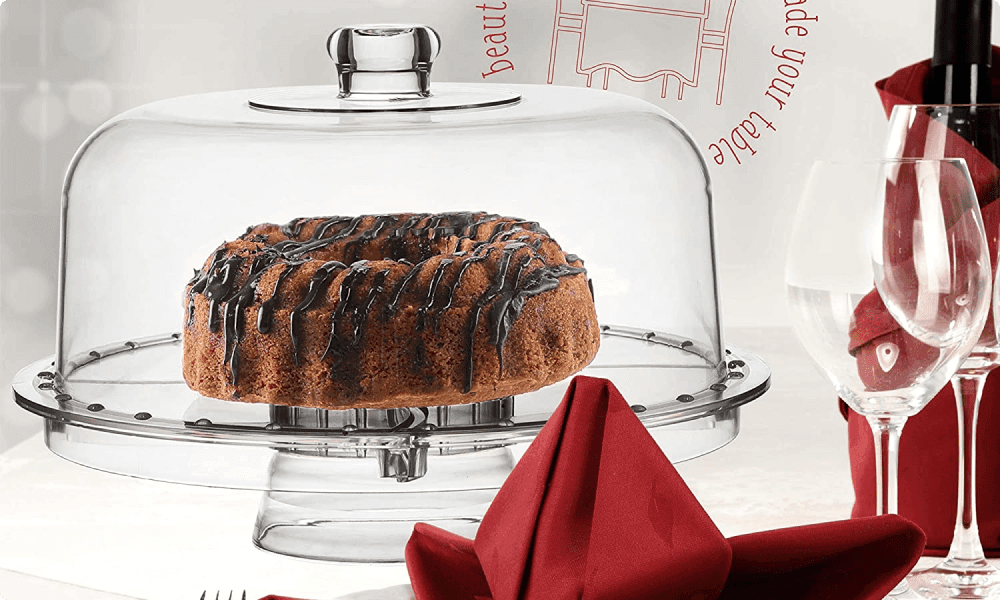 A multi-purpose cake stand is a perfect item for your Thanksgiving table spread. It can be used as a punch bowl, a dessert bowl, or a salad platter. It can easily serve anything from desserts to salads and appetizers. This all-in-one multi-functional cake stand is the perfect gift to give this Thanksgiving.
2. Scented Candles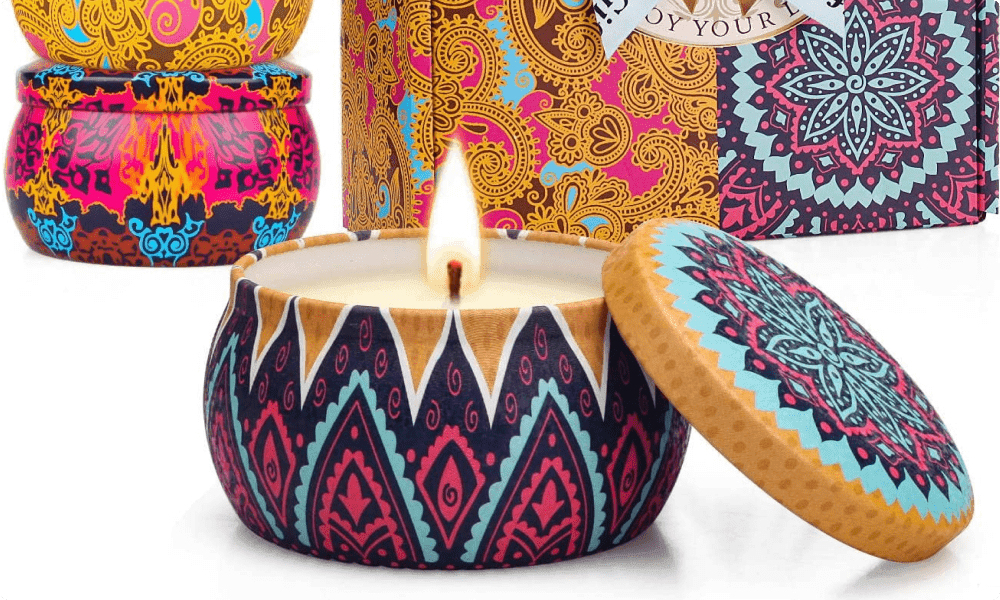 A set of scented candles is a great gift to reduce stress. Not only will it leave the house smelling wonderful, but the aromatherapy also helps relax by relieving stress and anxiety. Moreover, they come in cute containers, making them perfect for table decor.
3. 165 Thanksgiving Joke Audiobook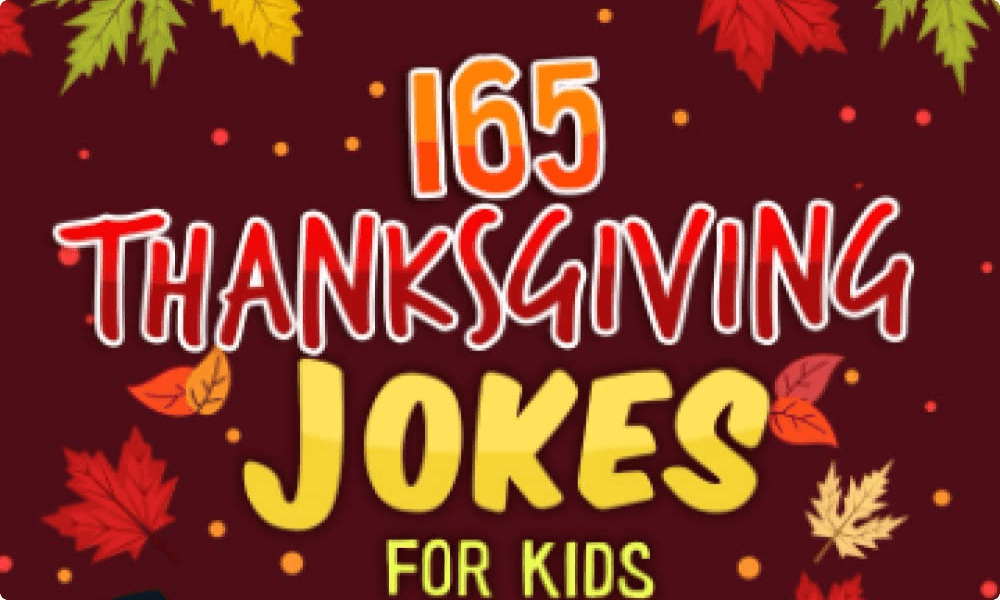 Laughter is the best medicine, and this fun Thanksgiving joke audiobook will certainly have everyone at the table sharing countless laughs. The kids can read it aloud for everyone to enjoy and have a laughter-filled Thanksgiving day.
4. Braided Rattan Table Mats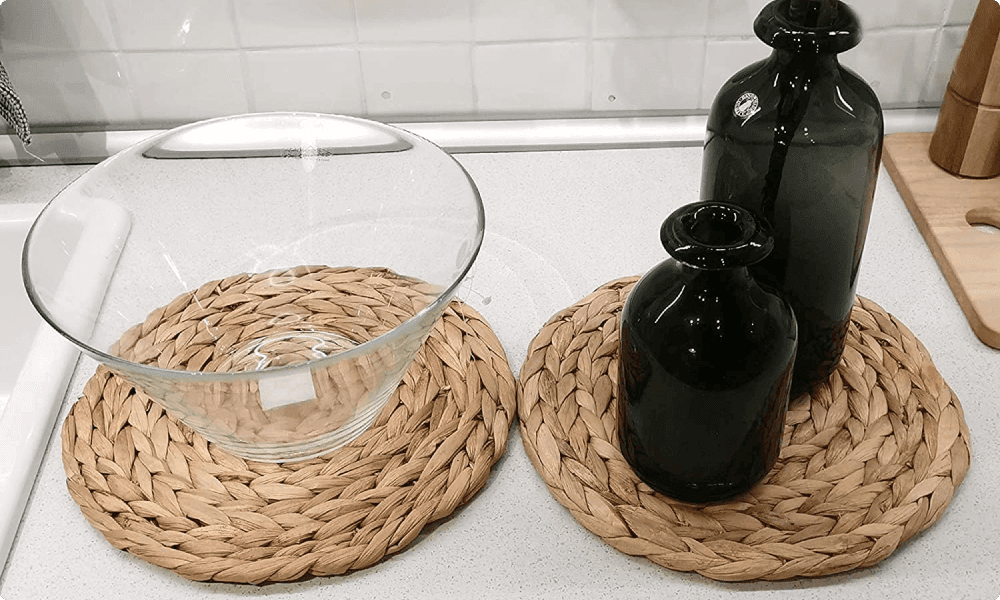 These rustic braided rattan table mats are sturdy and beautifully premium made. They are easy to clean and make an exceptional gift to give to all those who love table decor.
5. Charcuterie Board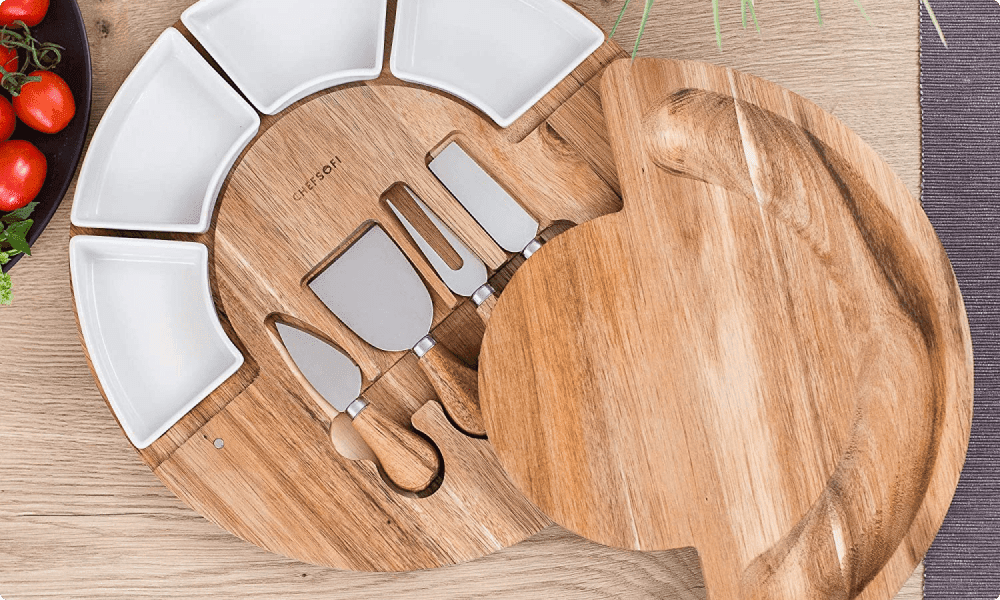 This 13-inch charcuterie board is sturdy, gorgeous, and perfect for creating an aesthetic platter. The knife section can be closed or left open to reveal four cheese knives. The four bowls can be rearranged as per your liking, making it an ideal present for all foodies.
6. Cookbook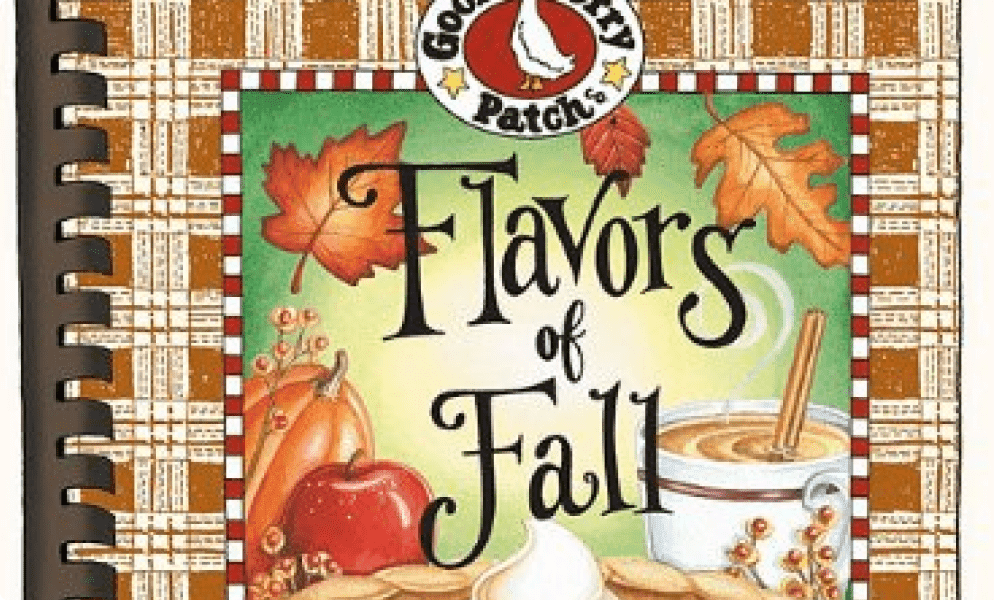 Celebrate the best of this season with this delightful cookbook. Filled with mouthwatering recipes and pro tips, this is the perfect item to gift to anyone who loves to cook and bake. From buttery cinnamon biscuits to flavorful cranberry meatballs, this Flavors of Fall cookbook has all the perfect recipes of the season.
7. Collapsible Fruit Basket
A beautiful wooden basket that can easily collapse and be kept safe when not in use. Its intricate design and elegant craftsmanship make this a great centerpiece for the table. Add fruits or use the basket as decoration; it'll make an excellent gift.
8. Flavored Tea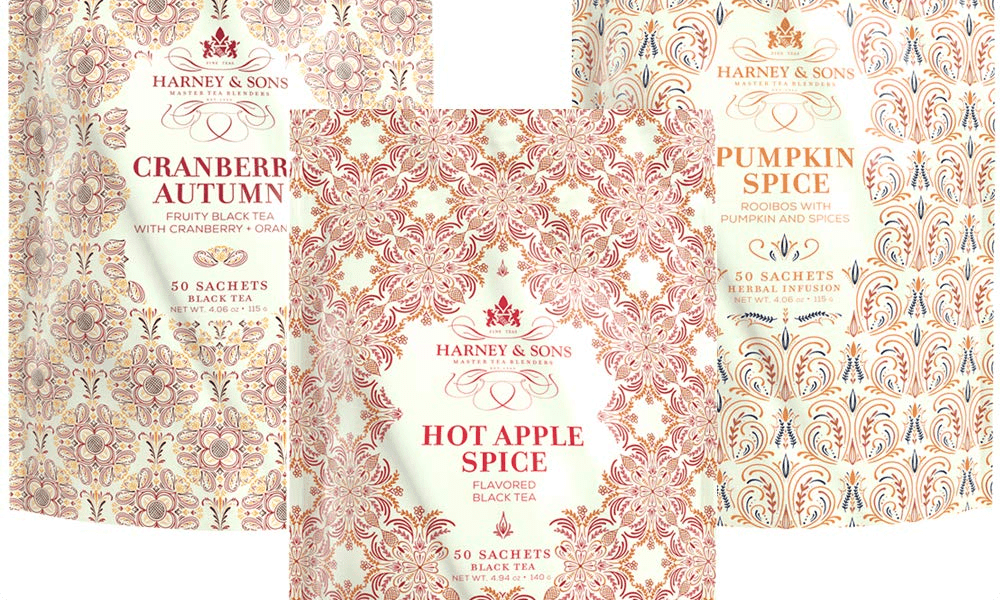 This lovely pack of fall-flavored tea makes a great Thanksgiving gift. These not only smell great but also have the perfect pack of flavors in each of the 3 fall flavors. These will be great to serve after a hearty Thanksgiving dinner.
9. Spa Gift Set
This spa gift set is an excellent gift to give the hostess so she can pamper herself after a tiring big day. Once the cute packaging is opened, there is a burst of wonderful smelling scents that will give a relaxing and soothing feel.
10. Happy Fall Mug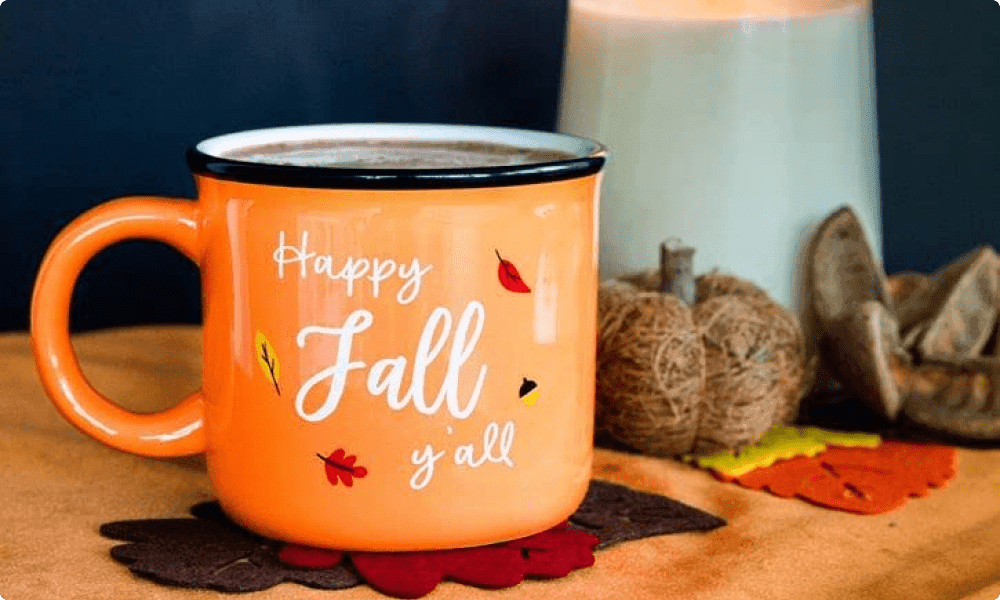 A happy fall mug is a useful and inexpensive present to give to your friends, coworkers and anyone else you can think of. It is a good size yet not too heavy, perfect to have a warm mug of milk or coffee to end the day.
11. Apron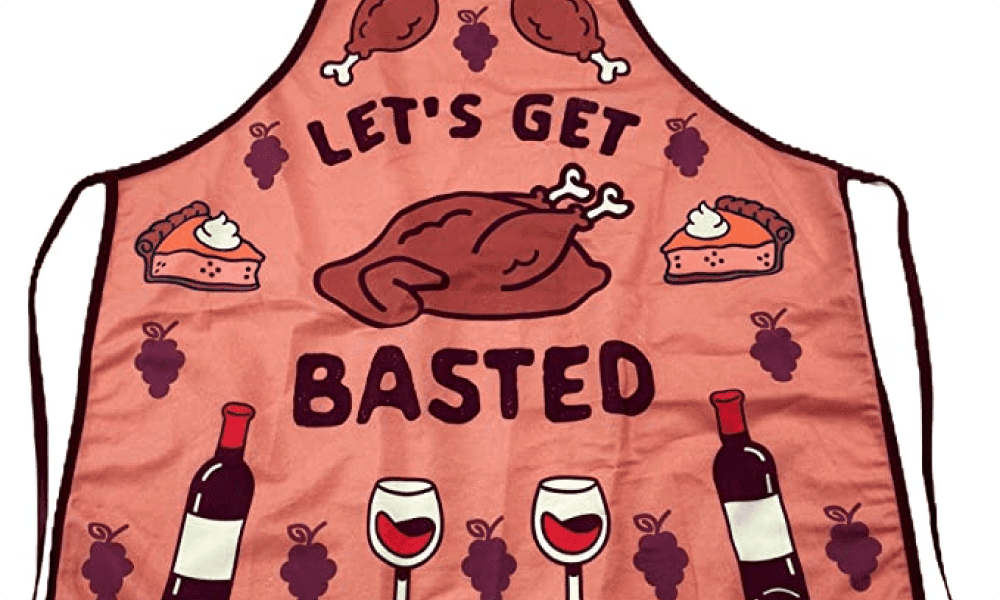 This Let's Get Basted Apron is an excellent gift for anyone who loves to spend their time in the kitchen and has a great sense of humor. It is a one-of-a-kind design made of high-quality print, which can easily be washed without spoiling the print.
12. Wine Bag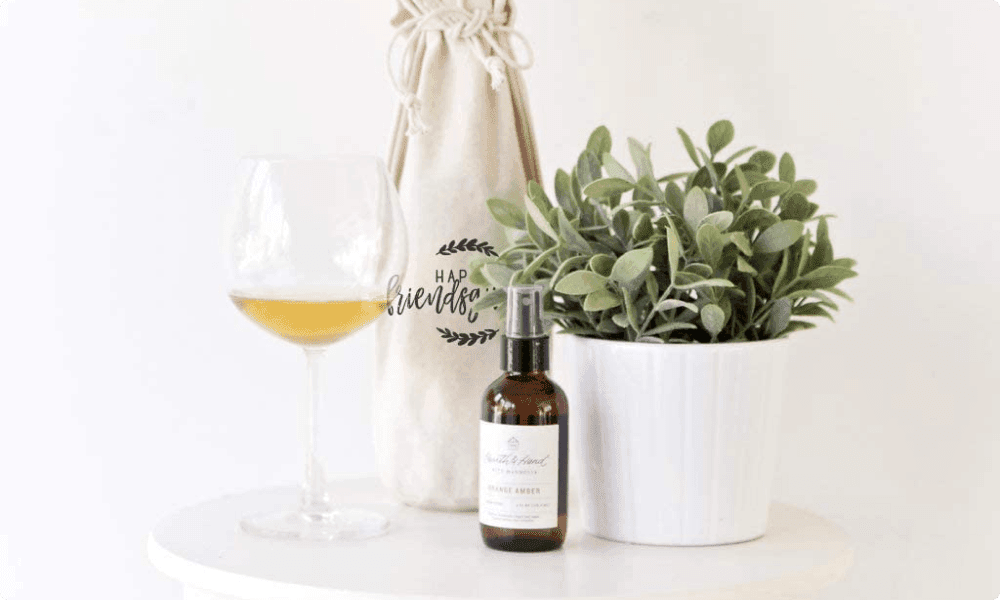 Wine is a must on every holiday since it's a great way to end the perfect day. Additionally, this canvas wine bag is an essential gift to take along with a fine bottle of champagne. Celebrate Thanksgiving with these cute, easy-to-wash, reusable wine totes.
13. Thanksgiving Themed Cotton Dish Towel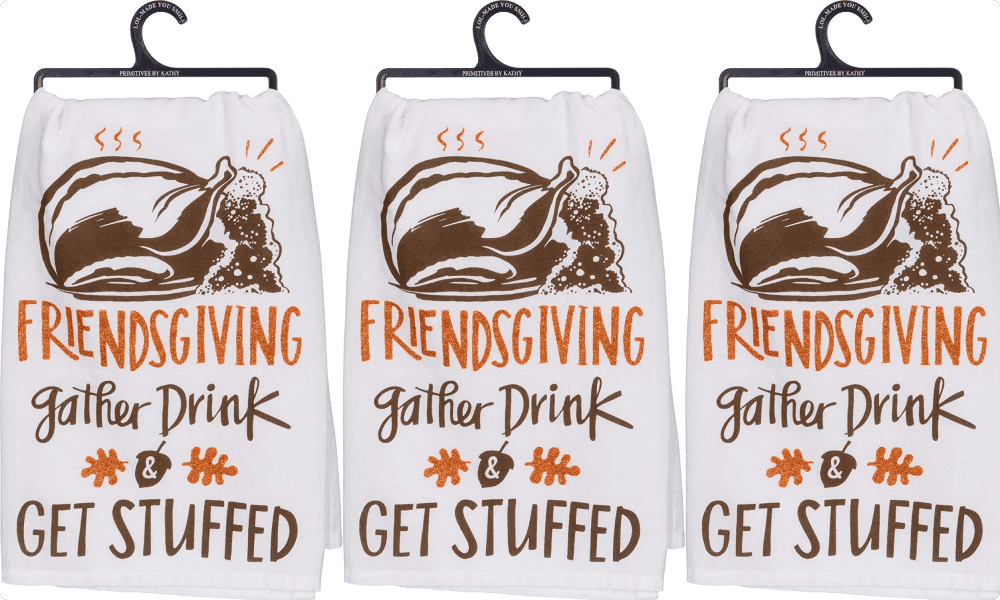 A themed Thanksgiving dish towel makes a cute festive gift to add on as Thanksgiving decor. The glitter accents make it all the more presentable and super cute.
14. Breakfast Basket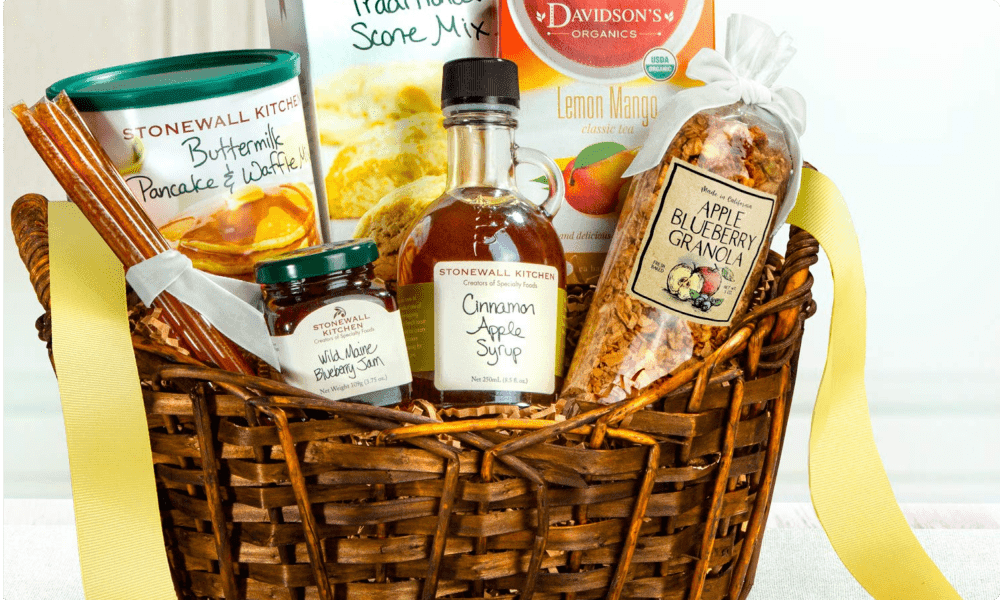 Who won't like a lovely basket full of breakfast goodies, especially when they've spent the entire previous day preparing an extravagant Thanksgiving dinner for all their friends and family? This breakfast basket comprises all the essential breakfast items, from granola to pancake mix to apple syrups and jams. Arranged in a beautiful willow basket, the gorgeous presentation will surely brighten anyone's day.
15. Cast Iron Pumpkin Cocotte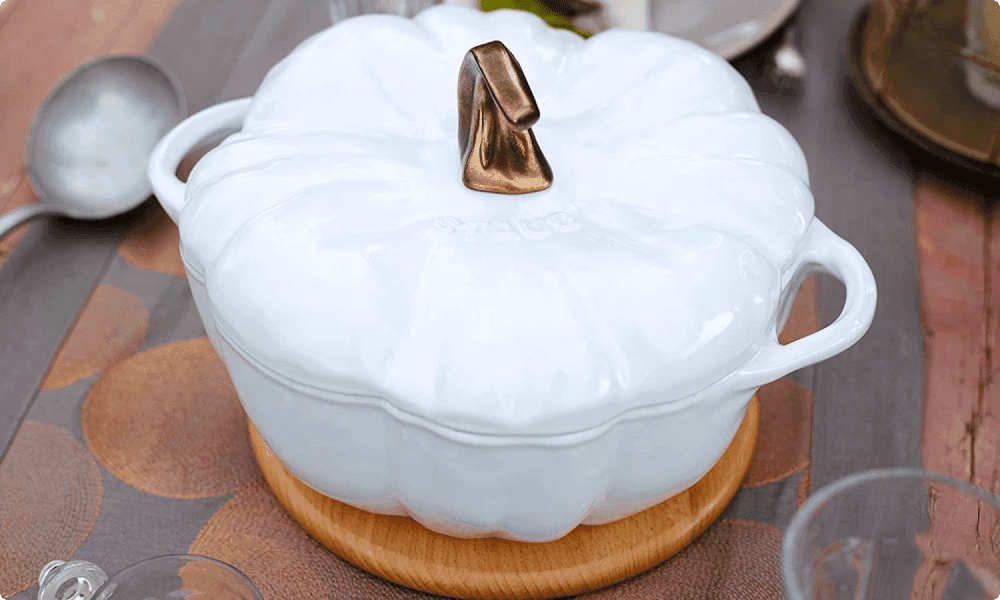 This enameled cast iron pumpkin cocotte is an amazing gift to help celebrate any occasion and is a signature table piece to make all your favorite soups and stews of the holiday season.
If you are thinking about Thanksgiving gifts for your coworkers, check out these holiday gifts](https://blog.giftpack.ai/article/holiday-gifts-for-employees-and-coworkers).
16. Personalized Wine Label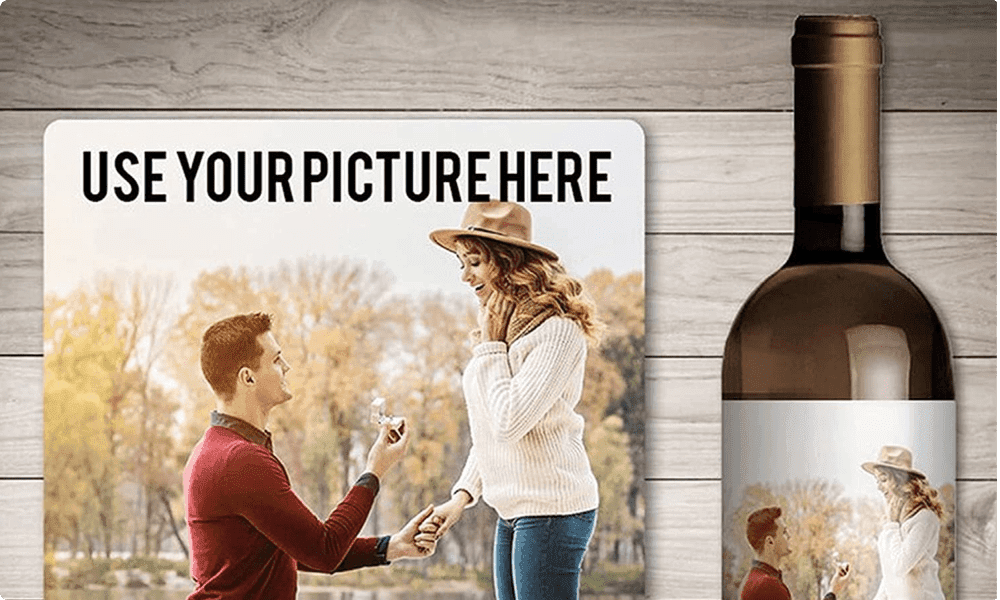 Who doesn't love some good 'old holiday wine? Top up their favorite wine by adding a personalized label to it. From getting their favorite picture imprinted to writing a short note, the choices are endless, which is why this makes an amazing and thoughtful gift.
17. Personalized Spoon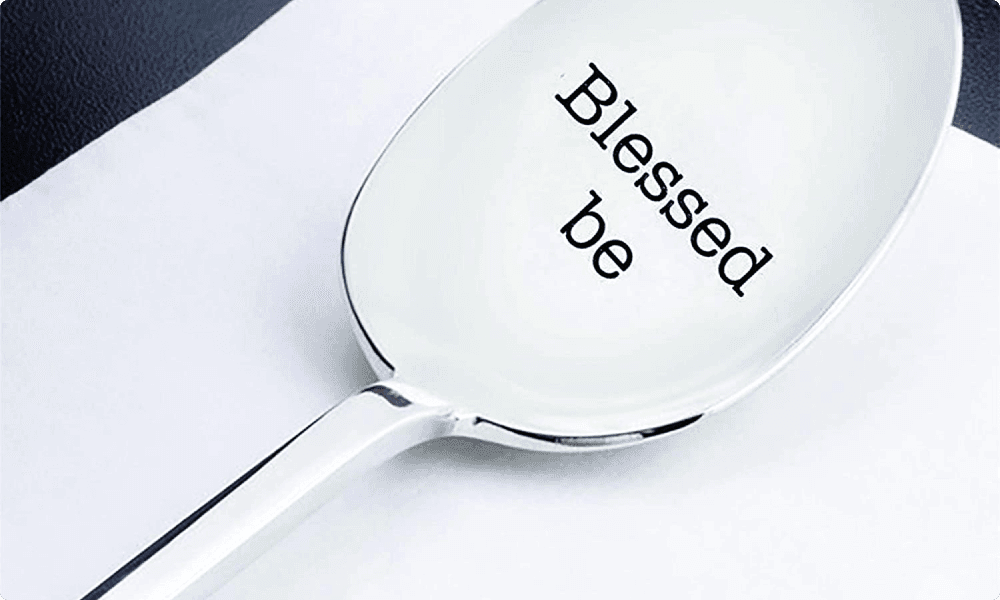 A personalized engraved spoon makes another cool Thanksgiving gift to give this year. Since it is engraved with an industrial standard engraving machine, the impression will last even after many washes. A customized spoon is a thoughtful and sentimental present to give your hostess.
---
Best Thanksgiving Gift Ideas on Etsy
18. Box Of Thankyou Chocolate Box
Nothing speaks of love and care like a box of chocolate does. If your special lady has a sweet tooth, she would love a chocolate box that reads thank you. This hand-crafted gourmet box of milk and white chocolates is a treat for anyone who loves all things sweet.
If you are looking for non-food gift boxes, check out our swag gift boxes
19. Give Thanks Cutting Board
A bamboo cutting board is a great choice to give as a gift on Thanksgiving; it is functional as well as will make an elegant display piece for the kitchen. Made from solid bamboo wood, it's sturdy and will surely last a lifetime.
20. Wine Stopper
Wrapped in a beautiful gift box, this high-quality wine stopper is the ultimate gift to give to all your friends who love wine. Whether a cocktail party or a fancy dinner, this will surely be a show-stopper. Available in silver and gold, pick the one that fits your choice.
21. Engraved Wood Coaster Set
This gorgeous set of engraved coasters makes a thoughtful present for the blessed day of Thanksgiving. It features the words "Grateful, Thankful, Blessed," which serves as a great reminder throughout the year. It makes an amazing addition to a coffee table.
22. Salad Servers
These salad servers are one of a kind, made from the finest olive wood and dyed bone; no one will be able to resist eating their greens. A fine gift to enjoy all around the year, with the wooden tones deepening with age.
23. Linen Napkins
New linen napkins are welcome in every house. They are a great way to give an elegant feel to a table, which is why they make a wonderful gift for people who love table decor and want to give an aesthetic feel to their homes.
24. Thanksgiving Mommy And Me Shirts
These cute mommy and me shirts are the most adorable gift set to give to a new mom on Thanksgiving. She will love taking holiday pictures full of cuteness with her mini version. A thoughtful and super comfy present to give one of your loved ones.
25. Rolling Pin Set
This high-quality rolling pin set, made of timber wood, is a great gift for anyone who enjoys baking. It speaks of festivity by having imprints of your favorite harvest-themed things, for instance, pumpkins, leaves, acorns and the like. It will not only look pretty in the kitchen, but it will also make all your treats look beautiful.
---
Other Great Thanksgiving Gift Ideas
26. Mini Jam Gift Set
A mini jam gift set makes the perfect gift for all your foodie friends and family. This beautifully wrapped pack of three jams speaks nothing but luxury. Anyone having a flair for fruity taste will love these jams.
27. Flower Arrangement
Who doesn't love an exquisite flower arrangement, that too with dried flowers, so they give the essence of the real thing but will not die or rot? These gorgeous flowers will definitely impress anyone with their long-lasting beauty. This autumn-inspired bunch of flowers will give the perfect festive vibes this season.
28. Bath Bombs
Bath bombs are the perfect way to end a long tiring day; what better Thanksgiving present to give to your friends and family? After a long and tiring day, they can go home and take a hot tub bath with a burst of fresh peppermint oil.
29. Honeycomb Wine Holder
An aesthetic honeycomb wine holder is a great way to express gratitude to your hostess. This sturdy metal frame wine holder can hold up to 6 wine bottles and make a great minimalist modern statement piece in any home.
30. Patterned Bowls
This one-of-a-kind patterned bowl set is a unique gift to give to your friend, family, coworkers or neighbors. Since they are handmade from scratch, every bowl is different, which makes it all the more amazing.
31. Glass Canister
Bake some homemade cookie delights and put them in this hand-blown medium glass canister to take along for the hostess as a little Thankyou present for all her hard work and efforts. Everyone can enjoy the homemade cookies, and the canister can be reused to keep snacks and goodies.
32. Coasters
While choosing a full dinner set for someone can be difficult, these cute hand cast coasters make a lovely choice for any frequent party dinner host, which consequently makes a great gift for the hostess planning the Thanksgiving dinner.
33. Woodland Cakelet Pan
Any baker would go head over heels for this beautiful Nordic Ware Woodland Cakelet Pan, which is perfect for capturing the season's spirit by giving your cakelets the details of acorns, pinecones and oak leaves. It makes a perfect present to give to your baker friend.
34. Spice Jar Collection
This cinnamon collection from the spice house will fill any house with nostalgia. It's a mix of the best-selling cinnamon flavors to enhance all the festivities' treats and delights. This jar of freshly ground cinnamon is a treat for any food lover or cook.
35. Plush Blanket
Nothing fills hearts with happiness quite like getting cozy under a plush blanket. This makes a fun present for people who are sugar and spice and very, very nice. This includes your friends, coworkers and, of course, your family. You can even give this to your special someone and have a cozy snuggle after a long and tiring day.
36. Fine Olive Oil
A good quality olive oil makes all the difference in your dishes; however, it can be expensive, which is why it will be the perfect present to give to your hostess. Moreover, you can add a little recipe card to go along with it.
37. Box Of Truffles
Nothing like biting into a creamy and soft chocolate truffle. This box of truffles makes a great Thanksgiving treat; everyone can enjoy the different varieties of flavors available in the box. It makes a delicious treat to have after dinner.
---
This year, surprise your friends and family with the perfect Thanksgiving gift. Whether it's a box of assorted gourmet chocolates or a bottle of fine wine with a customized label in a pretty little wine bag, your friends, family, hostess and coworkers will truly feel impressed, appreciated and thankful.
Make your gifting efficient and improve your ROI with Giftpack AI.
Visit our product page to learn more about what we can do for you!